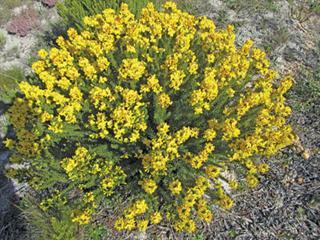 The honeybush tea industry is one of the youngest agricultural industries in South Africa. Although it appears that scientific research on this plant began in 1881, it was only in 1992 that the honeybush was first investigated for cultivation. Research initiated by the South African National Biodiversity Institute and funded by the Agricultural Research Council (ARC) saw the first commercial plantation of honeybush established in 1996.
Unsurprisingly, farmers who grow honeybush are still learning about its propagation, cultivation and processing through trial and error.
But Van Zyl and Mona Joubert of the farm Toekomst near Bredasdorp, Western Cape, have managed to overcome several of the difficulties posed by this fledgling industry.
Among the first to explore the possibilities of honeybush, the Jouberts started experimenting with different species of the plant and identified four types that were suited to their area. "When we decided to diversify our cattle and fynbos flower farm by experimenting with honeybush, very little was known about the cultivation of this plant. So during the first few years we weren't able to do much at all because so little plant material was available for commercial planting," Van Zyl recalls.
Careful selection
In the beginning, the Jouberts made cuttings of the plants that fared well, but 12 years ago they started harvesting seed from the best-performing plants. Under the guidance of Dr Hannes de Lange of the ARC, who was studying honeybush hybridisation at the time, they selected the plants for a number of traits: ease of harvesting, the quality of the tea produced from the plant, and thinner stems (these make better tea).
The Jouberts now plant 95% of their crop to Cyclopia genistoides, commonly known as kustee, or coastal tea, and through their selection programme are now starting to breed plants with superior qualities. "We are definitely seeing results. Most honeybush plants bear only about 0,5kg during their first year after planting, but we're now getting bushes that yield 3kg to 4kg in the first year," says Van Zyl.
Their selection programme has now progressed to the point where they have ready access to seed from high-yielding plants, putting them ahead of many in the industry.
Big players
"We have about 20ha of honeybush in production and from this we are able to harvest up to 30t of wet tea. This produces roughly 10t of dried tea," says Mona. This is a considerable share of the total industry, which consists of 125ha of commercially cultivated plantations. The total industry yield, which includes commercial production and honeybush harvested from the wild, amounts to between 300t and 400t of wet tea annually.
According to Van Zyl, their C. genistoides plants yield about 2t/ha when fully bearing, but through further selection they hope to increase yields to 5t/ha. "In the next year we want to double the amount of tea we produce by increasing yields and the area planted, but we're also buying in tea from a few other producers in the area," he says.
Seed preparation
Before planting honeybush by seed, Van Zyl and Mona first had to learn how to harvest and prepare the seed for planting. The seed pods are harvested by hand and then left to dry outside under shade. After the pods have burst and spilled their seeds, the pods and seeds are sifted, and the seed is separated from the husk. The seeds are then scarified (partially stripped away) with sulphuric acid.
After thorough washing to remove all traces of the acid, the seeds are treated with Natamycin, a fungicide, and immediately wind-dried before use. At planting, the seeds are inoculated with Rhizobium for optimum plant growth. Honeybush is a legume and thus requires inoculation to promote nitrogen fixation.
Soil preparation
According to Van Zyl, it's extremely important to prepare soils properly for honeybush cultivation. He begins by clearing lands formerly used as pastures of all existing fynbos and alien vegetation, then works the soil to a depth of between 45cm to 50cm with a ripper.
Most honeybush species prefer well-drained, sandy to sandy loam-type soils with a low pH (under five) and low nematode (roundworm) counts. While industry guidelines suggest that soil should be tested for nematodes to avoid highly infested areas, Van Zyl would rather breed plants that are resistant to these pests.
"This is the basic premise of our breeding and selection programme. We implement only the most necessary interventions before and at planting and then we focus on the plants that survive on their own," he says. During soil preparation, the Jouberts apply phosphorus, using rock phosphate, at a rate of 500kg/ha. "We find that the plants benefit not only from the phosphorus, but also from the calcium that is deposited into the soil when applying rock phosphate," says Van Zyl.
He emphasises that it's critically important to eradicate weeds before planting because once the honeybush has been planted, weeds can only be controlled by manual weeding. "Before planting, we spray a systemic, broad-spectrum, glyphosate herbicide, such as Roundup, to kill off as many weeds as possible. After planting, we control weeds and other fynbos plants by using a slasher," he says.
The seeds are sown after the first winter rain. If there is enough rain and the temperatures are not too low, they can germinate within a week. In drier, cooler conditions, germination can take up to two months. The seeds are sown at a density of 4 000 to 6 000 plants/ha on ridges about 10cm to 15cm high, to help ensure a well-drained root zone.
"Sowing is done by hand, but we are now experimenting with using a modified vegetable planter, because we noticed very good results when the seed was planted about 1cm below the surface instead of just sowing it onto the surface," Van Zyl explains.
Breeding hardy plants
"This is such a new industry that we don't yet know the commercial lifetime of the plants, but endurance is one of the traits we are focusing on in our selection process. "With C. genistoides, it seems that yields start to decrease after about 10 to 12 years," he says.
The Jouberts have developed a cultivation system that requires very little intervention once the plants start growing. After planting, they apply no irrigation, fertiliser or chemical control. Weeds are managed manually and the tea is harvested once a year, after which the plants are left to grow naturally until the next harvest.
"By implementing minimum intervention, we do get some plant mortality, but the plants that remain are naturally adapted to the conditions in this area. They are strong growers, and as they grow bigger, their yields compensate for what we lose due to plant mortality," explains Van Zyl.
The initial growth of the honeybush usually consists of a single stem of which the top must be pruned to encourage further branching, but natural branching occurs in some of the Jouberts' newer selections. The plants can be harvested in spring during flowering, but the Jouberts usually wait until just after flowering so that they can first harvest seed from selected plants. The honeybush is then harvested by hand by seasonal labourers, bound into bushels, weighed and processed.
Processing
Four years ago, Van Zyl and Mona realised there was little hope of making much profit from honeybush without convenient access to a processing facility. So they decided to build their own, and are now in their second year of producing tea commercially.  "Processing starts with finely chopping the honeybush. The material is then placed in fermentation tanks, where it ferments at 70°C for two days and three nights," explains Mona.
Water is added to kickstart the fermentation. Depending on the moisture in the plant, more water is then added as required. After fermentation, the tea is dried on outdoor drying racks exposed to the sun. Unfortunately, the prevailing winds are often strong and can blow the tea leaves away, so the Jouberts invested in a commercial dryer which can be used when outdoor conditions are unsuitable.
Finally, the tea is sifted, after which it is ready to be packaged, either in bulk as loose tea or in small quantities under their own label, Agulhas Honeybush Tea. According to Mona, the process of making green tea is similar to that of regular tea, except the latter is not fermented but dried directly after cutting. Only 10% of tea produced in their processing facility is packaged and sold under their own brand name; the rest is sold in bulk to local tea buyers.
Planning for the future
"The industry is not without its problems," says Van Zyl. "Being so new, very little is known about the propagation and cultivation processes and you are forced to learn through your own mistakes. Also, the whole production process is extremely labour-intensive and therefore quite expensive."
But despite these challenges, the future looks promising for commercially grown honeybush. Currently, demand far exceeds supply, due to increasing markets both locally and internationally. In particular, the number of commercial growers of cultivated honeybush needs to be rapidly expanded to meet export demand, which is currently estimated at about 400t/ year, in parallel with conservation measures to protect the threatened wild populations.
The Jouberts plan to increase production to about 100t annually within the next few years. This output will gain them access to the export market.
Contact Mona and Van Zyl Joubert on 082 859 4359 or email [email protected] or [email protected]