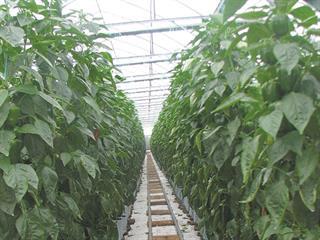 A Christian mission in Kranskop in the Natal Midlands has taken self-sustainability to an awe-inspiring level, converting 340ha of virgin land into a farming masterpiece.
The mission was founded over 40 years ago by a group of missionaries led by Reverend Erlo Stegen, a South African of German descent. Today it produces enough food to feed about 1 200 people based on the mission, plus a tidy surplus.
"We strive to be as self-sufficient as possible. We start a project for the mission and if it works and becomes efficient, we go into it on a commercial scale. If not, we scrap it," says Erlo.
So many projects have succeeded that the mission now owns many commercial businesses. A total of 4 000l of milk passes through their dairy each day, churning out an extensive range of yoghurts, milk and cream. A jam factory produces 1 000 bottles of jams and pickles a month.
A pasta factory produces 180 bags of pasta a day, five days a week. Honey from beehives dotted among the commercial avocado orchards oozes into 1 500 bottles a month.
The missionaries produce their own fruit, berries, vegetables, water and meat. They even have a bakery to bake their daily bread – all 700 loaves of it, along with a delicious assortment of sweet pastries, cakes, scones, doughnuts and vetkoek.
The missionaries set up camp at Kranskop in 1966 after their prayers inspired a revival movement.
"Crowds came – women, men, whites and blacks," recalls Erlo. "We lacked the place and means to accommodate and feed everyone. After four years of searching, we found this farm. It was called Kwasizabantu, 'the place where people are healed'."
Kwasizabantu, which is near Kranskop in a fertile mist-belt of the Midlands, was wild and undeveloped at first, but, it has been expanding since day one.
"We started from scratch," says Erlo.
"I remember building the first kitchen with mud. The crowds grew every day. We would have a service every evening. We met in a small building for 25 people. Then we built a church for 200 people. Then we had to pitch tents to accommodate the growing crowd. One night we held a service for 4 000 people and the wind ripped away the tent. Then we built an auditorium to seat up to 10 000 people."
As the ministry grew, so did the farming operation. The missionaries had no source of income and turned their hands to growing vegetables and potatoes.
Today, the main commercial crops grown are avocados and peppers. Peppers are grown in 2ha of state-of-the-art greenhouses and yield on average 17kg/m2 to 19kg/m2, or 450 000kg of peppers each year. Avocado trees produce tens of thousands of cartons annually, a sum which grows each year as trees mature and yields improve. About 50 000 cartons, or 50% to 60% of the crop, are exported each year, mainly to the UK through Halls, their agent in Nelspruit.
The land and businesses of Kwasizabantu are owned by the mission, which is supervised by a board of trustees. Profits go towards running Kwasizabantu as well as other mission stations they have set up in Africa.
Over the years, Kwasizabantu has been transformed into a hub of activity, with four educational institutions, an Aids shelter, a radio station and a massive auditorium.
"The work continues to grow," says Erlo. "In the beginning we never imagined it would develop in such an incredible way. It is my plea that those who come after me will have even greater fervour for God's work, and that they will guard and stoke this fire."
Hydroponic peppers
The mission first ventured into hydroponic pepper production after Erlo returned from a visit to Europe, where he saw peppers being grown in glasshouses.
"Woolworths needed pepper growers in KwaZulu-Natal and that's how we got started," recalls farm manager Dietmar Joosten. "There wasn't a lot of local information available on hydroponic pepper production. A grower in Holland helped get us going."
Red, yellow, green and salad peppers are grown under protection in 2,5ha of state-of-the-art greenhouses.
A massive 8 000kW coal-fired boiler provides heat for the greenhouses. Houses are equipped with a pad-and-fan system to keep the temperature cool in summer, especially when the plants are small.
A water heating system, which pumps warm water through pipes laid on the surface of the greenhouse floor, both heats the houses and dispels excess moisture. Both systems help maintain an ideal temperature of 21°C to 22°C over a 24-hour period.
"The greenhouses are a massive financial investment so quality is our number one priority," says Dietmar.
Peppers are grown in wood chips, two plants to a bag, and 7,2 stems/m2. Seeds take four weeks from sowing to transplanting. However, now that Dietmar is growing the seedlings under lights, time to transplanting is shortened by a week and results in strong seedlings. It takes six to eight weeks from transplanting to harvest, or 3,5 months from sowing to first harvest. Harvesting continues to the 11th month.
The houses are fitted with an external net, which stops 90% of insects entering the glasshouse. This means less insecticide needs to be sprayed, making it a more environmentally friendly system. Mildew, aphids and thrips are the main insect pests.
These are countered with bioproducts, and various beneficial fungi such as Trichoderma and Mycorrhiza are added to help with control.
Avocado orchards
Avocados trees cover about 100ha, planted at a distance of 7,5m x 4m from one another. Five varieties of avocado are grown: Fuerte, Hass, Pinkerton, Ryan and Edranol.
Avocado trees are regularly pruned to keep them small and compact for ease of harvesting. "We usually cut out one large branch a year to let in new light and get growth in the middle trees. We also do light trimming of any bull shoots – shoots that grow very strong without producing much and take all the energy from the tree."
Grass in the interrows is cut once a season, then left to grow. "We used to spend thousands on herbicides and weeding. Now we leave it and it becomes a haven for insects. It's part of our integrated pest management," says Dietmar. Insect populations on trees are monitored visually. "If insect populations are below the threshold level, we won't spray. If populations are above the threshold, we spray using registered pesticides, but only in the problem areas."
Wattle offcuts from trees grown on the property are put through a chipper and used as a mulch, and a source of silica and nitrogen. The farm has acid soil so mulch and lime are applied to balance the soil pH.
Dotted around the avo orchards are 40 to 50 beehives, which are used for pollination. The honey is used on the mission and sold to generate extra income.
Both the peppers and avos are packed in the farm's dual-purpose packhouse. The packhouse operates 24-hours a day from July to September, processing peppers by day and avocados by night. It's here that packs of peppers are proudly stamped with Woolworth's new label, "Farming for the future", an initiative aimed at persuading Woolworths' suppliers to reduce their use of chemicals and water by building healthy soil using compost and earth-friendly cultivation methods.
Working the earth comes naturally to these missionaries, who are also helping locals grow their own crops. "But we are missionaries first and foremost. This is just a sideline," concludes Dietmar.
Contact Kwasizabantu Mission on 032 481 5500, fax 032 481 5510 or e-mail: [email protected], www.ksb.org.za. Contact
Dietmar Joosten on 032 481 5665 or e-mail [email protected]. Contact aQuellé on 032 481 5005.