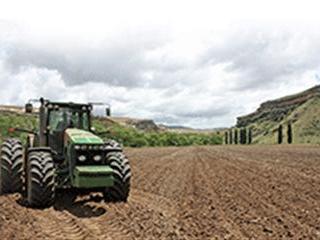 2007 was a wet year in the eastern Free State. So wet that Gilly Scheepers couldn't get a combine into his lands to harvest.
With a R1 million wheat crop at stake, Gilly reverted back to the old-fashioned methods involving some elbow grease. "I collected every sickle in the eastern Free State, hired 250 workers and we harvested those lands by hand," he recalls. "It was either that, or set the lands alight and start again next year."
This persevering, hard-working attitude won Gilly the 2012 Grain SA and Syngenta Grain Producer of the Year title. "We don't sleep much," he sighs. "But it I fail, one day at least I will know that it wasn't because I didn't work hard enough."
Gathering hectares
Gilly was born on Bloukruin farm in Fouriesburg and at the age of 23 started farming full-time, for his father in the morning and for himself in the afternoon. "I needed money for cigarettes and couldn't bring myself to ask my father for it. So I converted the old milking shed into a chicken run, bought 69 laying hens and started farming. "But it was not a very good start," he laughs. "The first night a cat got in and ate two of them."

Gilly and René Scheepershave three children, Frieda (19), JZ (17) and Harrison (15).
As his growing chicken business produced an increasing income, Gilly leased land to expand his venture to include maize and wheat. "I leased so much land that it took me two days to drive to all the owners and pay them." Gilly also leased land from his father until 2001, when the latter passed away and Gilly inherited the farm. As the years went by, he bought land in Paul Roux, Bethlehem and Fouriesburg and today doesn't lease a single hectare.
But success didn't come easy. Gilly and his wife René admit that the early years were tough. "I remember returning to a drought-stricken farm after our honeymoon 22 years ago. The leaves of the plants were all shrivelled and hanging as far as we rode down the road to the farmhouse," says René, with her head in her hands. "Those years it was one drought after the other. It was a nightmare," adds Gilly.
"But when everyone started selling their land because of the drought, I started buying. I did the same when farmers, scared by nationalisation talks, sold their farms. I believe in buying when others are selling and selling when others are buying. This way I can get land that is affordable and, through economies of scale, make my business more profitable. That's how I made the change from a struggling farmer to a successful one."
Gilly is positive about the future of farming. "We had a gold boom and I believe that we are going into an agricultural boom. The government won't nationalise land because it knows it needs commercial farmers to produce food." "And besides," adds René, "we have been put in this country for a reason. We will make it work."
Geographical challenges
Farming across three districts is no mean feat. It takes careful planning to ensure that tractors and other machinery don't need to make unnecessary trips between farms. Gilly farms with Sussex and Afrikaner cattle, Merino sheep, Lohmann hens for egg production, wheat, maize and dry beans. Bloukruin Eggs produces 108 000 eggs daily for the informal market, small shops, guesthouses and Spar branches in the eastern Free State.
Gilly recalls that when he started his egg enterprise, a large egg producer said he would never make it. "But a small tree can grow out from under a big one. Today, that producer is hardly present in the areas where I deliver." The egg enterprise employs about 100 people and Gilly ascribes the very low mortality rate of his chickens to the highly dedicated staff. "People are the best asset in any business, not just in farming."

Bloukruin Eggs produces 108 000 eggs daily for delivery to the informal market and small shops and guest houses in the eastern Free State. Photo courtesy of Grain SA
He explains that the best part of egg production is that he can put his maize grain through the chickens and convert it to protein. About 30% of his maize crop is used as chicken feed, and he aims to expand to the point where it will use all his maize. All facets of the farming business are linked. Chicken manure is applied to lucerne used for cattle grazing, while grain is used for chicken feed. Sheep graze the mountainous parts of the farms to best utilise these vast expanses of land.
All his crops are rainfed and grown in a strict rotation system: two years wheat, one year maize, one year dry beans and then two years wheat again. He follows this cycle without deviation, irrespective of price cycles or trends. "It is very important not to disrupt the rhythm of a farm. Chasing prices doesn't work and I believe in sticking to the cycle. One year I make more money on the one crop and the next year on another."
One of Gilly's biggest challenges in crop farming is the often great variation in soil, even within one hectare. The varied topography also means that his lands vary from 0,2ha to 280ha in size. "We do soil analyses every year and treat the soil according to the major soil type present in the land," says Gilly. "We also have to adapt our plant density from land to land according to the soil's production potential. He notes that this kind of farming requires a lot of experience to manage.
"Topography is my main challenge. I need to use a 130kW tractor with an 8t wagon in my lands. It's a miserable world in terms of logistics, but it has the best soil in the world. Because of my high yields I can maintain profitability despite the extra cost involved." Asked which aspect of the farm he enjoys the most, Gilly replies that his heart is in sheep production. But René chips in, "If he can plough a land or make new lands then he is happy. That's his passion." "Yes," laughs Gilly, "I love using my tractors and the smell of soil when it is turned."
An unassuming attitude
Gilly has ample reason to be proud and talk about his achievements. But when asked about his success he becomes quiet and brushes off any mention of awards. He admits that it was his mother who taught him to always remain humble and never lose his dignity. Although he attributes much of his success to his father, who taught him everything about farming since he was a small boy. Gilly says that winning awards is not about achievement.
"It is about being awarded for doing what I love. There is no need to be arrogant about it." Asked about the secret to success, Gilly taps his nose and says, "Putting my nose to the grindstone and getting on with the work." René adds that it is also due to his careful planning and goal-orientated attitude. "He is a perfectionist who believes in delivering on time." "Well," shrugs Gilly, "you only have one name and you have to look after it."
Contact Gilly Scheepers at [email protected]