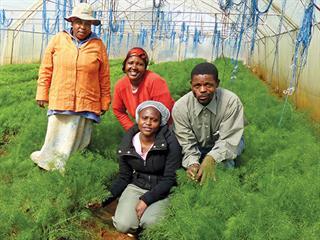 Fanie standing in a crop of green beans at the project. Severe weather, including hail, remains an ever-present threat to crops, he says.ity farming projects are not normally associated with organic production, let alone the export market. Yet these define the state-funded Rethabiseng Food Garden Project (RFGP), and its success could become a model for community- based projects hoping to grow organic produce. The 6ha farm, near Bronkhorstspruit east of Pretoria, has 15 tunnels, each 30m x 10m, and a packhouse. It is GlobalGap-certified and grows organically produced vegetables and herbs for retailers across Gauteng, as well as exporting fennel to Germany.
In 2011, the project was 'adopted' by cement producer AfriSam, which contracted Food and Trees for Africa (FTFA) to manage the business and train workers. FTFA in turn recently contracted Green Earth Landscaping (GEL), a commercial vermicasting operation or worm farm run by Gina Shoemaker, to produce organic fertiliser on RFGP. Gina hopes that this example will be followed by farmers throughout South Africa.
A unique worm farm for RFGP
The worm farm was established to recycle the organic food waste generated during the harvesting and packing processes at the project, located on the outskirts of the sprawling Rethabiseng township. "They [RFGP] are feeding their agricultural waste including their chicken litter [the farm also has a small broiler chicken operation] to the worm farm," Gina explains. "You'll see there is no skip here and the site is quite tidy."
The design is aimed at maximising airflow to its red wiggler earthworms – a disadvantage of worm farms, where stackable bins are used. "The worms need to breathe," explains Gina. "This is called a flow- through worm farm design – air flows through it."
The worms recycle the organic food waste via a process of aerobic composting or vermicasting. They are housed in four 1m3 worm bins manufactured from powder-coated steel and fine mesh covered in shade-cloth to ensure significant airflow. The bins have a front door and lid that allow the worms to be fed easily and efficiently. They are given organic waste and wood chips (a carbon source) irrigated by micro-misters or a hose pipe.
The water drains through the various levels of organic material and vermicastings into 200l ponds beneath each bin, then transferred to a central 2 000l underground holding tank via flow control valves. A sump pump in the central tank oxygenates the worm tea for an hour, three times a week, to ensure high microbial counts.
The tea is eventually pumped into the fertigation system feeding the tunnel's drip irrigation system while worms are separated from the soil conditioner and used to kick-start a new process. According to Gina, the system can produce 3t organic soil conditioner per month and a limitless quantity of tea.
The Benefits
To ensure efficient organic production on RFGP, obtaining supplies of organic fertilisers such as manure and compost has become a central task for FTFA project manager Fanie Maluleke. He currently sources 100t of manure at a time from surrounding livestock and chicken farms. Fanie, who has worked in the agricultural sector since 1980, says that the use of organic fertiliser and the unique opportunity to produce it through a natural recycling process in the worm bins have dramatically altered his perception of agriculture.

Fanie standing in a crop of green beans at the project. Severe weather, including hail, remains an ever-present threat to crops, he says.
"With organic principles, you're building and enriching the soil," he explains. "Inorganic farming is very expensive – you must have money to source the chemicals and fertilisers you need to use." Gina agrees, adding that her goal is to convince farmers of the value of organic production (including its increasing affordability compared with inorganic production) and specifically, organic fertilisers. This is in order to eliminate the need for synthetic alternatives that, she says, have drawbacks, including contaminating surface and subsurface water.
"We want to get other farmers interested to go green," she says. "Ten or 12 years ago, it was expensive to go organic. Now it's starting to become cheaper."Furthermore, Gina says worm tea is not only an exceptional fertiliser but a natural organic remedy against diseases associated with vegetable production. Plans have already been made to replace the current drip irrigation system in the RFGP tunnels with an overhead system to maximise leaf absorption of the worm tea, known to be highly effective against powdery mildew.

Fighting global warming
According to Gina, a climate ambassador for Al Gore's Climate Reality Project, worm farms can play an important role in combating climate change as decaying agricultural waste is the second-leading cause of climate change. "When organic refuse is land-filled, it generates methane gas due to anaerobic conditions. Methane gas is a greenhouse gas that contributes to global warming," she explains.
"The recycling of organic refuse through aerobic composting or vermicasting is an excellent method to prevent the production of greenhouse gas emissions, by diverting organic refuse by means of recycling."
Gina adds that GEL is partly owned by six young South Africans trained and guided by her in the production and installation of worm farms across Gauteng, Limpopo and North West. All six each have a 6% to 10% share in the business. A total of 28 commercial worm farms have already been established by GEL, including large commercial units with worm bins of 3m3 that can make a significant impact in decreasing greenhouse gas emissions.
RFGP uses medium-scale worm bins and also has smaller home owner units available. "Green Earth's commercial worm farms are an applied voluntary emissions reduction scheme and will omit 3t of CO2 from the atmosphere on a monthly basis per medium-scale worm bin," explains Gina.
Phone Fanie Maluleke on 072 020 0962 or Gina Shoemaker on 084 868 7953.