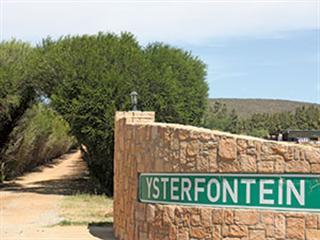 The Cederberg is known for its extraordinary rock formations, which lure climbers from all over the world. But while tourism has become a welcome source of income in this remote and rugged part of the country, an important economic driver in the area is the indigenous rooibos plant (Aspalathus linearis).
"We are the only farmers in the world to grow rooibos, so we have to make sure we do it well," says rooibos producer Willie Nel, who received Rooibos Limited's Producer of the Year Award for 2011 (the prize is awarded every two years). His farm Ysterfontein has been in his family for four generations, and Willie has been growing rooibos there since 1989. The farm is situated near Clanwilliam, about 230km north of Cape Town on the road towards Graafwater and Lambert's Bay.

Willie Nel, rooibos farmer from the Greater Cederberg.
The first rooibos was planted on Ysterfontein in 1960. Since taking over the reins after his father passed away in 1990, Willie has grown the business to now include several farms – about 4 050ha in total. "We have about 1 400ha under rooibos, 45ha potatoes under irrigation, Dorper sheep and Simmentaler cattle, as well as a rooibos seedling nursery," he explains. Rooibos has been growing wild in the Greater Cederberg for millennia. It's found at an altitude of between 300m and 600m above sea level, in well-drained, cool, very acidic sandy soil.
"Rooibos is well adapted to the climate of the Cederberg, where the temperature can drop to 0°C in winter and rise to a blistering 48°C in summer," says Willie. The winter rainfall varies from 180mm to 500mm per year. As no irrigation is used, the rooibos is often subject to severe drought, but it's a hardy plant, able to survive these conditions, with a strong tap root that grows down 3m or more into the soil to reach moisture.
Crop rotation
Willie produces rooibos on a rotational basis on about 1 950ha of land, with 1 400ha under rooibos while the other 550ha lies fallow or is under a rotational cover crop. "The key to rooibos farming is a sustainable production system in which planting and harvesting are well-planned to produce a consistent yield every year," says Willie.
"To achieve this, a farmer must establish how much rooibos he can ultimately produce in a rotation system of eight years.
"In our system we plant rooibos in the first year. For the next four years the rooibos remains on the land and we harvest annually – rooibos is a perennial plant, so the rooibos part of the cycle lasts for five years. "After the fifth year we remove the rooibos and plough the land, leaving it fallow for one year. This gives us a chance to get couch-grass and other unwanted plant growth under control by herbicide spraying."

Harvested rooibos is transported to processing yards. The sheaves are fed into cutting machines and cut to a uniform length, then crushed between rollers to trigger the fermentation process.
In the following year – the seventh – Willie plants lupins as a cover crop. Then, in the final year of the rotation cycle, oats is planted. This is followed by rooibos, marking the start of a new rotation cycle. Willie does not harvest the cover crops – the lupins and oats are grazed by sheep and cattle.
Soil preparation and planting
Soil must be properly prepared before planting rooibos. In the year before planting it is ploughed deeply with a mouldboard plough before the oats is sowed. When the oats has been grazed, the stubble remains. Before the rooibos is planted, the rows are ripped to a depth of about 60cm. "The planting density for rooibos varies by area, depending on the rainfall," says Willie. "I plant about 9 500 seedlings per hectare. Because the young plants are very sensitive to wind damage, I also plant oats and lupins as cover crops between the rooibos rows.
"About 10 months after planting we harvest the rooibos for the first time. This first harvest delivers a very small yield, but stimulates the main stem to subdivide to form a number of strong side-shoots. The first proper harvest takes place 18 months after planting." Since rooibos is cultivated on dry land without irrigation, the yield varies greatly according to the rainfall. It can be between 250kg/ha and 1 200kg/ ha, but for the past three years it's been below average because of low rainfall, says Willie.
Fertilisation and pest control
A number of pests and diseases affect rooibos. Keeping these under control can be a very costly exercise. "The most troublesome insect pests are leafhoppers, looper worms and clearwing moths," he says. "Of all the pests and diseases, the root-boring clearwing moth is probably the most destructive to the industry. It can cause huge losses if not controlled properly.
"Annual moth flights peak in November and December, targeting young plantations during the hot, dry summer." Willie doesn't follow a preventative spraying programme. If an insect population increases to an unacceptable level he uses chemical control.He explains that rooibos farmers have yet to develop the ideal fertilisation programme for rooibos. "We do not really understand the nutritional needs of rooibos – research has still to determine that.

Fermented rooibos is spread out in large drying yards to dry in the hot sun. It's then collected, bagged and transported to a packaging facility.
"I apply 100kg/ha phosphate two years before planting, followed at planting by 170kg/ ha Neutrog Rapid Raiser. This organic fertiliser has added phosphate formulated to promote healthy, sustained plant growth." According to Willie, one of the greatest challenges rooibos farmers face is the high cost of labour. "Rooibos farming is very labour intensive. With the high and increasing cost of labour, it's difficult to contain production costs," he explains.
"I'm looking at ways to make more use of mechanisation and provide proper training for the supervisors so that they can manage workers as efficiently as possible. "As an industry," adds this award-winning farmer, "we must invest in production research aimed at finding a solution to the increasing inputs."
Contact Willie Nel at [email protected]