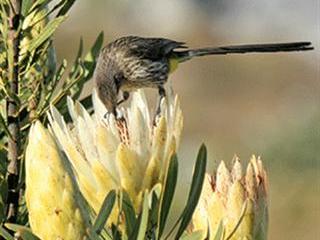 It is early morning in Simondium, but the December heat is already beating down mercilessly on this part of the Boland that lies nestled between the Klein-Drakenstein, Paarl and Simonsberg mountains. Jacky Goliath, co-owner of De Fynne Nursery, emerges from the small office with two bottles of cold water. "It is going to be a very warm day," she says and smiles broadly as she hands over the water and leads the way for a tour of the nursery grounds.

Jacky Goliath, winner of the Agricultural Writers of South Africa's New Entrant to Commercial Farming 2012 award.
Small beginning to prize winning
Jacky is eager to recount what a great year 2012 has been for her business. Among the numerous awards she received this year she was named the Department of Agriculture, Forestry and Fisheries' national winner of the commercial division in the Women Entrepreneur of the Year competition and she was the Western Cape and national winner of the Agricultural Writers of South Africa's New Entrant to Commercial Farming award.
Jacky grew up in Abbotsdale in the Swartland and says her love of plants was cultivated from an early age by lending a hand in the family garden when she was a small girl. She later studied horticulture at the Cape Peninsula University of Technology and worked at the Agricultural Research Council's fynbos nursery. Then, in 2001, Jacky and her business partner, Elton Jefthas, saw an opportunity to apply the skills they used in their work to supplement their income.
"When strict water restrictions prevailed in the Cape, we decided to start a small business focusing on cultivating plants that can be used in water-wise gardens," says Jacky. The concept proved successful from the outset and the backyard business which they ran from Elton's home grew quickly. It wasn't long before they had to find a new site for their nursery.
"We started in Elton's backyard, with no more than a 1 000 fynbos plants, but immediately saw there was a gap in the market for what we were producing."
Jacky remembers that by 2004 they rented a 0,5ha plot on the outskirts of Kylemore where they cultivated 20 000 cuttings and employed two full-time workers. Soon this plot also became too small and they did not have sufficient access to water so they moved to the rented 1,5ha plot in Simondium from where they currently run their business.
Diversifying
But the business didn't only grow in size. They also diversified over time and no longer focus only on growing fynbos for garden wholesalers. They also grow plants on a contract basis for the agricultural sector. "We realised that we couldn't grow the business much if we only focused on the gardening sector. From start to finish, it takes about 12 months to get fynbos market-ready, and because it is so time-consuming, it can put quite a strain on our cash flow.

Plants under shading are given a few months to grow and harden before they are moved into full sunlight.
"That was why we decided to diversify by taking on some commercial contracts cultivating plant material for the agricultural sector." These days they employ 15 permanent workers and they run their business from 10 permanent tunnels that are about 50m long and 10m wide, a shade and a full sun area. They grow more than 50 species of fynbos and produce between 100 000 and 120 000 plants per year.
For the agricultural sector, they cultivate about 500 000 plants per year, 400 000 of which are blueberry plants. Jacky says demand for their products is still growing but they do not have any space available at the current location to increase production. They have approached the Department of Rural Development and Land Reform and have already identified a suitable piece of land close to Paarl that they hope to acquire with government assistance within the next year.
Cultivating fynbos
Jacky is an expert at growing fynbos and her love of, and enthusiasm for, this unique group of fauna is plainly visible as she discusses the different methods they use to produce the plants at the nursery. They grow plants from seed or from cuttings. The cuttings are planted in the summer months and seeds are usually sown in autumn.
"Fynbos cuttings are first planted in seedling trays and kept in the propagation tunnels that have underground heating. The propagation tunnels are fitted with a misting system which provides moisture and controls humidity and temperature. The cuttings have to be kept cool while roots develop. The humidity is kept at around 80% and the underground heating is used to keep temperature in the growth medium at around 20°C to 24°C," Jacky explains.

Lavender plants are grown and packaged especially for Woolworths. Other clients include Builders Xpress and Builders Warehouse, Stodels, Superplants, landscapers such as Keith Kirsten and wine estates such as La Motte, Delaire, Boschendal, Babylonstoren and Asara.
When roots have developed, the plants are moved to tunnels to harden a bit and after about a month they are replanted into small pots.They remain in the pots for four months and are pruned into shape. "We use a sand and bark mixture as growth medium. The growth medium also contains a nutrients mix, but this is our secret recipe." When the plants have been in the pots for four months they are moved to full sunlight so that lateral growth can be encouraged and after a month or two in the sun they're ready to be sold.
"The process is much the same for growing the plants from seed. The seeds are also placed in seedling trays and put in propagation tunnels where they get the same treatment as the cuttings do while roots are allowed to form. The only difference is that they take a bit longer to grow," says Jacky. She adds that fynbos grows in more acidic soils and it is therefore important to keep the soil acidity levels at around 4,5pH to 5,5pH. They measure acidity on a weekly basis and, if needed, the acidity is corrected through liming.
Rewarding work
Jacky is positive about the future of agriculture and says it will remain one of the most important sectors, not only because it contributes to food security, but because it puts food on the table for millions of South Africans directly involved in agriculture. She warns however that agriculture, unlike many other professions, requires relentless commitment. "Plants don't take holidays, they need water even on Christmas day and if you are not there to look after them every day they will suffer and, in turn, so will your business."

Contact Jacky Goliath on 021 874 2708, at [email protected] Fynne.co.za or visit www.defynne.co.za