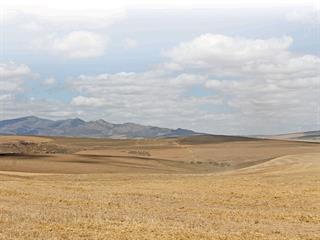 We are on the farm of MG Lötter, a grain and livestock producer near Caledon. But the focus, surprisingly, is not on MG's crops or animals; rather, it is on a row of Renosterbos (Elytropappus rhinocerotis) forming a border along the edge of a patch of the vegetation, separating this natural piece of critically endangered veld from a cultivated land.
'Critically endangered' is no exaggeration; the piece of Western Ruens Shale Renosterveld on this single farm represents 5% of all the Renosterveld that remains in South Africa. Indeed, some species survive only on this farm. The veld type is renowned for its enormous biodiversity. "I guess it doesn't look like much this time of day and at this time of the year, but you should see it when the flowers are in bloom or very early in the morning when this piece of veld teems with life," he says. "There are so many birds and small animals that live among these bushes."
Barley initiative
The good news is that natural treasures such as the Renosterveld on MG's farm will now receive protection and be given an opportunity to thrive, thanks to a new sustainable farming initiative between barley farmers, the SAB and the World Wildlife Fund for Nature of South Africa (WWF-SA). The Better Barley, Better Beer initiative aims to empower SA barley farmers to make the right decisions to ensure the sustainable production of local barley.
The multi-faceted programme encompasses not only conservation and sustainable use of natural resources but the economic and social aspects of farming. "Better Barley, Better Beer provides farmers with a set of criteria, indicators and verifiers to help them measure how sustainably they are farming," says Thinus van Schoor, general manager of SAB Maltings.
According to WWF-SA's senior manager for sustainable agriculture, Inge Kotze, her organisation's interest in the initiative is to support farmers as key custodians of the South African natural resource base. "We provide advisory extension support to help farmers adopt best practices to ensure that farming maintains, protects and restores key natural systems while minimising the environmental impact of production activities for the benefit of producers and downstream users," she says.
The Better Barley, Better Beer guidelines, which are being implemented on a trial basis, should help farmers optimise production and water usage as well as manage natural resources more effectively, explains Thinus. The guidelines were developed by SAB agriculturalists working with a group of farmers. They contain key indicators that allow farmers to self-assess their performance, enabling them to easily identify strengths and weaknesses, and develop action plans to correct deficiencies.
"The aim is not to tell the farmers what they should do, but provide an opportunity to self-assess current performance against a set of objective indicators," Thinus says.
The guidelines, presented as an audit-type checklist, include not only an agricultural strategy but also the social and environmental dynamics necessary for sustainable agricultural development. They also promote the mainstreaming of biodiversity considerations and ecosystem services into the agricultural industry while recognising the legal rights of farm workers, land tenants, safety and health requirements, and the basic conditions of service.
The barley initiative is currently halfway through a two-year dryland and irrigated pilot phase. This programme comprises a total of 26 barley producers – 15 in the dryland area and 11 in the irrigated areas – who have either voluntarily opted to participate or hold important conservation assets on their properties.
Dryland production of barley is being carried out in the Overberg region of the Western Cape (Caledon, Bredasdorp and Heidelberg). Irrigated production takes place in the Northern Cape (Vaalharts, Douglas and Jacobsdal) and North West (Taung Irrigation Scheme), this involves commercial and small growers.

Representatives from the SAB and WWF-SA for the Better Barley, Better Beer initiative. From left: Gerhard Greeff (agricultural services manager at SAB), Thinus van Schoor (general manager at SAB Maltings), Stephen Elliot-Wetmore (WWF), and Jan Coetzee (Better Barley, Better Beer project extension officer).

Farmers from the Overberg region in the Western Cape taking part in the Better Barley, Better Beer pilot phase. From left: MG Lötter, Josias le Roux and Richard Krige.
Economic sustainability and social issues
The guidelines for economic sustainability are aimed at reducing the cost and risk of doing business and improving crop production. "Using key metrics, farmers will be able to track improvement and progress over time to support the development of a business case for sustainable production. They will be able to demonstrate the impact and value of changing practices at farm level and elsewhere in the chain," explains Thinus.
The guidelines insist on the necessity for a proper land-use plan against which productivity can be measured annually. They also focus on the need to adapt to climate change and use energy more efficiently. This includes adjusting to new environmental conditions brought about by climate change such as higher temperatures, reduced rainfall, increased flooding and other extreme weather events.
The guidelines suggest that farmers take note of current and predicted climatic changes and their potential impact on farming activities. They also offer advice on how farmers can adapt to reduce their vulnerability and increase their resilience to climatic changes.
Adaptation measures that barley farmers in both the Western Cape and Northern Cape could consider in their long-term plans are: more efficient use of water for irrigation; wetland and catchment/ riparian restoration to increase water quantity and quality; removal of alien plant infestations to increase water flow; planting drought-resistant crops cultivars; building soil health; and avoiding bare fallows to prevent erosion and soil water loss.
The guidelines that cover social aspects of farming ensure that the rights and well-being of employees and the local community are upheld and promoted, product hygiene practices are in place, and there is no evidence of cruelty to animals by landowners and employees.
Farmers such as MG, Richard Krige and Josias le Roux, all from the Caledon region, say they are highly optimistic about how the project will shape the barley industry in the future. According to Richard, farmers are already implementing many of the prescribed practices contained in the guidelines. But by formalising the principles of economic, social and ecologically sustainable barley farming, farmers have the opportunity to measure themselves against an industry benchmark and make changes where necessary.
Soil health
The environmental guidelines that form part of the Better Barley, Better Beer checklist focus not only on conservation but also on best practices for barley production. Soil health is a major focus. The guidelines suggest that farmers seek expert advice should they be concerned about soil fertility and health, particularly if yield is consistently declining. Correct tillage is particularly encouraged to ensure healthy soil.
This, the guidelines suggest, should be done only when the soil has the correct moisture and at the correct speed so that the soil cracks and separates around the peds, leaving them intact rather than breaking them up. Farmers are urged to make use of minimum tillage to ensure that the soil is less prone to erosion and oxidation, especially when planted with a cover crop. In fact, the guidelines support any tillage system that retains a high percentage of crop residues on the surface of the soil.
By retaining residues, farmers reduce the run-off and erosion typical of clean-tilled lands while organic matter and total nitrogen content of the soil increase significantly. To further enhance soil health, farmers should reduce the use of synthetic nitrogen fertilisers. To determine the exact nutrient requirements, they should undertake regular soil and leaf sampling. Soil test values and nutrient threshold levels can then be used to calculate the amount and type of nutrients required to achieve optimum crop growth.
The guidelines also suggest that organic nitrogen fertilisers that contain a carbon source – composts, animal manure, green manure and legumes – should be investigated and applied where possible.

Reducing the Water footprint
SAB was one of the first companies to undertake a detailed water footprinting study. This revealed that more than 90% of water used across the value chain of a beer rests in the agricultural supply chain. As a result of the study, SAB is working closely with barley farmers in the irrigation areas, through the Better Barley, Better Beer initiative, to reduce water use and optimise irrigation efficiency. This utilises the measurement of soil moisture and plant water stress control at critical growth stages.
According to Thinus, the work involves both commercial and small-scale farmers through their team of SAB Agriculturalists. Parallel research is also being undertaken by the University of the Free State via a three-year project to determine a crop irrigation factor for barley and develop a computerised irrigation strategy exclusively for barley.
This will see the development of customised irrigation schedules for farmers based on the local farm conditions such as soil, weather, rainfall and evaporation. "Improved irrigation scheduling for barley will enhance the sustainability of producers by cutting on costs for unnecessary irrigation water and electricity," Thinus says.
"The sustainability of our barley industry and producers depends on the availability of suitable water for irrigation. The work done on reducing the water footprint of barley, and the beer water footprint, is showing major promise against the current baseline," he adds.
The ultimate aim is to optimise the irrigation of barley by reducing the water used to grow barley while complimenting the quality and yield. Farmers involved in the Better Barley, Better Beer pilot phase in the irrigation areas managed to significantly reduce irrigation and gain better yields, says Thinus.
Industry growth
Through Better Barley, Better Beer and other sustainable agriculture initiatives, SAB intends to source more than 90% of its barley requirements from local producers. These initiatives include the construction of a SAB Maltings plant in Johannesburg and its Go Farming programme, which is geared at establishing and supporting emerging farmers.
This enables SAB to hedge against volatile global commodity markets, keep tighter control of quality and ensure a sustainable barley growing sector. Approximately 160 000t barley is currently grown in the southern Cape, while production in the irrigation areas of the Northern Cape increased from 64 000t in 2013 to 94 000t last year.
Over the next few years, annual production must increase to between 370 000t and 400 000t to keep up with SAB's increasing demand for malting barley. But this supply has to be reliable and come at as low an environmental footprint as possible. "As the local barley industry grows to supply SAB's growing demand for malting barley, it's imperative to us that expansion happens in a sustainable way," says Thinus.
The next phase of the Better Barley, Better Beer pilot will be the roll-out of specific guidelines to small-scale and emerging farmers in the Taung area. These will be tailored to focus on training farmers rather than auditing them.
Phone Gerhard Greeff, SAB agricultural services manager, on 028 214 3218 or email him at [email protected].