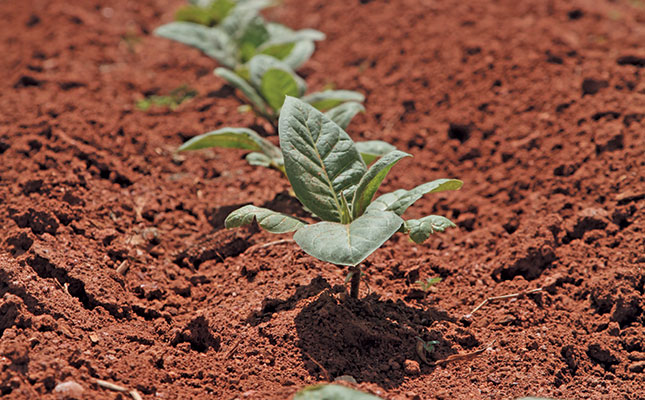 Peter Kok, who produces tobacco on Nyawa Farm near Marble Hall in Limpopo, says that tobacco is an efficient cash crop that has made it possible for him to diversify and expand his permanent crops.
He co-manages the farm with his father, Neels, and brother-in-law, Norman Snygans.
Eight years ago, Peter planted 40ha to tobacco, but has since expanded and now plants 140ha to tobacco. The entire enterprise is run on 700ha, with maize, soya and cotton used as rotational crops in a three-year rotation programme. They also produce citrus.
Planting tobacco
Before planting, soil samples are sent to Prof Hennie Boshoff in Rustenburg, whom Peter describes as one of South Africa's last specialists in soil analysis for tobacco planting. After the soil analyses, soils are adjusted with NPK and gypsum.
Planting starts in September and continues into November on lands pre-irrigated by centre pivot systems.
Peter says that a tight planting schedule is essential, and that they do not wait for rain before planting. The number of tobacco ovens, for drying tobacco, determines the planting schedule, as a backlog of leaves waiting to be dried would be unmanageable and lead to quality and yield loss.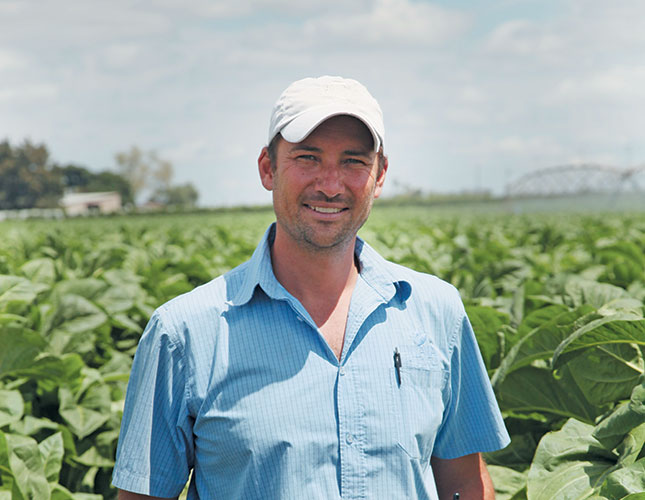 Harvesting begins in mid-February and ends in April or May. Peter sells more than 90% of his crop to Limpopo Tobacco Processors (LTP), a farmer-owned co-op.
After delivery to LTP, British American Tobacco (BAT) buys 95% of his crop from LTP. While Peter does not deal directly with BAT, the company does regulate certain aspects of production, and supplies him with a list of consumer-friendly pesticides. He begins selling to LTP in January, and sales are made every week, with payments also received weekly. Selling concludes only at the end of June after all the tobacco has been dried.
Between 15 000 and 18 000 plants per hectare are planted in rows 1,25m to 1,4m wide. Intra-row spacing is between 30cm and 50cm, depending on the individual producer's preferences and planting theories.
Peter buys seedlings from Parma Nursery in Hoedspruit, but cultivars are developed by the Lowveld Agricultural Research Station (LARS) in Nelspruit, and at the Agricultural Research Council's research facility in Brits.
Peter plants mainly the LK1, LK3360 and BS4 cultivars, as they thrive in the area and are resistant to diseases such as Black Shank (Phytophthora nicotianae).
Tobacco is planted under centre-pivot irrigation and requires about 750mm of water. The farm is situated in the Loskop irrigation scheme, and irrigation scheduling is done according to soil moisture measurements conducted by soil probes.
Average rainfall in the area is around 500mm, but Peter received only about 200mm during last season's drought. Peter is optimistic about this season, however, having already received approximately 250mm of rain since the beginning of the season.
Tobacco thrives in environments where the difference between minimum and maximum temperatures are not extreme. Marble Hall often fluctuates between a maximum temperature of 32˚C and 38˚C, and a minimum of 18˚C to 22˚C during planting season.
The crop also prefers light, well-drained gravel or sandy soils, and Peter says that many of the soils on his land consist of red clay, and therefore not ideal for tobacco production.
Most importantly, however, tobacco requires a warm, subtropical climate, such as that of Marble Hall, with both heat and moisture.
Man vs machine
Tobacco production is labour-intensive, but mechanisation of the planting process has allowed Peter to expand from 40ha to 140ha without having to increase the number of labourers required until harvesting.
He currently employs approximately 80 permanent staff members for the tobacco production, and employs a further 80 seasonal workers when needed.
Mechanisation also means that management of the larger production area is the same as for the smaller area.
Peter says that mechanical planters and precision farming has made a real difference to the operation. Initially, seedlings were planted and fertilised by hand, but Peter now uses a GPS-guided lift planter with water tanks, which not only plants seedlings in a raised seedbed but sprays plant roots with 250ml to 400ml of water treated with plant stimulants and pesticides for pest and disease control.
Before mechanising, pest control and the application of fertilisers and fungicides took five weeks of intensive labour. Now Peter only needs his high-clearance spray operator to perform these tasks, and labourers can be employed more effectively elsewhere.
Precision farming techniques ensure that plant spacing is precise, which allows for weeding without damaging the tobacco plants. While weeding was previously done by hand, today only 5% of weeds growing between tobacco seedlings are removed manually.
Yield and quality
Peter says that the success of a harvest is determined by yield and crop quality.
Producers in the area aim to produce between 3t/ha to 4t/ ha, but a number of factors can influence these figures. For example, too much rain drowns plants and results in a lower yield, while too little rain and high temperatures, as in the case of last season's drought, scorches leaves and affects crop quality.
Quality is determined largely by the careful management of production. For example, tobacco plants must be 'topped', which involves manually cropping flowers that emerge, so that the plant's energy can be directed to leaf growth.
"If I'm late with topping, quality and yield are affected. And quality determines much of the price I receive," Peter says.
Harvesting
Tobacco leaves are ripe and ready for harvesting when leaves turn from dark to light green. As not all leaves ripen simultaneously, harvesting is done by hand. The leaves change colour at the base of the plant first, and harvesting of the ripened leaves takes place over a nine-week period.
As ripened leaves are also more prone to disease, harvesting must be done immediately, when quality is still at its peak.
During harvesting, Peter harvests about 16t/ day, which, after drying, amounts to about 3t/day. After harvesting, plants are ploughed back into the land as preparation for the subsequent crop.
According to Peter, tobacco plants in countries such as the US have adapted and are able to withstand mechanical harvesting. This is because labour in developed countries is significantly more expensive than in South Africa. However, Peter says that machine-adapted plants are of a lower grade than tobacco plants that must be manually harvested.
"British American Tobacco wants 'full aroma' tobacco from local producers. This type is slightly more heavily fertilised and does not ripen evenly, and manual harvesting over a period is therefore essential," Peter says.
Curing
Tobacco is cured, or dried, in large containers heated by coal-fired ovens. Heat is distributed evenly by a fan. The aim of curing is to control the natural processes that would have occurred in-field.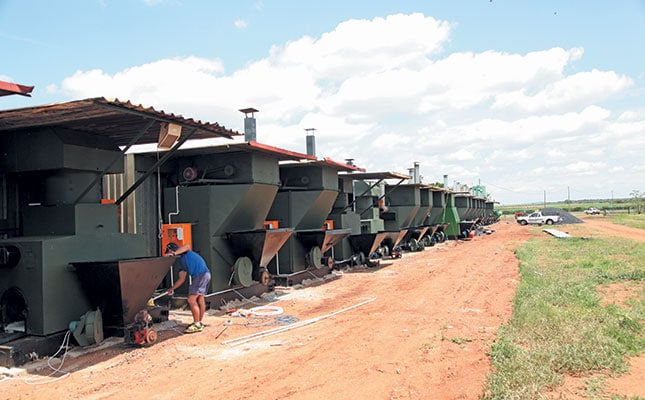 After harvesting, the leaves consist of mainly starches, and the first three days of drying accelerates wilting so that starches are converted into sugars. Without this process, tobacco would lack 'aroma' when smoked.
After wilting, the leaves are dehydrated through exposure to extreme temperatures. Drying starts at 38˚C, and temperatures are systematically increased to 72˚C. After drying, the fire in the ovens is extinguished and conditioning (misting) commences without heat.
This converts the hard, brittle, leaf into a workable product. After misting, leaves are graded and placed in 60kg carton boxes and delivered to LTP.
Peter's ovens cost about R150 000 each when purchased new, but he says that new, cheaper and more effective drying technologies are now available.
Diseases
Tobacco is susceptible to many pests and diseases, and Peter has to control nematodes, wire and bud worms, red spins, tobacco snails, potato virus and tobacco mosaic virus.
His rotation programme assists with disease and pest control, as cotton and oats keep the soils healthy during rotation years. Babala, a fast-growing grazing grass, is also planted as a rotation crop at times, and is a nematode repellent.
Demand and industry
Annual demand for locally produced tobacco is between 10 million and 15 million tons. Peter says that between the 93 local producers, who plant a total of 3 600ha, 10 million to 12 million tons are produced annually.
Producers are paid according to grade, and according to Peter, the current price of tobacco is very good, with producers receiving at least a 100% return.
"What is great about the industry is that we know precisely how much we'll be paid before planting, as this is negotiated beforehand. For cash flow, there is nothing better than tobacco."
The industry is also progressive, with LTP rated Level 4 BEE-compliant. "In 10 years, we want 25% of our producers to be black emerging farmers. The tobacco industry puts in a real effort to comply with BEE. LTP has agronomists who are mentoring new entrants."
Phone Peter Kok on 082 854 1428, or email him at [email protected].