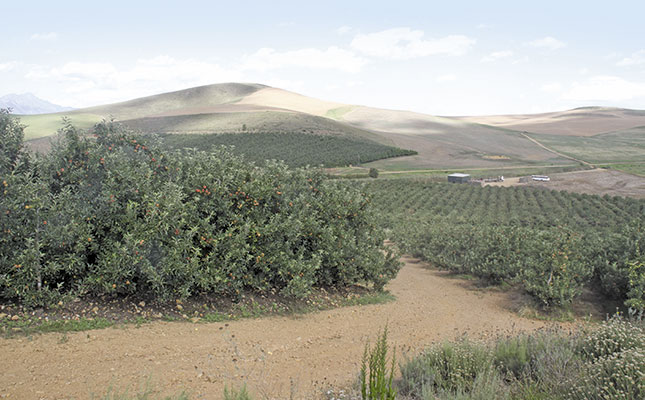 Ouplaas near Greyton in the Western Cape recently had 350mm of rain in just 10 weeks – from mid-November until the end of January. This compares with the farm's long-term average of 400mm/annum, most of which falls in winter. As a result, Guy Emslie, who joined the family enterprise in 2000 and is in charge of the farm's apple production unit, had to pull out all the stops to rescue this year's crop. He did so with preventative spraying.
When Farmer's Weekly visited Ouplaas in the first week of February, shortly after harvesting had started, both Guy and Graeme Krige, a technical advisor from the Two-a-Day Group, indicated that they did not expect a major loss in yield at that stage. Since mid-November, they had been under constant threat of Fusicladium (fungus that causes black spot) destroying the crop, but they managed to take preventative measures timeously, says Emslie.
White rust did not pose a big problem, however. Staying within the spraying restrictions of GlobalGAP and Nature's Choice, they sprayed a different chemical registered for use on apple trees every week to overcome the problem of resistance.

Hands-on management
According to Graeme, regular spraying with fungicide and the correct hands-on management practices produces healthy leaves. Despite the orchards being heavily laden with apples in the first week of February, the branches still showed small growth points. These were not very vigorous, but a clear indication that the trees still had enough capacity to 'feed' the crop until all the apples could be harvested.
Hands-on management practices on Ouplaas include:
Using organic compost made from the dung of the Jersey herd on the farm, and applying supplementary fertiliser. This is based on an analysis of the nutritional value of the compost, and biennial soil analysis, followed by adjustment with limestone, gypsum and phosphate, every third year.

In January every year, mineral analysis is conducted on the apple leaves. This aids Graeme in making recommendations about the foliar nutrition of the orchards. Mineral nutrients can be applied as foliar spray during the main season and post-harvest, as required by the trees.

In conjunction with calcium nitrate foliar feeding, a kelp-containing fertiliser is applied during spring when the roots become more active, and in autumn to feed the trees before they go into a rest phase. Without the kelp-containing fertiliser, calcium nitrate tends to harden the leaves when applied as a foliar spray.
According to John Walker, owner of Ouplaas and Guy's brother-in-law, he has only once experienced a total crop wipe-out. It was in 2000 and resulted from hail damage. "Unfortunately, we didn't have insurance at that stage. However, to stay positive, we summoned enough courage and faith to expand the area under apple production by establishing another orchard during that same year."
In 2002, the Walkers expanded further by buying a neighbouring farm that also had apple orchards, and named it Nuweplaas.
Asked why he decided to grow apples in a non-traditional area, John said that soon after he had joined his father, Cyril, on Ouplaas in 1990, they stopped growing watermelons and pumpkins, and followed the example of other farmers in the area who had established apple orchards. "We had no knowledge of fruit production, but had a need for further diversification. Moreover, we could irrigate 240ha on Ouplaas from the Sonderend River."
When his father bought Ouplaas in 1979, it covered only 240ha. Subsequently, the farm was expanded to its current 900ha, but it was still too small for an extensive farming operation such as sheep. "Therefore, we opted for something intensive such as apple production," says John.
The first apple orchard on Ouplaas was established 23 years ago and within the first decade, John had won a prize for best income/ha within the Two-a-Day Group. "We are ranked every year and are consistently among the top third of Two-a-Day's producers. In fact, in some years, we have also been top of the log with Golden Delicious."
Yields and income
Last year, the industry experienced a bumper apple crop, while the rand's weak exchange rate was also an advantage for exporters. John's Braeburn orchards had an average yield of more than 115t/ ha, while the yield of his Golden Delicious was 872t from just 9,5ha, an average of almost 92t/ha.
"Although Golden Delicious is regarded as a commodity apple, it provides us with excellent yield and quality," says John. However, in 2013 he achieved his top price of R5 000/t for Granny Smith apples. The range for all his cultivars is between R2 500/t to R5 000/t.

Soil type variation
The fact that Ouplaas's apple orchards could be planted on suitable virgin soils was a big advantage. However, great variation in soil type – ranging from sandy loam to clay loam and stony soils – can make soil management a challenge, especially when it comes to irrigation.
In the early and late season, sub-contractor Ian Kingwill measures soil moisture levels on Ouplaas once a week. From December to February he does it twice a week, using a neutron probe. Microjet irrigation is then scheduled accordingly. "When the trees carry a full crop and it's warm and windy, their water requirement is quite high, but as soon as half the crop has been harvested the water requirement drops dramatically. There's nothing constant with regard to irrigation," says John.
Pollination
Another crucial factor in ensuring good crops is proper pollination at fruit set. The apple orchards on Ouplaas and Nuweplaas currently comprise 16ha Royal Gala and improved Royal Gala selections, 9,5ha Golden Delicious, 5ha Top Red, and 4ha Braeburn. Granny Smith trees have been planted in-between these other varieties as pollinators.
Guy believes in using far more beehives in the orchards than is the industry norm. Should overcast conditions occur when the trees are blossoming in spring, he increases the number of beehives to five/ha. He says that bees should 'bother' one on a walk through the orchards during pollination. Guy obtains beehives from a reliable source; Ouplaas and Nuweplaas get their hives from a local beekeeper in Greyton, Koos Kellerman.
Other production challenges
Apart from spraying for Fusicladium and white rust, Guy monitors the occurrence of bollworm, banded fruit weevil, codling moth and fruit fly. "Provided you have a proper knowledge of how to detect these pests and how to combat them at the right time, it's actually not rocket science," he says.
Effective pest management
Guy points out that one can detect codling moth fairly early by using Delta traps and sticky pads, while their mating can be disturbed by placing 1 000 pheromone strips/ha in the upper branches of the trees."However, the banded fruit weevil seems to be quite elusive. Because it seeks out the tree trunk, we place four normal cartons/ha on the stems in different parts of the orchards. Weevils tend to hide under these cartons and we can then monitor their numbers. If there's a high occurrence, we include a pyrethroid in the herbicide sprayed on the ridges," he explains.
They also prune all twigs up to 400mm above the ground, removing a hiding place for the weevils. Guy detects bollworm larvae by walking through the orchards, and normally spots the swarms of white moths in his bakkie's headlights when he comes on duty for a 4am milking shift at the dairy. In winter, preventative measures against fruit fly are taken once a month, while this is increased to twice a week from the end of January until the end of March.
As shareholders in the Two-a-Day Group, Ouplaas and Nuweplaas can access the group's technical services and Graeme visits the orchards every week. The horticultural and entomological assistance provided by the Two-a-Day technical team ranges from planning and establishing new orchards, soil mapping and soil preparation to integrated pest management and technical advice. This advice varies according to the time of the year and the state of the trees. Guy and John also receive technical advice on trellising and pruning, as well as handling and storage of the harvest.
A shift in export destinations
Two-a-Day is responsible for packing Ouplaas and Nuweplaas's apples before Tru-Cape takes over to do the international and national marketing. Because harvesting on Ouplaas starts on average 10 to 14 days earlier than in other areas, a significant marketing edge can be achieved depending on market demand.
Two-thirds to 70% of Ouplaas and Nuweplaas' apples are destined for the export market, and a maximum of 15% is used for the production of juice, while the balance is marketed nationally. With exports, the emphasis has shifted more towards other African countries, the Middle East and the Far East, with fewer apples being exported to the EU. John explains that although dairy remains his main farming enterprise at the moment, this may change in the future as they plan to double the size of their apple orchards within the next 10 years.
Phone John Walker or Guy Emslie on 028 254 9388, 082 821 4802 or 072 256 5110, or email them at [email protected].