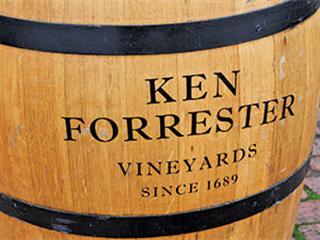 The South African wine industry has long been dominated by only a few wine varieties. In the white wine category, most plantings are made up of Chenin Blanc, Chardonnay and Sauvignon Blanc. Red wines are dominated by famous Bordeaux varieties such as Merlot and Cabernet Sauvignon, on the one hand, and the local darling, Pinotage, on the other.
After the country became a democracy in 1994, the international wine trade was opened up for local producers. Wine exports increased by more than 200% between 1998 and 2010 and are still growing. At the same time, new ideas started flowing into the country, and producers began experimenting with innovative techniques and flavours.
One of the most prominent trends to emerge from this has been a drive to add more grape varieties and wine styles to South Africa's limited repertoire. Some growers soon realised that Mediterranean varieties, especially those planted in France's Rhône region – such as Syrah (Shiraz), Grenache and Mourvèdre – might be better suited to the relatively warm climate enjoyed by most of the Cape's wine regions. Ironically, the Bordeaux varieties traditionally planted here thrive in cooler conditions.
"Planting Rhône varieties in the Cape Winelands makes absolute sense," says renowned SA winemaker Ken Forrester, who has embraced these Rhône varieties to produce an extensive line-up of wines. Ken has long been regarded as one of the drivers of innovation in the industry. In particular, he is hailed as the 'saviour' of South African Chenin Blanc, a varietal he took from 'slogger' to 'saint', winning a host of national and international awards in the process.
His Rhône collection includes the VCR, a blend of Chenin Blanc, Viognier and Rousanne; a single varietal Rousanne and Viognier; and a number of red blends – mainly made with Syrah and Grenache – in various styles. "There are many similarities between growing and climatic conditions in the Rhône valley and large parts of the Cape Winelands," explains Ken. "Both are semi-arid areas with warm, dry summers and cold, wet winters. And where we have the Cape Doctor, a cool south-easterly wind, the Rhône valley has the Mistral from the north-west, which cools down the valley's vineyards."

Ken and his wife Teresa took over Scholtzenhof farm in Stellenbosch in 1993. They have since replanted most of the vineyards.
New varieties
One red varietal from the Rhône valley – Syrah – is already highly popular in South Africa. Called Shiraz here, it makes up more than 10% of all wine grape plantings. But other Rhône varieties, such as Viognier, Rousanne and Marsanne (all white), and reds such as Grenache and Mourvèdre, are certainly not well known. Although they have been making their way into more local blends and in some cases being bottled as single varietals (Viognier has proved popular), the total vineyard area planted to these varieties is still negligible.
But this has not always been the case, says Ken. "Grenache used to be reasonably widely planted in South Africa 60 years ago. But when farmers began taking advantage of the variety's high yield potential – up to 30t/ ha – to bulk up their tonnage, large producers such as KWV, who were buying these grapes at the time, effectively banned new plantings of the grape.
"The trouble was that farmers' yields were too high and the berries were failing to receive enough nutrition to ripen fully. The problem was exacerbated by Grenache being a late-ripening variety. "All of this lowered the quality of the wine and that's why further plantings were halted."Farmers then focused on planting only the few varieties that the large producers demanded, a situation that persisted for many years.
Resistance to change
As years went by, however, many vineyards that once supplied co-op cellars became private concerns, and took responsibility for their own marketing. In addition, during the past 10 to 15 years, farmers have started experimenting with new varieties, like those from Rhône. Nonetheless, these grapes typically account for fewer than 1% of vineyards.
According to Ken, part of the reason that Rhône varieties are still so scarce in South Africa is the lack of available plant material, because it takes about 12 years to establish a new mother block. "The plant material has to go through quarantine, evaluation, testing and propagation," he explains. Another factor is that the productive lifetime of a vineyard is about 20 to 30 years, and replanting is an expensive exercise, costing approximately R150 000/ha. "Deciding which grape varieties you want to plant isn't a decision that happens overnight, so we shouldn't expect any sudden changes," says Ken.

Creating a different demand
Finally, of course, there is still no guarantee of success because the market remains the final arbiter. And demand ultimately decides what many farmers are willing to plant, especially as there is no government support or subsidies. Ken quotes the remark made by Hugh Johnson, the renowned journalist and British Master of Wine, during a visit to South Africa in 1995: "There is one big problem for the South African wine industry – it seems that they have not trained a local wine drinking public."
"Sadly, it seems we've been slow to bring on a change," says Ken. "Even today, local consumers buy only what they know. They seem considerably reluctant to try wines they haven't heard of before, especially if they cannot even pronounce the names." Ken Forrester Vineyards has attempted to overcome this reluctance on the part of consumers by marketing the new, lesser-known wine varieties under quirky, light-hearted names.
For example, the Shiraz-Grenache blend is called 'Renegade' while the Rhône blends in the Icon range (the farm's flagship wines) will appear on the shelves as 'The Three Halves' and 'The Gypsy'.
Drinkability
Ken has also worked hard at producing 'drinkability', as he describes it. This he believes, is ultimately the most important quality in a wine."Simply put, it means that the wine has to taste good enough to make you want to take that next sip or, better yet, pour another glass," he explains. "All that's required is to overcome people's reluctance to take a chance on something new."
Despite these hurdles, Ken admits that the industry is doing a much better job these days at reaching out to consumers, and he is hopeful that the marketing will succeed in persuading the wine-loving public to experiment more. In addition,
he adds, there is a new breed of exciting young South African winemakers. Well-travelled, they are breaking new ground, producing exciting wines and constantly experimenting with new styles and varieties.
"Advice comes in many guises and it's also good to listen when it's given by someone with many years of experience," says Ken. "But sometimes it's better to be brave and take a few calculated risks in the name of innovation."

Rhône on the rise
Omitting Shiraz, the total area planted to Rhône varieties in South Africa is extremely small, but there has nevertheless been an appreciable increase over the past 10 years. Total plantings of Grenache, Mourvèdre, Rousanne and Viognier have increased from 360ha – less than 0,5% of the total 100 000ha of wine grapes planted in South Africa – to 1 595ha, which is more than 1,5% of total plantings. Shiraz plantings increased over this period from 8 000ha (8% of total plantings) to 10 500ha (10,5%). The table (below) provides details of these Rhône variety plantings over the past decade.
Contact Ken Forrester on 021 855 2374, email [email protected] or visit www.kenforresterwines.com