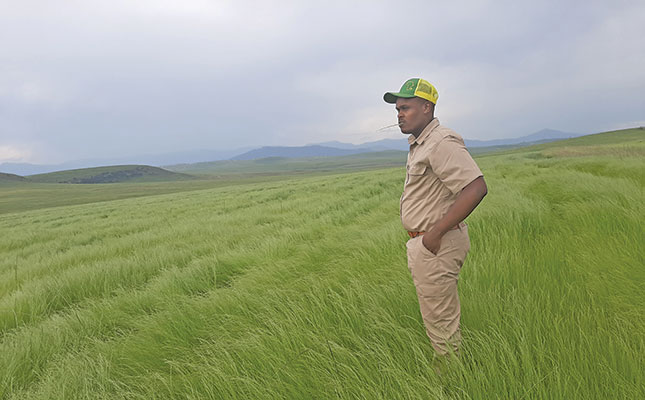 Sinelizwi Fakade is a commercial grain farmer in Ugie in the Eastern Cape. He produces maize, sunflower, sorghum and soya bean on the 1 200ha farm Rocky Park.
Fakade is a founding member and chairperson of the Ukhanyo Farmer Development (UFD) programme, an independent non-profit organisation. The UFD was formed by 36 young people who were graduates of Grain SA's development programme. Before embarking on his farming journey, Fakade was a provincial coordinator at Grain SA.
"With our combined experience and skills, the UFD founders decided to start a youth-owned and women-led independent entity that [aims] to address the challenges that prohibit black farmers from reaching commercial status in the Eastern Cape.
"The UFD enables subsistence and emerging farmers, women, youth and co-operatives to access markets, finance, infrastructure development and growth opportunities," says Fakade.
The purpose of the UFD is to help farmers in rural communities increase the volume and quality of their produce by offering them comprehensive support in the form of mentorship and inputs, which enables them to participate meaningfully across the agricultural value chain and help boost their incomes.
"We currently have just under 500 members on 490ha in the 2020/2021 production season, while last year we assisted 270 farmers covering 300ha."
While the UFD is focused primarily on grain and fodder producers, they also support vegetable farmers.
Fakade says the initiative is aimed mainly at helping small-scale farmers achieve commercial status, but it also supports subsistence farmers.
"We have farmers who we know will forever be [subsistence] orientated, meaning that there's a limitation to their growth.
"Despite this, however, [we want to help them achieve] commercial yields in their small gardens."
The mentors work with the farmers on continually, sharing their technical knowledge.
The beneficiaries also receive training on how to market their produce, and the agro-processing opportunities that exist with regard to the commodities they produce.
They also receive a subsidised package of four bags of planting fertiliser (200kg);
three bags of top-dressing (150kg); Roundup-ready seed (73-74BRGEN from Monsanto); and pre- and post-emergence herbicides supplied by Villa Crop.
The initiative is supported by private sector entities, donations and the Eastern Cape Department of Rural Development and Agrarian Reform.
Fakade says beneficiaries are not necessarily selected using specific criteria; instead, the programme is open to those who can make the necessary contributions and are in an area that has potential to produce grains.
"UFD farmers pay membership fees. When joining, they must indicate where they are located, what the size of their land is, and what type of grain or commodity they want assistance with."
Apart from his work with the UFD, Fakade has also hosted students from the Walter Sisulu University in Mthatha to expose them to commercial agriculture.
Making progress
While Fakade is passionate about mentorship, he is a full-time grain farmer, and is thus in the process of improving his own operation. When he first arrived on the farm three years ago, there was no dam, no electricity and no irrigation infrastructure.
Despite this, Fakade says the grain potential of the farm was evident, as past trial results and soil analyses showed. He is thus investing in improving the infrastructure on the farm.
"My main focus for now is infrastructure development, such as the erection of silos, building a dam, and installing electricity.
"If this is to be a successful and sustainable business, I need to irrigate the land, and must have enough storage, and all of that needs adequate electricity supply."
Fakade plants maize on 600ha. He predominantly plants 73-74BRGEN, with a plant population of around 45 000 plants per hectare.
"This cultivar performed very well in some fairly poor soils and achieved the highest yield on average compared with other cultivars I planted in the 2019 season."
He achieved an average yield of 8,5t/ ha of maize over the past season.
Soya bean is planted on 220ha, while sorghum and sunflower are planted on 56ha each.
Precision farming
With an average rainfall of between 600mm and 800mm, conservation practices are key to ensure the sustainability of the business. Fakade says he thus focuses on maintaining soil health, saving water and farming with the environment instead of against it.
In this regard, Fakade has bought the Bednar Terraland 4000. This implement completes three operations with one pass over the land, leaving the soil as undisturbed as possible.
"Given that the operation is still developing, I needed to introduce conventional tillage practices. I intend to cut back considerably on this during the 2021 production season."
Fakade says his primary objective is to use as little fertiliser, chemicals and equipment as possible.
"The ultimate goal is to plant precisely where the fertiliser has been applied; to accurately top-dress where needed; to apply fertiliser in areas of the land that lack those nutrients; and to irrigate where needed and spray precisely the exact amount of chemical required."
Fertilisation and disease management
Fakade conducts soil analyses, which help him decide which fertiliser programme to implement. The soil analyses indicate which deficiencies are present, and which products he should use to replace these nutrients.
Currently, Fakade applies a 7:15:7 fertiliser at 200kg per application, and a 3:0:1 fertiliser of 200kg per application, which is applied at planting.
"Fertiliser is an expensive item, so I buy and apply what I need. This forces me to really focus on precision practices in order to cut costs where I can."
Foliar nutrition tests are also conducted to ensure the plants receive the required nutrients.
"Various nutrients have specific roles to play when it comes to plant growth, health and yield. I place great emphasis on the correct fertilisation programme and sound soil pH management," says Fakade.
In terms of pest management, he hires consultants to determine which spraying programme should be implemented, depending on the specific pests or diseases they encounter. He commonly sprays for rats, various fungal diseases and stalk borer.
Job creation
The farm currently employs 18 people, who comprise eight permanent workers and 10 seasonal workers.
"The whole staff contingent is employed from local villages surrounding Rocky Park.
"My ultimate aim is to have an operation that will create sustainable jobs for the community."
He adds that improving production is one of his key priorities.
"I am continually looking for ways to rotate and improve production, and so crops that can commercially thrive in this area are something I am always looking into."
He says the best decision he has taken in his career thus far is having an open mind and the willingness to learn from experienced farmers in the area, which has helped him lay a solid foundation when it comes to the production systems he uses on the farm.
"My education allowed me to understand agriculture from a theoretical perspective; what I know in terms of practice is minuscule compared with a farmer who has been farming for 30 years in the region. Absorbing such experience is therefore critical for me to grow the business."
Email Sinelizwi Fakade at [email protected].