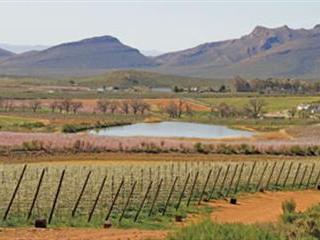 "On this farm we do not try out new things because we want to be fancy, we do things that work, keep our feet firmly on the ground and our hands dirty," says Rossouw Cillié. He joined the family enterprise, Laastedrif, in Ceres's Bo-Swaarmoed area some 23 years ago to continue a tradition of fruit and vegetable production.
At the time he joined his father Koos, they were still producing mainly apples and pears on about 120ha of orchards. The vegetables were a small sideline, about 20ha of irrigated onions and potatoes. Today Rossouw has about 850ha irrigated land under production on six different farms, including 550ha of vegetables. They produce a variety of vegetables (carrots, onions, broccoli, cauliflower, Swiss chard, lettuce, butternut, pumpkin and beetroot) for some of South Africa's top retailers.
Year-round production
The six farms that make up the Laastedrif Group are situated at different altitudes with different climates and are scattered from Gouda in the Cape winelands to the slopes of the Matroosberg and the plains of the Little Karoo. Rossouw recalls that they spent 10 years perfecting the planting schedule for the vegetables, working out where each would grow best at what time of the year.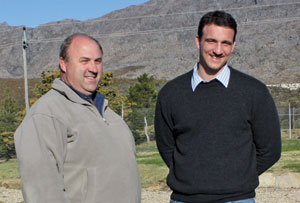 Rossouw Cillié (left) runs an extensive vegetable production enterprise in the Western Cape. AJ Griesel (right), the operational manager for the Laastedrif Group, joined the enterprise about 18 months ago. Photo: Denene Erasmus
"The planting schedule is primarily based on mapping daily minimum and maximum temperatures, and rainfall patterns over a long period. This shows where vegetables grow best at what time of the year," he says.For example, they harvest
carrots from January to June on Laastedrif and Kleinvlakte Farms 1 250m above sea level in Ceres's Bo-Swaarmoed, and from June to September on Nouga Farm outside Touws River in the Little Karoo due to the warmer climate, and from September to December on Loreley Farm on the banks of the Berg River outside Gouda. The farms Morceaux and Uitkoms mostly produce stone fruit, apples, pears and some vegetables.
Value adding
As they supply directly to supermarkets, diversification into packaging and value adding was necessary. Around 65% of their vegetables are marketed directly through supermarkets and other direct marketing programmes. They produce more than 19 500t of vegetables annually, with an average 65t handled in the packhouses every day. They wash and pack fresh vegetables for retailers such as Woolworths and Freshmark (the fresh produce supplier for Shoprite).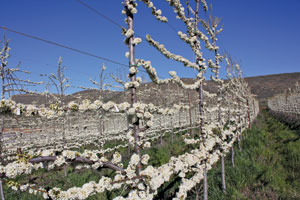 About 7 400t of onions are produced annually, as well as onion seed and seedlings for the group's own use and for sale. Photo Courtesy of the Laastedrif Group
Since 2005, the total turnover has quadrupled, mostly due to on-farm value adding. "Most of the expansion into value adding has taken place since 2005," says Rossouw. "Our first goal was to become self-reliant in terms of supplying vegetables, which is why we found a way to produce vegetables year-round on the different farms. Joint ventures with a few select growers secured us a reliable supply of vegetables that we are unable to produce for the full 12 months."
As the enterprise grew, they realised that volume and consolidation was the name of the game. "At one point we ran about 20 production lines, but we since cut that down to seven or eight. The enterprise concentrates on producing high volumes of a few vegetable types. "When we work directly with supermarkets we ensure that we can give them a reliable supply that meets the demand for high quality. "It is better to grow a few vegetables and add value to the products, than to produce a large variety and struggle to maintain a high level of supply," he explains.
Affordable
Rossouw supplies high quality fresh produce to customers at affordable prices. He also keeps the supply chain from farmer to consumer as simple and short as possible. "Production costs for produce are skyrocketing. If we want people to continue buying our goods, we must find ways to give them the quality they expect at prices they can afford.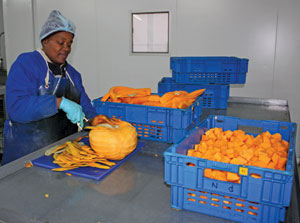 Tlaleng Kakli works in the low care vegetable packaging room. She is in charge of chopping up pumpkin for ready-to-cook bags. Photo: Denene Erasmus
"To do this, you must implement production practices that will keep costs as low as possible, plant the most appropriate cultivars, conduct trials, experiment with planting times or densities, consult experts on the use of chemicals and fertilisers, and use only when necessary. And keep a close watch on labour productivity." But, he admits, farmers can only do so much. Since they have no control over the rising cost of electricity, fuel, fertiliser and other inputs, they should get as close to the end-user as possible.
Production management
To ensure consistent quality, vegetable production runs on a four-year rotation cycle. Onions are planted in the first year, followed by carrots and then either a grain crop or another type of vegetable in the third and fourth years. They never plant vegetables that are susceptible to the same soil-borne diseases, two years in a row. "As most of our farms are quite isolated, we have a low disease and pest pressure, and minimal chemical intervention. We want to keep it that way," Rossouw says.
All vegetables are under irrigation. As the farms are situated on uneven terrain, they mostly use dragline and sprinkler irrigation. "We are very fortunate to have access to abundant, clean water. At least 80% of our crops are grown with first-use water, contributing to the quality of our vegetables." They constantly run trials and conduct research on how to further improve quality and solve problems.
One of the current research areas is increasing the size of broccoli heads. They have established trials of different cultivars and are experimenting with planting densities. Private consultants manage chemical spraying and fertiliser programmes according to strict guidelines such as GlobalGap and Woolworths' Farming for the Future programme. "We rely on technical inputs from experts. We want to work with the best people out there," says Rossouw. He also runs about 200 Dohne Merino ewes and 100 Dohne Merino rams on Laastedrif, commercial as well as stud, as a sideline business.
Business and people management
Each farming activity – the livestock (Dohne Merinos sheep), the fruit and the vegetable lines – is run independently without cross subsidisation. Within each production line, every product has to be profitable in its own right. This is important for economical sustainability, insists Rossouw.
"Obviously we have an overall vision for the enterprise as a whole, but it is important to give workers ownership of the part they manage. This strong sense of ownership that employees feel pays off well for us and applies to everything we do. "If we put one worker in charge of a tractor, we can be sure that they will rise to the occasion and make sure the tractor is always in good running condition.
"The same principle applies to the managers we appoint for each of the production lines. It is all about giving our workers some real responsibility instead of micro-managing them." The enterprise employs 900 people during peak season. As the workforce is one of their strongest assets, Rossouw says they invest a lot in the workers' happiness and productiveness.
"We are committed to providing fair and safe living and working conditions, and adding to their general well-being."
Initiatives include decent housing with subsidised water and electricity, a state-subsidised crèche and aftercare facility for the children of working mothers, and a state-subsidised primary school and library. "In 2003 we transferred 60% of the ownership of Morceaux farm in Ceres to workers with more than five years of service in recognition of their valuable contribution. A retirement housing project is currently under construction on Morceaux for long-standing employees," explains Rossouw.
Future plans
The core principle of the group is to consolidate the enterprise for maximum efficiency of production and supply. But they also keep in mind that it should be in a constant state of renewal and innovation. "With the fruit, we must balance bearing orchards and non-bearing orchards through a well worked out replacement schedule. With the vegetables we must keep improving and expanding where possible and we are evaluating the possibility of two more product lines."
Contact Laastedrif Farming on 023 316 1330 or email [email protected]