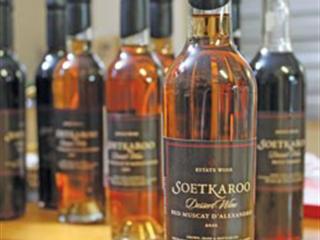 "It all happened rather unexpectedly," says SoetKaroo winemaker, Susan Perold. She and husband, Herman Perold bought an old Cape Dutch house on a large plot in Prince Albert as a holiday home after visiting the picturesque Karoo village. "There was an overgrown fruit orchard planted on the plot and Herman said he was sure the piece of land had a lot of potential, he just wasn't sure what it was," recalls Susan.
They initially planned to plant pistachio and olive trees, but the fate of the land was decided when Wouter Pienaar, a winemaker friend from Stellenbosch suggested a vineyard for the production of an exclusive dessert wine.
Decisions
After moving into their old Cape Dutch cottage, the husband and wife team soon started converting the 1ha of land behind their house into a small but productive vineyard. "Wouter recommended cultivars suited to the climate that would produce an unusual fortified dessert wine, something very traditional and culturally appropriate to the terroir," says Susan.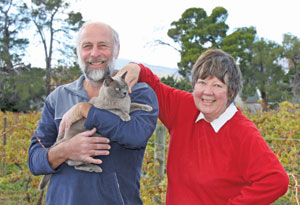 Winemakers Herman and Susan Perold with their cat Kuschke.
Planting started in 2000 and under Herman's lead they established a small vineyard with four different cultivars; Red Muscat d'Alexandrie (Red Hanepoot), Red Muscat de Frontignan (Red Muscadel), Petit Verdot and Touriga Nacional, all suited to the dry hot climate of the Great Karoo.
More than half of the total vineyard was planted with the rare Red Muscat d'Alexandrie (Red Hanepoot) cultivar. Herman says there are only about 10 000 of these vines registered as wine grapes in South Africa and 2 000 of them are planted in their backyard. "The Red Hanepoot has all the flavours of the White Hanepoot grape, but it has a delicate rosy pink colour," he says.
"Our initial idea was to make a single, blended fortified wine and we planted the deep red cultivars, Petit Verdot and Touriga Nacional, with the idea that these grapes would add colour and complexity to our end product," Susan explains. "We rather liked the natural colour of Red Hanepoot and decided on separate cultivar wines rather than one pretty blend, so there are now three separate cultivars on offer."
The first SoetKaroo wine was made in 2004, but it wasn't until 2007 that the first SoetKaroo estate wine was made and bottled on their smallholding. "During those first three years we took the grapes to the Kango Winery in Oudtshoorn where Flippie Smith made it under our label. We learnt a great deal from him," says Susan.
Learning new skills
''We also attended an excellent course in small-scale winemaking presented by Dr Wessel du Toit, senior lecturer at the Department of Oenology and Viticulture at Stellenbosch University," she says. The course is presented every year during February at the university. It has been running for seven years and is specifically aimed at garagist winemakers, people interested in producing quality small-scale wines in the comfort of their own homes.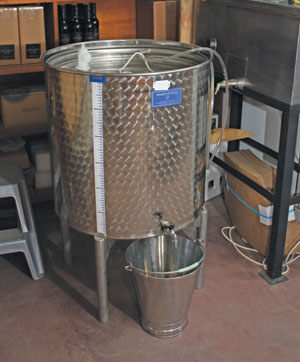 A small stainless steel barrel. Most of SoetKaroo's stainless steel equipment comes from Italy, imported by local suppliers.
Apart from lessons in small-scale winemaking, the course teaches aspiring garagistes about small-scale winemaking equipment and introduces them to a number of wines that are currently being produced on a small scale. "We have always been interested in wine. I worked as a librarian in the agriculture library at Stellenbosch University for many years and Herman is a trained scientist with a background in Microbiology and Plant Biochemistry. We loved our regular visits to wine farms, but never dreamed of making our own wine."
But Susan reveals that winemaking is really not that difficult at all. "Winemaking is a tradition, an artisanal skill that gets passed down from one generation to the next – like learning how to bake good rusks or roasting coffee. "It takes a lot of effort, attention to detail and strict hygiene. I also think that fortified wine is probably one of the easier wines to make, as long as you have good quality grapes, which we do," she adds.
Production notes
Susan describes Herman as a perfectionist and an exceptionally hands-on vigneron, but adds that his efforts in the vineyard are rewarded by the quality of the grapes. The vineyard is planted on a five-wire trellis system and they use a drag line irrigation system to irrigate the vineyard as needed, about four times a year.
"This area only receives about 200mm of rain annually so it is impossible for us to grow dryland vineyards, but luckily we have a borehole on our property which provides more than enough good quality water to irrigate our small vineyard."
According to Herman, the luxury of farming with wine grapes on such a small scale is that they can be absolutely tenacious about quality.
Their 1ha of vines could yield about 5t of grapes, but they aim to harvest only 2t every year which means that the grapes they do produce are packed with character and flavour. "Our vineyard is very healthy and because we farm in such a warm and dry area we have very few problems with diseases and pests. We follow a preventative spraying programme to keep fungal diseases at bay and weeds are removed by hand.
"Other than that, each vine receives about a handful of KAN (calcium ammonium nitrate) fertiliser at the end of the growing season, but no other supplements are required." According to Herman they follow a vigorous pruning programme to keep yields low.
Making an 'estate' wine
In 2007, after Susan finished converting their garage into a cellar, they started producing and bottling their wine on
their smallholding in Prince Albert and became the first SAWIS registered wine estate in the Great Karoo. This refers to a unit where the wine is grown, made and bottled. The first SoetKaroo wine was produced on site in 2007 and the formal registration as an estate occurred in 2008.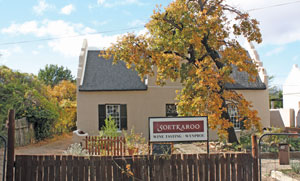 The entrance to SoetKaroo Wine Estate. This old Cape Dutch cottage was restored by Herman and Susan Perold before they moved in and started work on their 'backyard' vineyard.
These days their hugely popular flagship wine, the rare Red Muscat d'Alexandrie, which won a double gold medal at the Michelangelo Awards in 2005, represents about 50% of the annual production. Soetkaroo also received the Top Terroir Red Muscat d'Alexandrie Award in the 2009 SA Terroir Wine Awards. Some vintages of the Touriga Nacional and Petit Verdot are made and bottled as individual varietals, while in other years, like 2011 for example, they are blended to produce a unique dessert wine.
"Our harvest season runs from the start of February until mid-March and we harvest and process 300kg to 400kg of grapes in the cellar at a time." Susan says that although their cellar is very small it is fully equipped with everything required for making quality wine on small scale. "If you are making only one barrel of wine for your own consumption you can buy a kit with the basics, but as SoetKaroo is a small business it requires professional equipment."
Essentials include a crusher/destemmer, fermentation tanks, a water press, several stainless steel tanks ranging from 200l to 1 000l, a custom-made strainer that fits the tanks, 225l and 300l oak barrels, a pump, a bottling machine, as well as tools such as stirrers, siphon pipes, balling meters, jugs, buckets, chemicals, a scale, measures, and sample bottles for laboratory analyses.
The stainless steel equipment comes from Italy where there is a huge demand from the many garagiste winemakers who traditionally produce small quantities of their own wine, often literally in the garage. Susan says their Hanepoot ages for nine months in stainless steel tanks, but gets bottled the same year it was harvested. The Touriga Nacional and Petit Verdot wines have to spend a year or more ageing in oak barrels to soften the tannins.
Marketing
The nature of small-scale winemaking makes it possible for Susan and Herman to attend to quality control and give attention to detail, from the picking of the fruit through to the bottling and final packaging and presentation. This is often what attracts wine lovers to the art of winemaking, inspiring them to become small-scale winemakers. It is also this attention to detail that makes these exclusive wines very popular among buyers.
Bottling and packaging the final product is very labour intensive and Susan limits the annual production of SoetKaroo wines to 3 500 units, and only sells from their tasting room at SoetKaroo Estate Wines. The demand for the wines outstrips supply and loyal customers reserve their annual quota in advance, but Herman and Susan always have a bottle or two at hand for tasting.
The Garagiste Movement
Garagiste is a French term that is loosely applied to small-scale winemakers who produce wine at their homes, often in garages. Around the late 1990s and early 2000s the trend started growing in South Africa, but things really started taking off when Clive Torr and Tanja Beutler of The Topaz Wine Company formed the Garagiste Movement of South Africa, creating a support platform for local garagistes.
According to Tanja there are currently about 30 registered garagiste winemakers in South Africa. "The criteria for qualifying as a garagiste winemaker includes that you have to produce less than 9 000l (12 000 bottles) of wine per year. You also have to make the wine yourself and use your own money to fund the project," explains Tanja.
She says the hype around garagiste winemaking in South Africa started about a decade ago due to the growing interest in artisanal produce. Tanja, who is a garagiste herself, believes the exceptional quality of some of the local garagiste wines have also contributed to the growing interest in these unique 'handmade' wines.
Her advice for aspiring garagiste winemakers is to attend a winemaking course. "Stellenbosch University offers a course on small-scale winemaking and our company offers a practical course that also helps you navigate the registration and certification process to market your own wine," she says. According to Tanja, there are a number of companies that offer equipment and some even rent it out.
For a full directory of all companies that sell and rent winemaking equipment, visit the South African wine industry website www.wine.co.za.
To find out more about the garagiste winemaking course offered by The Topaz Wine Company, contact Tanja Beutler on

[email protected]

or 082 323 4336.
For courses offered by Stellenbosch University, contact Dr Wessel du Toit on

[email protected]
Contact the Perolds on 023 541 1768, email [email protected], or visit www.soetkaroo.co.za