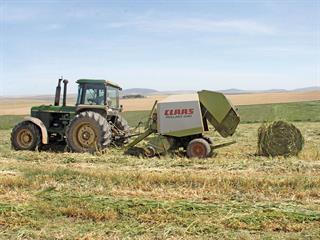 Instead of leaving land fallow for a season, follow a cash crop – cover crop – cash crop rotation, and use a variety of cover crops. This yields long-term benefits. So advises Pieter-Hopkins Uys, one of the speakers at the recent Conservation Agriculture Western Cape (CAWC) conference.
Pieter-Hopkins obtained his BCom (logistics) at Stellenbosch University and then worked on a citrus farm in the Eastern Cape for two years. For the past three years he has been farming with his father Pietie on their 705ha family farm Kliprivier near Swellendam. They run 140 Jersey cows in milk at any one time, along with 400 Dohne Merino ewes. They also produce wheat on 200ha, oats on 140ha, canola on 50ha and lucerne on 110ha. The farm derives 70% of its income from milk and grain production while the remainder comes from its sheep flock.
A total of 562ha of Kliprivier's land is arable; it consists of loam, sandy loam and a limited area of clay soil. The farm has an average annual rainfall of 550mm.
Pieter-Hopkins Uys stands on a portion of land on the family farm Kliprivier that was planted to lucerne and barley. Thanks to its tap-root system, the lucerne breaks the soil while the barley with its finer root system provides the soil with humus, binding carbon in the soil.
Being acutely aware of their role as stewards of the land, Pieter-Hopkins started reading about conservation agriculture (CA) three
years ago and considered a variety of suitable implements. This year, he and Pietie invested in a Tobin no-till disc seeder and introduced CA by planting in stubble lands. They also started planting cover crops.
"It's not only about survival and obtaining maximum profit," says Pieter-Hopkins. "Cover crops contribute to healthy soil. One doesn't need to focus too much on how they do it. Simply start with why cover crops should be introduced and the how will play itself out."
The advantages of variety
Pieter-Hopkins plants a cover crop as soon as possible after harvesting oats for silage. Although he still needs to establish which crops are most suitable, he started with a variety, including teff, sunflower, forage sorghum, cow peas and Barkant turnips. The teff's shallow root system breaks up the topsoil but it still compacts easily. Teff provides excellent bulk, which is good for sheep and dairy cows.
Kliprivier's dairy herd is on a semi-total mixed ration (TMR) system, with access to pasture to complement the TMR. The cows are milked twice daily in a 20-point swing-over herringbone milking parlour, yielding a daily average of 18l/cow.
Pieter-Hopkins values a number of benefits from the other crops they plant:
Sunflower – the tap root system breaks soil compaction;
Forage sorghum – an extensive root system provides a mass of material;
Cow peas – puts nitrogen (N) into the soil;
Barkant turnip – the tap root system breaks soil compaction and the sheep relish it.
According to Pieter-Hopkins, it is possible to stop the growth of a cover crop mechanically using a knife roller, but he prefers to spray glyphosate. On Kliprivier, they terminate cover crop growth after approximately 90 days to prevent it from seeding.
Crop rotation
A crop and grazing rotation system is all about the soil and its improvement, stresses Pieter-Hopkins. "The entire process, from managing grazing to producing a cash crop and incorporating a cover crop, occurs in rotation to benefit each crop as well as the soil."
At Kliprivier, the rotation starts with planting lucerne and maintaining it for five years, then planting a cash crop on the land for the next five years. They have also begun overseeding other crops in the lucerne pastures. These include barley and rye, which do not bind nitrogen in the soil but are valuable in improving soil quality.
"Our intention with including a cover crop in the rotation is to increase plant diversity on the land and cover the soil after harvesting the grain crop," he explains. "For example, we start with a silage crop and then follow it up by planting a temporary cover crop followed by wheat during the next three winters, then canola and another wheat crop."
Grazing benefits
Due to their lucerne and cover crop production, Pietie and Pieter-Hopkins do not need to feed the Jerseys any bought-in feed apart from concentrates in their semi-TMR system. Approximately 40 days after a cover crop is sown, the sugar levels are high and livestock are allowed a quick graze that does little lasting damage to the cover crop.
Oats silage wrapped for cows. Apart from purchasing concentrate for its Jerseys which are fed a semi-total mixed ration (TMR) system, Kliprivier does not need to buy any feed for its livestock.
"Our input costs for seed and terminating growth in the cover crops amount to R1 380/ ha," explains Pieter-Hopkins. "This is more or less 60% of milk income and can be ascribed to feed. The balance goes on labour and other expenses.
"In terms of pasture, Kliprivier's milk income is R2 292/ha, 60% of which is R1 375,20. In real terms, it's a break-even situation – we're paying to plant cover crops that are then grazed by the cows." However, Pieter-Hopkins does not regard the return on investment in planting cover crops in terms of direct economic profit, but rather as an indirect benefit to the soil and livestock, for which they do not need to buy extra feed.
Other benefits
Kliprivier's goal with cover crop production is to bring life to the soil. Pieter-Hopkins points out that a cover crop improves soil health, increases its carbon level and moisture retention ability, and enhances the soil structure.
One of the main advantages of building up organic matter directly under the soil surface is that a good soil structure also enhances soil stability and porosity as well as water penetration and gas exchange. Soil should withstand the forces of water. Without these biological components, it contains insufficient aggregates. In other words, the particles do not readily stick together, so the soil will not retain water sufficiently as a moisture reservoir. Rain will run through or off it, leading to erosion damage.
In summer, the crops protect the soil against excessive heating. In the Southern Cape winter, earthworm populations abound, thanks to increased levels of humus, organic material and carbon in the soil. Moreover, a cover crop buffers the top soil and reduces compaction.
During a previous CAWC conference, it was pointed out that soil health is all about the carbon or organic matter. Plants extract carbon from the air and put it in the soil where it is beneficial. The zone down to 6cm below the surface is the most reactive for carbon building.
"A cover crop not growing well on any particular spot clearly indicates a soil deficiency," Pieter-Hopkins explains. "A cash crop will not thrive on the same spot. The farmer might not get all the benefits in the first year of planting a cover crop. More benefits kick in the second year.
"In the longer run, I'm hopeful that the organic material the cover crops add to the soil will reduce the amount of fertiliser our cash crops need."
Planning well ahead
Pieter-Hopkins advises farmers using cover crops to plan strategically. "If you know what you want to produce in two or three years' time, introduce cover crops with a specific strategy in mind," he says. "When choosing a specific cover crop, understand what you are planting, how it grows and how it can complement the following crop. Should you say it won't work for you, it won't work. Introducing and sticking to the practice of planting cover crops requires a mind shift and a change of heart."
Phone Pieter-Hopkins Uys on 082 928 1541 or email [email protected].