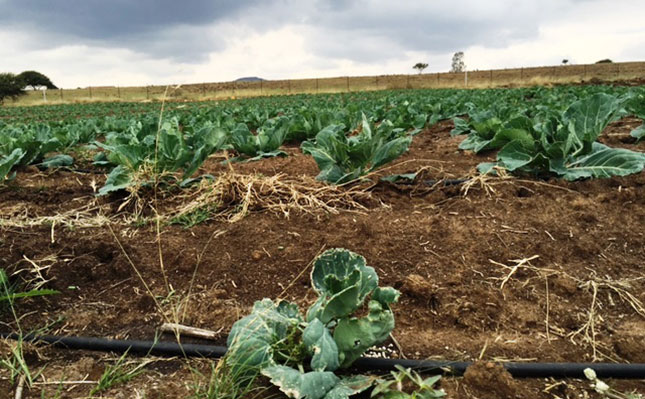 The country's recent drought has put South African crop farmers under increasing pressure from government and the public to maximise their water-use efficiencies, while, at the same time, improving national food security.
To achieve this, and remain profitable, some crop farmers have converted to drip irrigation. However, before such a conversion takes place – typically from flood irrigation or overhead sprinkler systems – a number of aspects must be considered.
"There is no one size-fits-all irrigation system," says Mark Zartmann, managing director of MBB Consulting Engineers in Pietermaritzburg, KwaZulu-Natal.
"Many individual irrigation systems have been developed according to generic principles that are blanket-applied to all farms. This is not ideal because each farm, and even each cropland, has specific characteristics that should influence the design of an individual irrigation system for a particular production environment."
Mark has a passion for researching and designing agricultural irrigation systems, and has amassed a wealth of knowledge and experience on the subject.
"All irrigation systems have their place. All irrigation systems should be married to the soils and crops that they are intended for."
He explains that upgrading an irrigation system need not necessarily require changing an existing system; it can simply mean improving an existing system.
The primary drivers for any irrigation system upgrade should be to optimise the combination of energy consumption, water use efficiency (WUE) and crop yield, all in relation to each other, in order to achieve maximum enterprise profitability.
Powered or manual system?
If a crop farmer is looking to upgrade an existing irrigation system, he/she should first consider whether the existing system requires power to operate.
While a manually operated flood irrigation system does not need power, an overhead irrigation system requires a motor and pump to supply the water and generate sufficient pressure in the pipes (see table 1 for a comparison of flood and overhead irrigation).
Flood irrigation remains the most widely used system across the globe, despite appearing archaic to some people. Mark describes its management as "both a science and an art".
According to the UN Food and Agriculture Organization, flood irrigation accounts for as much as 23% of all irrigation in South Africa. It can be managed and applied using automated systems that recirculate excess run-off water to neighbouring croplands.
Other relatively simple irrigation systems used in South African cropping include dragline overhead sprinklers and quick-coupling systems, where the entire lateral pipe is dismantled, moved manually to the next irrigation position, and reassembled, Mark explains.
Lowering energy consumption
To improve energy savings in a pumped irrigation system, a crop farmer should check that the pump and motor are operating at optimal efficiency. An oversized motor and pump consume more energy than is required for the system, thus wasting money.
Energy savings can also be achieved in an overhead sprinkler system by ensuring that any redundant valves and bends in the pipeline are removed or redesigned to enhance water flow.
Unnecessary friction of water in such a sprinkler system's pipeline requires more work by the motor and pump, thereby increasing energy consumption.
"Savings of up to 30% on electricity costs are often achievable by upgrading an overhead sprinkler system correctly to irrigation requirements," says Mark.
Converting an overhead sprinkler irrigation system to a drip irrigation system can also save energy costs.
Drip irrigation typically operates at between one and two bars of water pressure at the dripper, but greater pressure is required for the pipeline supply.
In addition, because the filters become increasingly clogged, the motor and pump will require more energy to force the water through.
To prevent this situation, drip irrigation systems should be back-flushed relatively frequently, and this adds to energy consumption. However, even with these added energy demands, a drip irrigation system still uses less energy overall than an overhead sprinkler irrigation system for the same crop and land size.
"If a crop farmer's main consideration is energy conservation, it's not unheard of for an existing overhead sprinkler system to be converted to a flood irrigation system, provided that the flood irrigation system is suited to the crop production conditions and soils," explains Mark.
Opportunities to improve WUE in an existing system are usually limited, and it is difficult to make wholesale changes to an existing layout without incurring prohibitive costs.
It is then also difficult to achieve commensurate returns on investment. Options include correcting siphon pipe diameters between the supply canal and the irrigation furrow in a flood irrigation system, and adopting a more precise irrigation schedule.
Accurate irrigation scheduling is essential for achieving optimal crop production.
Converting from flood to drip irrigation
Many farmers convert from flood to drip irrigation to save water.
"In most circumstances, this could achieve 25% to 40% savings," says Mark. "Where the irrigation water allocation for a particular farm is fixed, and provided that land is available for expansion of crop production on this particular farm, converting from flood to drip irrigation will allow increased crop production."
Improving irrigation scheduling management on an existing irrigation system offers significant benefits that contribute to increased yield.
This can be achieved by using soil moisture meters, on-farm weather stations, and irrigation scheduling software, among others. All of these tools are applicable to both manual and automated irrigation controls.
Converting a flood or overhead sprinkler system to drip irrigation will also improve crop yield.
This is because drip irrigation improves water distribution uniformity across a cropland.
A 1993 study by Desai and Sudhakar found that converting from flood to drip irrigation resulted in a 56% water saving and 33% yield increase for sugar cane, a 53% water saving and 27% yield increase for cotton, and a 39% water saving and 50% yield increase for tomatoes (see table 2).
Examine the options
Mark stresses that it is crucial to compare like with like when researching irrigation systems.
"Get details of the costs quoted by service providers and compare these. Also consider all associated costs: electrical connections by Eskom, drainage planning, the rerouting or construction of access roads, any additional specialised equipment such as
for chemical application, and design and irrigation consultant fees."
In addition, a farmer should consult a qualified, experienced irrigation designer who can expose any hidden costs, and help to prevent system inefficiencies and other possible pitfalls.
"A top irrigation consultant's advice and design can save a farmer a considerable sum over the lifetime cost of an irrigation system," he says.
Phone Mark Zartmann on 033 345 3530, or email him at [email protected].