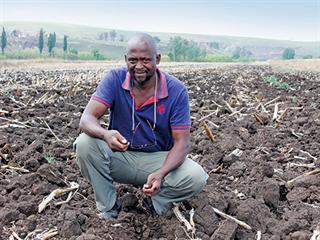 It has been 14 years since Thabang Tsephe began his full-time farming career in the Matatiele area of the Eastern Cape. In that time he has grown his business to comprise 130ha of dryland yellow maize, about 20ha of dryland silage maize, a dairy herd of 70 Friesland/Jersey cross cows, a 170-cow commercial beef herd and a Merino-type flock of sheep with 160 ewes. Thabang's success has now been crowned by his selection as a finalist in Grain SA's Developing Grain Farmer of the Year competition.
Thabang's home farm, Willary, consists of 80ha of leased arable land. The soil here is predominantly Hutton – deep red with medium clay content. The average depth is 2m and the soil is well-drained. All this makes the land suited to commercial yellow maize grain production. Thabang does, however, rely heavily on the area's average annual rainfall of 790mm to 800mm for optimal yield.
Read: Growing maize in the Swartland
Average daily temperatures from September to March are in the mid 20°C range, reaching extremes of 35°C. Thabang also leases 150ha of arable land and 350ha of veld, which he uses for grazing, from Mariazell Mission, about 35km from Willary Farm. Soil here is mainly Oakleigh, characterised by a dark grey colour, high clay content, a depth of 2m and waterlogging after heavy rains. It is suitable for maize, but requires good planting and crop management. In the wet season machinery can get bogged down in the Oakleigh clay soil with its high waterholding capacity.
Average annual rainfall is about 950mm. Summer temperatures seldom move out of the 20°C range because of the cooling influence of the nearby Maluti Mountains. Thabang grows 80ha of his commercial yellow maize crop on Willary and 70ha on Mariazell, where his Hadibata Dairy is also situated. Of this, 20ha is maize for silage for the dairy enterprise. Most of the dairy's milk is sold directly to retailers in nearby Mount Fletcher, while some goes to government feeding schemes at local schools.
The yellow maize grain is sold to local dairy farmers and PSP Traders in Matatiele and Kokstad. "I grow Pioneer's Phb 3442, Phb 32D95 BR and Phb 31D46 BR maize hybrids for my commercial yellow grain and for my maize silage," says Thabang.
"I chose these hybrids for their grain production characteristics, not for silage. In mid-March every year, I select 20ha of my tallest standing maize on Mariazell and harvest it for silage before strong winds can blow the plants over. "The remaining 130ha of my yellow maize crop will be harvested for grain when the time is right."

Planting
Thabang follows conventional tillage practices, excluding ploughing, in his cropping. To correct soil compaction, he shallow-rips his Mariazell lands every year and those at Willary Farm every three years, using a five-tine ripper drawn by a 4×4 John Deere tractor. The ripping is typically carried out once each farm has received 40mm of rain or snow in late winter/early spring.
Read: The benefits of Bt maize
Thabang usually starts planting on about 15 October, and planting lasts a week on each farm. Immediately prior to planting, he uses his two GC Tillage and one Jupidex-supplied disc implements to prepare a good seed bed. This is usually enough to kill any early season weeds, and Thabang rarely needs to use a herbicide spray. Planting is carried out with two four-row conventional John Deere planters. Plant population is 42 000/ ha, with 90cm inter-row spacing.
Planting depth ranges from 2cm to 5cm. These figures are based on Thabang's intimate knowledge of the production capacity of his two farms. Also, the inter-row spacing suits his Massey-Ferguson four-row combine harvester. Thabang previously tried chemical spray attachments on his planters, but gave this up after frequent pipe blockages slowed planting speed too much.

Mariazell lies in the shadow of the Maluti Mountains, which keep summer temperatures here relatively mild.
Every second year, soil samples from his lands are sent for analysis to the Cedara Agricultural Research Centre in KwaZulu-Natal to determine what fertilisers are required. Invariably, he has to apply 2:3:4 (38) fertiliser through his planters at about 250kg/ ha. The fertiliser is applied in a band to the side of the seed to prevent seed burn. When needed, liming is applied after any shallow ripping and at least 90 days before planting. The lime is worked into the soil when the seed bed is prepared for planting.
A tractor follows the planter carrying a 14m-wide Jacto boom sprayer with a capacity of 600l. This puts down 1,5l/ha of Atrazine, 1,8l/ha of Tolla, 2,5l/ha of Springbok, 0,2l/ha of Galago (all herbicides) and 0,1l/ha of Judo pesticide. If Thabang sees that weed regrowth (particularly of kweekgras, Cynodon dactylon) in his yellow maize crop has become too high later in the season, he'll reapply 2l/ha of Springbok and 0,25l/ha of Galago.
At the same time, he'll apply 0,5l/ha of Amistar to control fungal diseases. To help the chemicals stick to the surfaces of the maize plants, he adds 0,5l/ha of BP Crop Oil to the Amistar. "Two of my yellow maize hybrids are Roundup Ready and stalk borer-resistant, so I have very few problems with weeds and pests in my crops," says Thabang. When the yellow maize is knee-high, he uses either urea or LAN – depending on whichever is cheaper at the time – to top-dress his soils at about 200kg/ ha for a 6t/ha yield.
Harvesting
Being medium growth length hybrids, Thabang's maize crops take about 130 days from planting to when the standing grain is fully developed and drying off. Harvesting starts in June/July as soon as the maize grain moisture content is below 13%.
The length of the harvest period depends on the availability of the transport provided by Thabang's maize grain buyers.
The dirt roads to both farms are in poor condition for most of the year, which often makes trucking the grain out slow and difficult. "I'm not sure what my average silage maize yield is, but for my yellow maize grain I'm averaging about 4,7t/ha," says Thabang. "In the 2012/13 season, one of my nine maize fields yielded over 6t/ha."
He does not currently employ crop rotation, but hopes one day to alternate the maize, rotating with soya beans in summer for the nitrogen-fixing benefits of this crop. While he also has no winter cover crops, Thabang discs in maize crop residues to help improve the soils' organic matter content.
Phone Thabang Tsephe at 083 533 6919 or 082 041 8098.