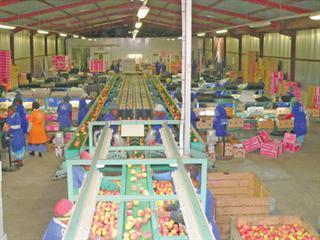 Pam Fyvie may be in partnership with her husband Neil in their highly successful 5 000ha Fyvie Farming operation, but she certainly doesn't work in his shadow. Neil admits that without her input since they began farming in 1991, Fyvie Farming might never have achieved its current profitability.
This was clearly recognised by the Department of Agriculture, Forestry and Fisheries (DAFF) when it named Pam South Africa's 2011/12 Female Entrepreneur of the Year. Pam, who grew up on a farm in Estcourt in KwaZulu-Natal, attributes her success to the many lessons she has learnt in her 22-year career.
"When Neil and I started farming together we had significant debt, and to grow the business out of this and into profitability I had to become involved. But farming was also something I wanted to do," she explains. Pam was the key motivator behind Fyvie Farming's now-thriving berry and apple enterprises, which grow products for domestic and export markets on their farms 15km outside Harrismith in the eastern Free State.
She now has a wide variety of responsibilities, including running the berry enterprise, operating the BeefPro beef management computer programme and handling performance testing of the commercial beef herd. She is also the human resources officer and makes sure that best management practices are applied. More recently, she used her winnings from the DAFF competition to buy 427 Mutton Merino sheep, with lambs at foot, more than doubling Fyvie Farming's commercial mutton and wool enterprise.
Passion
Pam's passion for farming is obvious, and she is adamant that being a successful farmer requires both a positive attitude and demonstrable results. During the early years, she and Neil had to visit their bank manager and local co-op repeatedly for loans, and she offers useful advice in this regard.
"Always be the most positive person your bank manager sees on the day of your appointment," she says. "To give off this positive image you really need to believe in what you're doing. And have a good plan before approaching the bank manager or the co-op for a loan. People should be able to see your passion for what you're doing."
To increase their chances of being awarded the loan, Pam and Neil involved the financiers in their plans. Financiers were also given personal tours of the farm so that they could obtain a clearer picture of the Fyvies' vision for their business. "Never give up after the first 'no' that you get," continues Pam. "And be prepared to adapt your business plan to address any concerns a financier might have."
Debt
The Fyvies believe that farmers should structure their debt into short- and medium-term loans of three to five years, and long-term loans of more than 10 years. Typically, short-term debt would be for buying production inputs, medium-term loans would be for agricultural equipment, and long-term loans would be for land purchases and similar schemes. In the Fyvies' case, they used a long-term loan to fund apple orchard development.
Structuring debt in this fashion, argues Pam, helps to ensure that the cash flow of the business stays positive, even if the business's overdraft facility is providing this. "Don't be tempted to buy medium-term assets out of your current account even if it's flush, because you may need to tap into this account if an unexpected bad year occurs," says Pam. "Making this mistake could sink your business.
"If you're struggling with your debt, don't hesitate to get financial advice from reputable financiers who should have your success at heart. But also don't try to window-dress your cash flow to impress your financiers. They'll see right through it and the trust you had with them will disappear."
Labour
Another prerequisite for success, in the Fyvies' opinion, is good human resource management. They speak from experience: Fyvie Farming employs no fewer than 380 people across nine farms. Pam believes employees should be shown that they are respected and valued from day one. She starts with giving new employees confidence that the business's contractual obligations to them will be met as stipulated.
According to her, the smallest mistake on the employer's side, such as a problem with payslip information, can lead to resentment in one employee that can spread throughout an entire team. Conversely, keeping the labour force positive can result in improved productivity.
"Encourage pride in your employees for the work they are doing," advises Pam. "A single disgruntled employee who deliberately damages produce destined for market can do huge damage to the farming business's brand." The Fyvies encourage their employees to air grievances before matters get out of hand. Their labour force is divided into teams of 12 to 25 people, each with its own supervisor.
The supervisors have direct access to Neil and Pam and can relay to them any issues raised by team members. Fyvie Farming are also committed to their employees' social upliftment. The business has an on-farm crèche for employees with young children, and Pam and Neil mentor new black farmers in the area. The business also sponsors an employees' soccer team.
"We try to accommodate employees' personal problems," explains Pam. "But our employees must also keep to their end of the bargain. When they start working for us, it's made clear to them what they can and can't do. Employees who fail to keep to their conditions of employment face disciplinary action as outlined by labour laws."
Using guidelines from Sedex, the ethical supply chain management system of which Fyvie Farming is a member, Pam and Neil encourage employees to know their rights and also what's expected of them. "Our approach to labour management has resulted in a very stable workforce," notes Pam.
Staying hands-on
Early in her farming career Pam spent time working alongside her employees, gaining an appreciation of how tough working in the lands can be. Faced with many more administrative tasks today, she still tries to visit the farm's operations as often as she can. "This allows me to see problems with fresh eyes," she says. "But I try not to only find problems. I use the opportunity to compliment the staff where appropriate."
Records
The Fyvies place great value on stringent record keeping, having found that these provide a benchmark against which Fyvie Farming can compare its operations. "I'm a firm believer in the saying that if you don't measure it, you can't manage it," states Pam. The records help them draft realistic labour productivity targets, as well as pass best management practice audits. They also allow production costs to be calculated accurately, giving the business a good estimate of potential profitability.
In addition, the records help Neil and Pam to evaluate the business's environmental impacts. "We can tell you how much electricity and irrigation water we use to produce a ton of fruit, and even how much of a chemical was used to produce a ton of fruit," says Pam. They also use technology and computer systems to keep track of data. "We use the ViTrax product management programme to trace our fruit all the way to the retailer even if this is in our export markets," she explains.
Communication
Neil and Pam believe that it's vital to have effective communication all along the value chain. An internet network booster and cellphone booster enable them to constantly stay in touch with their suppliers and markets. "This is especially important to our clients when they want an urgent response to a query. Something as small as a missing invoice can delay a shipment, which would be disastrous for our perishable products, especially the berries," explains Pam.
Based on her own success, she encourages other woman farmers to achieve their full potential. "Being mentored is key to this. I've been fortunate to have had Neil as a mentor early on," she says. Pam believes that women can play a positive role in commercial agriculture, but only if they "really want to do it". "Farming is not a part-time job," she warns. "It's more than a commitment, it's a contract."
Contact Pam Fyvie on 083 463 8204, or email [email protected].
For information on how to enter the entrepreneur competition, contact Steve Galane on 083 635 7346, or email [email protected] .