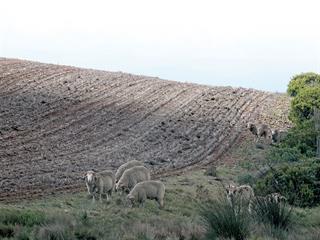 Driving optimisation through technology which in return drives profit, is a global phenomenon and South African farmers have little choice but to follow suit with precision farming if they want to remain competitive. Tweekop Boerdery, a farming operation in the Southern Cape, came about as a result of a merger of the farms of Dirk van Papendorp and father and son Arno and Pieter Steenkamp. The merger has allowed for significant steps in implementing precision farming techniques.
Dirk's family has been farming on the farm Voorstekop in the Southern Cape's Heidelberg district since 1935. Seventy years later, in 2005, the Van Papendorps bought the farm Uitvlught in the same district. The mixed farming enterprise is typical of the Southern Cape, established for the production of grain crops, sheep (wool and mutton) and dairy cows.
Voorstekop and Uitvlught make up a combined 1 800ha, of which 1 273ha is arable. Owing to Dirk's operation being
a mixed farming enterprise, only 60% of the total arable land could be used for cash crop production, while 40% was used for pasture production. His scope for precision farming was therefore limited to only 60% of his arable land, which raised the costs per hectare of investing in precision farming.
He cites the following factors as driving the use of technology in agriculture:
Higher cost of production forces farmers to be more efficient.
The benefits of economies of scale. However, on bigger farms more needs to be accomplished in each 24 hours.
Less labour has to cover more hectares.
A more comfortable working environment.
Gathering more data that needs to be interpreted for management purposes.
Dirk van Papendorp (middle) and his partners in the Tweekop farming enterprise, Arno (left)
and Pieter Steenkamp.

Implementation in stages
Although Dirk knew that he was not in a position to be at the forefront of implementing the latest available precision farming technology, he realised that this type of technology is modular and could therefore be phased in stages.
Precision spraying: Farmers usually start implementing precision farming by installing a GPS device on their sprayers. So-called guidance and section control enable a sprayer to switch itself off should it enter an area where it has sprayed already, while a spray-rate controller adjusts the sprayer's pressure in line with any change in the tractor speed. This ensures that chemicals won't be applied above or below the required levels. Precision spraying also incorporates ultrasonic boom height control and auto-steering. "The average South African small grain crop producer has only implemented the spraying part of precision farming to avoid harming his crops by spraying one specific area twice and to prevent wastage of expensive chemicals," Dirk explains. "With regard to monitoring their yields, most local crop producers are still feeling their way forward in using yield data to make planned decisions and by investing in planters with a variable rate controller."
Precision planting: According to Dirk, a farmer can obtain certain savings with precision planting, but not necessarily everywhere. "Depending on the source of phosphate (P) you use, there could be a big saving on nitrogen (N) applications."He uses monoammonium phosphate (MAP) as a source of P. Some 100kg of MAP contains 22kg of P, as well as an intrinsic level of 11kg N, so the farm's tractor and planter, which are equipped with variable rate control, ensure that N and P are applied as separate entities, he explains."If we increase P to 300kg/ha by using MAP, the planter reduces the N rates that should be applied accordingly in order to obtain the savings on N that comes with using MAP as a source of P." According to Dirk, a planter's variable rate controller does not necessarily always result in such big savings, but it does help to optimise production, which results in higher profit margins.
Economies of scale
In order to obtain the advantage of economies of scale, which make precision farming more affordable, Dirk had the following two options:
Buying additional land: Purchasing land in the Southern Cape's Heidelberg district comes with a high price tag of R30 000/ha to R45 000/ ha. In other areas, prices can increase to between R60 000/ha to R65 000ha. According to Dirk, most farmers choose this option and inflate land prices when putting in the highest bid, ensuring that they obtain additional land. "Normally, the guy with the biggest cheque book succeeds," he explains. "However, there's a price ceiling which might cancal the advantages of economies of scale if you overstep that boundary. In fact, some of the mega-farms which were created in the US went bankrupt due to management difficulties that come with a mega-farm, and poor futures transactions they entered into. "If you don't have a mixed farming enterprise, but concentrate only on cash crop production, 1 000ha to 5 000ha is still manageable. Anything above 5 000ha and you'll require too many salaried employees with no interest in your business."
Create a partnership: In order to obtain a bigger farming unit, invest in a partnership in which those partners are shareholders in the operation.
Tweekop's 10m-wide planter has depth control wheels and places nitrogen directly underneath the seeds.
Tweekop Boerdery
Dirk's auditor informed him of another farmer in the district, Arno Steenkamp, and his son Pieter, who were experiencing the same challanges as he was. He contacted them and fortunately sufficient, quality management information had been available on both sides which facilitated their decision to merge their farming enterprises. Prior to the merger, the Steenkamps had a 50% share in the Oudekraalskop farming enterprise (1 200ha), and calculations were necessary to enable them to buy out the remaining 50%.
By merging their operations, Dirk, Arno and Pieter would be able to farm on 3 000ha instead of on 1 800ha and 1 200ha respectively. The merger was completed at the beginning of 2014 and the new farming enterprise was named Tweekop Boerdery. The trio was also in a position to rent an additional 300ha of land, bringing their land to
3 300ha, of which 2 116ha is arable. Depending on weather conditions, they are able to annually plant small grains and canola on 1 700ha to 1 800ha.
New equipment: Before the merger, Dirk had one 16-year-old planter, one combine harvester, six tractors, a self-propelled sprayer and a feed-mix wagon. Arno and Pieter had a feed mix-wagon and three tractors, but no equipment for crop farming. Subsequently, the Tweekop partners did the following:
Bought another sprayer. Although they are now using Dirk's self-propelled sprayer on more hectares, they were able to purchase another.
Sold Dirk's 140kW tractor and invested in a new 250kW tractor which was optimally equipped for precision planting.
Bought a new Equalizer 10 000 series minimum- till planter (10m wide) for R1,34 million.
Sold Dirk's 16-year-old planter for R500 000 and replaced it with a demo model of a Bourgault 3320 planter (12m wide), which cost them R1,95 million. The latter two are among the most technologically advanced planters in South Africa (see table), which the trio was able to purchase within two years of the merger – a step none could have made without creating the Tweekop partnership. "We base our decisions on consensus and as partners we are determined not to be penny wise and pound foolish," says Dirk. "We've got one planter equipped with a variable rate controller and we obtained quotations to equip our other planter with a variable rate controller and its tractor with auto-steering. Currently, we have the best of two worlds." A proper device to equip Tweekop's second tractor and planter with GPS technology will cost R200 000 to R250 000, depending on the add-ons they choose, such as the monitor in the tractor's cabin and the number of cameras linked to it. They have in the meantime installed a camera in their tractor's seed bin, which already works with a variable rate controller. The camera allows them to monitor the amount of seed in the bin, among others.
Doing it in stages: Although Tweekop still only has pastures on 60% of its arable land, Dirk, Arno and Pieter now farm on a bigger scale and can do yield maps for every land. They also have a spec sheet for planning of plant density and fertiliser needs, among others, for every land on which they produce cash crops. By using their 12m-wide planter optimally, the two planters can complete their planting programme simultaneously.
Every farm has its own set of unique circumstances, and every farming operation has to decide what it is best suited to when investing in new technology, says Dirk. One can approach investing in precision farming on either a
low-key or high-key basis – which is very expensive. Currently, Tweekop has opted to remain just a step or two behind those South African grain producers who operate with the latest precision farming. "We'll eventually get there, but in phases."
Email Dirk van Pappendorp at [email protected]