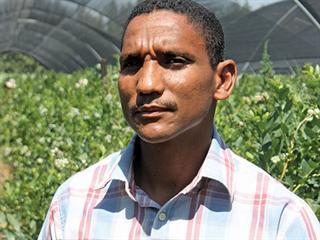 Twenty years into democratic rule, South Africa has undoubtedly made progress down the road of reconciliation and transformation. The agricultural sector – indeed, all economic sectors – should have more transformation stories like Warren Bam's to tell the world. His achievements serve to remind us that persistence and diligence can win the day.
Unique opportunity
"My father, Herman Bam, worked here (Lushof farm in Saron near Porterville in the Western Cape) for 32 years for Ben van Niekerk. "I remember how we, the farm workers' children, and the Van Niekerk children played together on a big lawn while our parents worked," Warren says. But when the time came for the children to go to school, they were separated by the laws of the apartheid government.
Warren saw his childhood friends again 10 years ago at his father's funeral. Breda van Niekerk, who had taken over the family farm, immediately recognised Warren and rekindled the friendship. Soon Breda realised that Warren had a lively interest in agriculture. Despite cautionary advice from other farmers who were concerned about Warren's lack of farming experience, Breda decided to trust his intuitive confidence in Warren's abilities and appointed him as a manager in 2004.

Lushof farm is situated near Porterville in Saron at the foot of the Groot Winterhoek mountains.
"When I started farming, the people I was managing knew more than I did," recalls Warren. "But I persisted and read every book on table and wine grape farming I could get my hands on. I also attended courses when I could. "Soon I began to understand not only what had to be done on the farm, but also why we had to do it. "I owe Breda a lifelong debt of gratitude; if it wasn't for his unconditional faith in my potential, I would probably never have had the opportunity to farm."
New plantings and new beginnings
When Warren started working at Lushof, the farm produced 47ha of table grapes and 40ha of wine grapes. In 2006 the farm was sold to Stephen Taylor's business, Dreammaker Fruits. The wine grapes were uprooted and blueberries planted in their place. "When Stephen bought the farm he was farming blueberries on the Porterville Mountain, but he needed a site for the production of early blueberries," explains Warren.
He adds that the farm converted to organic production about 14 years ago, making it one of the first producers of organic table grapes in South Africa. "When I came into the business, it was already farming organically so I learnt it from the start. That is probably why organic farming doesn't seem out of the ordinary to me. It is the only way I know." The farm now has 55ha of blueberries and 42ha of table grapes, with 28ha in production. There are plans to expand the blueberry operation to 100ha during the next two to three years.
Choosing grape varieties
"We are one of only a few suppliers of organically grown table grapes and we try to offer our clients a variety of grapes from early to late in the season.But to be able to do this, we have to plant a number of different grape cultivars including a white, a red and a black variety for early, mid and late season," says Warren. They plant seedless grape types with the exception of the early black variety, Dan Ben Hannah. No early seedless black grape cultivars are available that will suit the marketing plans of the business.
Finding late white and black seedless varieties has also been a challenge for Warren. They have chosen, amongst others, Sundance Seedless, a late, white variety and Autumn Royal, a late-maturing black seedless grape. "These two are actually mid-season varieties and we have to manipulate the vines with various techniques, for instance very late pruning, to ensure that the grapes ripen as late as possible," he explains.
There are about 13 grape varieties and each vineyard block is separately managed. "Farming like this is a challenge, but it gives us the ability to satisfy market needs." Their primary markets are the USA and the UK. These two countries account for 40% to 45% of their total export sales each. The other 10% to 20% is exported to the EU.
Warren says that while the USA tends to be the more lucrative market, high-level entry barriers in terms of phyto-sanitary inspections make it a difficult market to serve. As well as the tough phyto-sanitary requirements, it can take up to 30 days, from the time of picking, for the grapes to reach the supermarket shelf. Making certain that the fruit stays fresh for this long period is difficult.
In 2013, the farm had 26ha of grapes in production and exported about 100 000 cartons of 4,5kg each. "The red cultivars really bring our average yield per hectare down. There are no products available that can be sprayed onto organically grown red grapes to help them colour better. "When we choose a red cultivar, our first and most important condition is that it has to colour well, naturally, without any intervention," explains Warren.
"For the grapes to colour properly, we thin bunches aggressively. On varieties like Flame and Crimson we retain only 25% to 35% of the bunches." Lushof farm's average yield on red grape varieties is 3 000 cartons/ha while the average on white and black grape varieties is anything from 4 500 to 5 500 cartons/ha.
Blueberries
The blueberry plants take three to four years to reach full production and have a productive lifespan of up to 30 years. Warren explains that although they earn a good price for organic blueberries, the market for the organic product is just not big enough to absorb their total blueberry harvest. The farm has 30ha of blueberries that are organically grown while the remaining 25ha are conventionally treated.
"The yields on the organically grown blueberries are lower (about 12t/ha to15t/ha) than on the conventionally farmed orchards (18t/ha to 23t/ ha). But the premium we earn for organically produced blueberries is in line with what we sacrifice in terms of yield, and the same applies to the table grapes," says Warren. Virtually the entire blueberry crop is exported to the UK.

Blueberries are packed in the fields directly after harvesting. Lushof employs 100 permanent workers, but brings in 100 seasonal workers for grape harvesting and 200 seasonal workers to help with the blueberry harvest.
Irrigation
The farm has an allocation of 8 500m³ of water/ha/year, which comes from the 24 Riviere Irrigation Scheme. The vineyards and berry orchards are drip-irrigated from October until the start of the winter rain. "We dig soil profiles to determine irrigation needs, and focus on keeping the root zones sufficiently moist. Since I first started working on the farm, we've managed to cut the irrigation water used by almost 50% simply by not over-irrigating," says Warren.
The number and duration of irrigation cycles has been reduced as well as the amount of water applied in each cycle. About 6 000m³ to 7 500m³ of irrigation water is applied per hectare per year on the grapes and on the blueberries.
Designing The fertilisation programme
To meet the nutritional needs of the vines, soil samples are taken in the winter and leaf samples in summer. An independent consultant compiles a fertilisation programme according to the results of the soil and leaf analyses. Fertilisers are supplied by Talborne Organics, a South African company specialising in the manufacture and distribution of registered organic fertilisers.
"We apply about a ton of Talborne's Vita-Green 5:1:5, a granular fertiliser, in three applications of about 30% at budding, 30% at flowering and 40% after harvest. At budding, we apply up to 25g of guano per vine," explains Warren. Soil and leaf samples on the blueberries are taken after harvest and the fertilisation programme is also designed by an independent consultant.
According to Warren, they are currently testing new types of fertiliser on the blueberries. The fish meal-based product they use is too high in nitrogen salts and this is negatively affecting crop yield.
Pest and disease control
One of the great advantages of organic farming, according to Warren, is that balance is restored and natural predators return. "For every pest, there's a predator and nature sorts itself out so we have to do very little pest control on the fruit."
The grapes must be sprayed for downy and powdery mildew when necessary with copper- and sulphur-based products such as Coprox and Kumulus.
The one insect pest that they have to spray for is fruit fly. "We monitor the vineyard and the orchard and when the insect threshold surpasses seven flies per trap, we bait with GF 120." For Warren, one of the biggest challenges in organic farming is to keep fruit healthy when the weather gets tricky. "When unseasonal rain brings diseases like downy and powdery mildew, we cannot use systemic products to prevent the spread of the diseases," he says. Despite this, Warren says that in the past nine years they have not experienced a single failed harvest.
Ownership
According to Warren, Breda decided to involve farm workers in all aspects of the business. In 2002, he started the ball rolling by transferring a share of the farm to the workers. "Breda didn't want to sell a separate piece of the farm to the farm workers; he wanted his staff to own a share of the entire farm. "We applied to the then Department of Land Affairs for funds to buy shares in the business, but halfway through this process the farm was sold to the new owner," says Warren.
Fortunately, when Dreammaker Fruits bought the farm, the company committed to honouring the agreement reached between Breda and his workers. As a result, the Lushof Workers' Trust now owns a 26% share of the farm, while Dreammaker Fruits owns a 74% share.The trust has 40 members, six of whom serve as managing members.

A vision for the future
After working as a farm manager on Lushof farm for almost 10 years, Warren has now been given the opportunity to farm for himself. With the assistance of the table grape industry body SATI and the Western Cape agricultural department, Warren will plant about 10ha of table grapes on land he is renting from a neighbouring farmer. "This year, I planted 3ha but the land I rent is big enough to increase the plantings to 20ha," he says.
Warren admits that his ultimate dream is to own his own commercial table grape farm. "We were on holiday in the Karoo a while ago and my son started asking me questions about the stars. The conversation took a few turns, but eventually I told him that everything in the universe has a specific purpose. When I asked him what he thought his purpose in life was he answered without hesitation that it was to be a farmer like his dad.
"This is the kind of dream that we wouldn't have dared to have when I was a child. My goal to own a farm is not really for myself alone, but to be able to leave something meaningful behind for my son, so that he can fulfil his purpose."
Phone Warren Bam on 023 2400 565 or email [email protected].