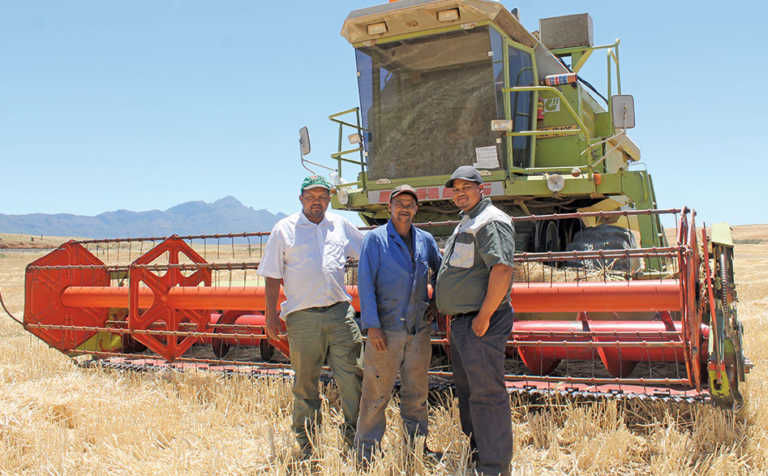 Whernit Dirks always knew he wanted to pursue a career in agriculture. "I was born and bred on a farm, and worked and lived on a farm. Even my school essays had always been about agricultural topics," recalls Dirks.
In 2006, he joined the workforce of Windheuwel, near Piketberg in the Western Cape, to become the third generation of his family to till the soil on the farm. That same year, the owner of Windheuwel, Stephanus Richter, gave three of his workers the opportunity to pick three half-breed ewes to rear.
READ Limpopo extension officer makes farming 'cool' for schoolkids
When this initiative proved a success, Richter made 100ha of his most arable land available at R1/ ha per year, as well as 100 sheep, to the workers of Windheuwel. This deal was valid only for the start-up year in 2006, after which the rent would increase. When Richter asked who wanted to make use of this opportunity, Dirks and his uncle, Leonard Davis, immediately raised their hands.
"This is where it all started," recalls Dirks.
After witnessing their dedication and the success they achieved, Richter was inspired to let them an additional 600ha, on condition they involved more people.
"In 2009 my father, Galant Toontjies, and grandfather, Daantjie Romburg, joined, and that's when we started Genadeshoop Boerdery," says Dirks.
Farming operations
Today, Genadeshoop rents approximately 1 200ha from Windheuwel and the Appel Richter Trust, of which 310ha are planted to wheat, 200ha to barley and 250ha to oats. The remaining land is used to run 900 Meatmaster sheep.
"We also have 458ha of our own land in the Sandveld that we acquired through a Land Bank loan in 2013. On this farm, we started farming rooibos in 2018."
Currently, 70ha is under rooibos, but Dirks and his co-owners plan to plant an additional 50ha each year until they have reached 320ha. They are also trying to re-establish a small cattle herd on the Sandveld farm.
"During the drought in 2015 we couldn't sustain our cattle and had to sell all the animals," explains Dirks.
Grain production
On Windheuwel, most of the land is under a three-year wheat-medics rotation system, but they also plant barley and oats. Planting starts in the first week of May to fit in with the rainy season.
Soil analyses are carried out at the beginning of the year, and lime is applied according to the results of this to ensure optimal soil acidity. The soil type on the farm varies from loam to clay.
READ Keep earthworms to improve soil quality
Dirks prepares the soil early in the season, working the stubble of the previous crop into the soil by disc or tyne.
"In 2014 we started to rip all our lands to a depth of 400mm," says Dirks.
"It had a positive impact on our grain production and we were able to harvest nearly 3t/ha. Looking back to 2015's harvest, when the Swartland was severely shaken by the drought, I could see that it really worked. Whereas some farmers didn't harvest anything, we were able to realise a harvest of 500kg/ha."
Before planting, they spray a broad-spectrum herbicide, such as Sakura or Boxer Gold, to control weeds.
Pre-planting weed control is followed by a post-emergence herbicide. Their biological solutions programme is compiled in conjunction with Intelligro. About three weeks after emergence, they also apply a nitrogen top dressing.
"We also spray preventatively for fungal diseases and lice at flag leaf emergence," explains Dirks.
Haymaking operations take place between September and October.
"Genadeshoop owns some equipment, including a harvester, tractor and planter, but 40% of our equipment is hired."
Challenges
The drought of the past three years was a major challenge for Dirks and his team.
"In 2013, when we started with wheat, we harvested about 1,8t/ ha, but as it became drier, the yield diminished," he says.
This year's wheat crop, however, was considerably more successful; they managed to harvest 2,2t/ha.
Despite this, Dirks believes the drought has had a profound effect on the industry and their farming business.
"After the drought we're still struggling. Everyone works together to make ends meet. Luckily, we have an excellent support network that helps us during tough times."
This comprises Richter and his family, Grain SA, the Western Cape Department of Agriculture, the Land Bank, Kaap Agri and various commercial farmers from the area.
Dirks says that another challenge is access to funding.
"The banks have disappeared after the drought. It's as if they are scared to issue loans."
He adds that the only assistance they received in 2018 was from the Grain Farmer Development Association, which gave them a grant to enable them to plant wheat again. However, Dirks emphasises that their success came not from waiting for or relying on grants.
"We make a plan with what we have. If we do get a grant, it's a bonus and we use it to boost the existing capital," he says.
Getting collateral is another issue they are struggling with, making it difficult to access land to expand their farming operations.
According to Dirks, land is limited, and if any enters the market, it is either too expensive or is snatched up very quickly.
"Because land is so limited, you have to be quick, but with the hassle of securing funds and collateral, the land you've earmarked to buy has long been sold by the time you have the funds."
He adds that if there is affordable land on the market, it's usually marginal.
"That's what happened to us when we bought the farm in the Sandveld. About 450ha of the farm is just sandy soil. However, we started farming rooibos, as it grows well in sandy soil."
Advice to farmers
According to Dirks, good record-keeping, disciplined budget adherence and a reasonable business plan are key to being successful.
"Also, work closely with advisers. These people have the knowledge and are there to help you. Furthermore, don't disregard the help of your fellow farmers and colleagues," he advises.
Email Whernit Dirks at [email protected].