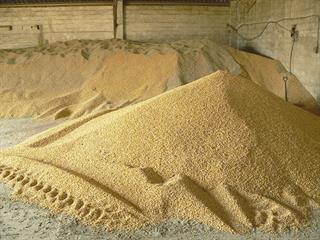 Lorenz Freese isn't ashamed to admit that in the 46 years he's been farming around KwaZulu-Natal, it's always been as a manager for someone else.
In fact, he points out that as a farm manager he gets to enjoy working the soil and living the country life envied by most city-folk, without having to personally bear the financial risks inherent in farming.
Lorenz expects his employers to tell him what they want from him, then be left alone to use whatever his vast experience dictates to achieve, or improve on, their goals. "I've been managing Deeside Farm for Dave Fowler of the Fowler Farming Trust based in Dargle for the past eight years," explains Lorenz.
"Dave deals with the economics and pretty much leaves me to do the hands-on farm management, which is what I'm good at. "I've never earned an official agricultural qualification in my life, but I have many years of practical experience in farming. I believe that's what helped me get such good maize yields on Deeside this summer."
Lorenz grows 160ha yellow maize, 188ha soya beans and 22ha vegetables on the 365ha farm, close to Hilton in the KZN Midlands. The maize and soya bean crops are rotated every season.
Straight through the yield ceiling
In the 2009/10 summer, Lorenz produced the best maize yield ever in his farming career – an average of 13t/ha on 60ha irrigated and 100ha rainfed lands. For him, the real cherry on the cake was the 10ha block of rainfed maize which yielded an awesome 16t/ha – a figure verified by the weighbridge at KZN feed manufacturer, De Heus.
Lorenz says he used to struggle to get the maize cultivars he was growing on Deeside to break through the 10,5t/ha yield ceiling the farm had apparently reached.
Then, last year, he and Dave decided to browse the maize seed catalogues for a variety that could possibly improve it. Eventually they settled on Pioneer's Roundup Ready Yellow Maize Hybrid, Phb 32D91 R.
"We wanted a variety with a higher yield potential," says Lorenz. "While 32D91 R is susceptible to Northern Corn Leaf Blight, we knew the costs of the extra management would be outweighed by a higher yield. This variety also has the good standability necessary to survive the strong winds we sometimes get in summer."
Management by experience
Lorenz's maize management programme is pretty straightforward, with the few changes he implemented based on experience and gut-feel. He points out that Deeside has been under no-till for the past five years, and is only now starting to see improvements in soil structure and an increase in valuable organic matter content.
To prepare for maize planting, Lorenz uses a tractor-drawn boom sprayer to apply 3l/ha of glyphosate to kill all plants, mainly weeds, growing on the lands. While many farmers apply their glyphosate about three days before planting, Lorenz applied his 14 to 21 days before so the plants are dry before the planter comes in.
"This allows our six-row Tatu no-till planter to cut through the stover more effectively," he says. "Deeside lies in a mist-belt and if there's any moisture in the air at planting, half-dry plant material tends to bind on the cutting coulters and interfere with planting depth uniformity, reducing seed germination rate."
Planting starts around mid-November as soon as at least 25mm of rain has fallen over seven to 10 days. It takes Lorenz about 10 days to plant the 160ha to maize. Seeding rate is 80 000/ha at a 75cm row spacing and 12cm intra-row spacing.
Soil sense
Fertiliser requirements are calculated according to annual soil samples taken by Lorenz and sent to Brooks Laboratories in the US. Lorenz and Dave prefer this lab because of its detailed analysis and recommendations.
It only takes two weeks for Brooks Laboratories to process the samples and issue the results. Lorenz takes one sample (20cm deep) from every 10ha block. This past summer, Deeside's maize lands received a 50:40:30 plus (38) Zn at 315kg/ha. The 60ha of irrigated maize lands got 280kg/ha of top-dressed urea and the rainfed lands 240kg/ha.
Deeside's soils are predominantly Clovelly. Depth varies from 0,5 to 3m, clay content is over 65% and this soil-type is prone to water-logging. To counteract this, Lorenz replaces the no-till planter's usual fertiliser coulters with 15cm chisel tines to break the surface crust allowing water to percolate into the soil.
"We typically get about 650mm rain in summer. Temperatures range from 12°C to 34°C," says Lorenz. "But this past summer the maize only had about 500mm between mid-November and the end of February. Fortunately much of this fell during the crop's pollination period in January. The good pollination led to good cob fill-out."
Post-emergence
Cutworm infestation is a major problem when the maize plants emerge about 10 days after planting. Lorenz uses a boom-sprayer to apply the pyrethroid-based Insecticide in water at a rate of 70ml in 200l of water per hectare.
He inspects the young maize plants 14 days later. If cutworms damage just one maize plant in a 10m row, he'll do another Decis spray at the same rate. Some 21 days after emergence, Lorenz uses a boom-sprayer to apply a mixture of 2l/ha of glyphosate and 300ml/ha Trooper herbicide for broad-spectrum weed control.
But he warns that over-applying the Trooper can cause "pig-tailing" in the maize plants where they twist as they grow upwards. This inhibits leaf development and reduces the ability to photosynthesise.
Lorenz also gives a third Decis application at this time, at his usual rate – now aimed at stopping stalk-borer infestation. This may add up to R10/ha in chemical costs, but the improved maize yield makes it worth it.
At 38 days post-emergence, Deeside's maize gets a 600ml in 150l of water per hectare application of Amistar Top fungicide, together with yet another Decis application. Lorenz believes that diseases on Deeside won't develop a resistance to his often-used chemicals, because he rotates maize with soya and vegetables and varies the chemicals accordingly.
Around 73 days post-emergence, just before the maize plants start tasselling, Lorenz uses an aerial crop-sprayer to apply Punch Xtra fungicide at a rate of 1,2l in 40l of water per hectare. "After these sprays I went and checked on the crop," says Lorenz. "When I saw that fungal spores were still very active I was concerned.
"Even though it costs about R380/ha for the aerial application costs, I decided to put in a third Punch Xtra application. At the end of the season I compared my maize with other farms in the area that didn't get a third fungicide application, I could see that, in some cases, my maize had yielded 3t/ha more. My maize also stayed greener longer, so it grew kernels for longer."
Beating low maize prices
According to Lorenz's Pioneer Seed agent, Laurie Bisschoff, the current SAFEX yellow maize price on SAFEX is a dismal R1 100/t.
In the KZN Midlands, it cost about R8 500/ha to R9 000/ha to produce a maize crop last summer, so maximising a maize variety's yield potential is critical if a farmer wants to make money. And to Dave Fowler's pleasure, Lorenz was able to do this.
"As happy as I am with last season's maize crop, I'm not sure that I'll be able to get 16t/ha again soon," warns Lorenz. "I can't control all aspects of maize farming, like the weather. Of course, I hope to improve the farm's average maize yield next season – and one day I hope to average up to 16t/ha of f one of my 10ha blocks."
Contact Lorenz Freese on 072 191 0396. Call Laurie Bisschoff on 082 441 2582, or e-mail [email protected].