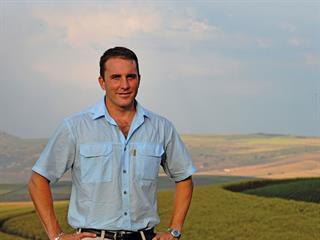 Tell us about your farming business.
My parents, Roger and Gill, purchased Seafield Farm in the Midlands South region of KwaZulu-Natal in March 1994. At 293ha, it was a mixed beef, dairy, pig and sugarcane operation.
Over the subsequent years, my father, who already had 21 years' experience in the sugar industry, converted Seafield Farm into a 100% highly productive and efficiently-run sugarcane farm operated under the name O'Neill Sugar CC.
After his death in 2010, I took over the 208ha sugarcane operation that had consistently delivered high yields and above-average quality sugarcane. Over the past five years, we have achieved an average of 110t/ha of dryland sugarcane, with an average recoverable value (RV) of 13,65%.
How was production and profitability for O'Neill Sugar CC over 2015?
At the beginning of the milling season in March 2015, we were mindful that our tons RV this year would be negatively affected. This was because during the 2014 season, our annual rainfall was well below the average of 980mm in combination with the frost damage that we had suffered that year. Our harvesting season closed in November 2015 and we were down by almost 30%. This has, in turn, impacted on our turnover and profitability.
What challenges will 2016 hold for the farm?
With 2015 ending and our total rainfall for the first 11 months of the year being even lower than of 2014, our tons for 2016 will, without a doubt, be adversely affected. When you study the rainfall figures of the past 50 years, there have been bad droughts within single years at a time – such as in 1992, 2005 and 2010. We are now in the grip of a drought spanning two consecutive years which may stretch into three if the seasonal rains don't prevail. If the drought carries into 2016, tons per hectare will decline further, crop stress will increase and the cane will become vulnerable to pests and diseases.

How do you plan on maintaining, or even improving on, O'Neill Sugar CC's production and profitability over 2016?
Now, more than ever, best management practices and precision farming methods are essential tools in creating and maintaining a sustainable enterprise and a legacy for future generations.
I believe in replenishing soil health by having compulsory fallow periods between crops, during which time the correct quantities of lime, gypsum and chicken manure are applied to the soil. At least one green manure crop must be grown in a fallow land to provide biomass to the soil for enriching its health.
Also important to the success of our farming business is to ensure that a mutually respectful relationship exists between management and the labour team. Together with neighbouring farmers, we belong to a harvesting syndicate that has proven to be efficient and cost-effective.
What challenges and opportunities will 2016 hold for South Africa's agriculture sector as a whole?
As farmers, we face many challenges, none more so than now with the crippling drought impacting heavily on agricultural industries at large. This has a knock-on effect with the shortage of food resulting in higher prices for the consumer.
Many farmers, due to lower profitability, are forced to reduce employee numbers, adding to the high unemployment rate in South Africa. This all has a negative impact on the country's economy. These challenges increase the need for farmers to keep abreast of technology and to adopt sustainable agricultural practices.
I believe that thermal satellite imagery and GPS systems will soon become an integral part of successful farming. Modern precision farming methods will be of enormous importance to the successful sugarcane farmer in the future.