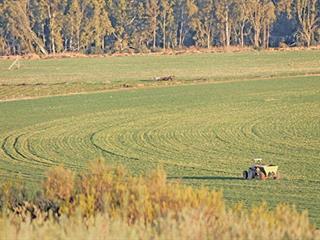 Klipfontein Boerdery, recipient of the South African Breweries' (SAB) Barley Producer of the Year award for 2013, has been growing barley for more than 20 years. Over time, the operation has honed its barley farming technique and now sticks with a tried-and-tested production plan. "If the recipe works, don't tinker with it," says Hermie van Zyl, who runs the farm in partnership with his father Bertie and uncle Andrew van Zyl. Hermie has chief responsibility for the business, which includes crop farming, a dairy herd and sheep.
Diversification
The family's farming operation consists of two farms in the Western Cape – one between Bonnievale and Swellendam, and the other in the Rietpoel area. The dairy herd consists of mainly Holstein cows, but Hermie says that they introduce a few Jerseys from time to time to increase the butterfat content of the milk. "We produce our own feed for the cows from lucerne as well as maize that we grow in summer under centre pivot irrigation to produce silage," he explains.

Hermie van Zyl
The Van Zyls' farming activities include a Dohne Merino flock that grazes on the veld most of the year. "We plant oats for the sheep to graze and when veld and grazing conditions deteriorate in summer we provide additional feed," he says. The oats, however, is only for feed. The crop farming aspect of the operation focuses on barley, wheat and canola. Annual planting usually consists of 40% barley, 40% wheat and 20% canola.
Two rotation cycles
On the Rietpoel farm, average annual rainfall is about 350mm and the soil is mainly shale. Here, the trio follow a three-year rotation cycle, with wheat planted in the first year, followed by barley and canola. On the family's second farm, near Swellendam, average annual rainfall is somewhat less – between 250mm and 300mm. The soil type is a combination of deep clay and shale.
On this farm, they implement a longer rotation cycle that includes lucerne, which is grown for four to five years. "After the lucerne, we plant maize in summer under pivot irrigation, followed by barley in winter. On the non-irrigated land, we plant either barley or wheat, and sometimes rotate between them for two or three years before going back to lucerne," Hermie explains.
Sustainability
The SAB Barley Producer of the Year award sees farmers being judged not only on the quality of the barley they produce, but on the extent to which they have implemented SAB's 'Better Barley Better Beer' initiative. This aims at promoting sustainable agriculture. The family follows a minimum tillage regime to promote soil health over the long term.
"We use a locally manufactured planter made by Alfa Engineering. The planter, a Terrablade 1200, is 6m wide and has an inter-row spacing of 300mm. On average, we plant up to 90ha per day with two planters, planting directly into the stubble of the previous year's crop and applying fertiliser and seed in a single pass," he explains.
They plant 80kg of barley seed/ha. This approach retains plant residue in the soil, but volunteer wheat from the previous crop can be a problem in the barley crop. To minimise this, volunteer wheat and early emerging weeds are killed off with a glyphosate spray a day or two prior to planting.

Spraying
For selective control of broad-leafed weeds in barley, the post-emergent herbicide MCPA (2-methyl-4-chlorophenoxyacetic) is sprayed about 40 days after planting. One week after spraying for grassy weeds, the Van Zyls spray again for broad-leafed weeds. To kill off grass, they use products such as Aurora (active ingredient: clodinafop) and Axial (active ingredient: pinoxaden). In keeping with their philosophy of sticking to a proven recipe, they plant only one barley cultivar: Erica.
In 2013, the farm achieved an average yield of 4t/ha. This compares with the average yield of 3,2t/ ha for dryland barley in South Africa. "Erica works for us – we achieve good yield and in our experience, it has a good tolerance to disease," says Hermie. "The main pests and diseases that affect barley in this area are net blotch and leaf streak, which we control by a preventative spraying programme designed for us by consultant Gerrie Engela." This usually entails two sprayings – about one month apart.
"We often use a strobilurin-based fungicide to provide broad-spectrum disease control for grain crops," Hermie explains. "We don't have any major pests that affect barley in this area, but as a preventative measure, we spray the crops with a dimethoate-based insecticide at the same time as spraying for broad-leafed weeds.In recent years we had snails, which we controlled with pellets."
Soil samples are analysed annually to determine which fertiliser, and how much, to apply. At planting, which takes
place at the end of April and the beginning of May, they usually apply phosphorus (P) as mono-ammonium phosphate (MAP) at a rate of 100kg/ ha to 120kg/ha. Nitrogen is applied as a top dressing at a rate of 80kg/ha urea.
"If necessary, we prepare the soil before planting by applying lime," says Hermie.

Top-producing cows are milked three times per day. The rest are milked twice a day.
Wind, rain and harvesting
The barley is cut and swathed early in October, seven to 10 days before harvesting. "This area can get very windy, so we cut and swathe the barley before it gets too dry and brittle. This helps prevent losses due to wind," explains Hermie. One of the greatest difficulties of farming with barley in this area is the risk of early summer rain during harvesting. But there is no real alternative.
"We've considered planting earlier so that we can harvest before spring, but we can't start planting before the winter rain season," says Hermie. Rising input costs are another challenge. The price of urea, for example, has increased by more than 25% over the past two years. "To prevent our profit margin from shrinking completely due to rapidly increasing input costs,
we focus on keeping our quality and yield as high as possible.
We don't want to take any chances, so we stick to what has worked for us in the past." Hermie adds that there are limits to what a farmer can control, but those aspects that can be planned must be done exactly right. "The weather isn't in our hands, but we aim to harvest most of our barley before we harvest wheat, which is less susceptible to rain damage. This reduces the risk of crop damage on the barley due to rain at harvest time."
Email Hermie van Zyl at [email protected].