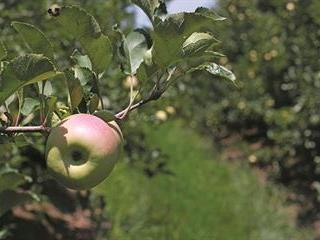 Jan Grey produces apples on his farm Brakfontein near Davel in Mpumalanga. In 2003, he, together with fellow apple farmers, Ryk Pretorius, Loutjie du Toit, Koos and Petri Dafel, and Kobus and Jaco de Jager, combined their resources to take control of their harvested fruit, which was at that stage being delivered to other packhouses.
Their efforts resulted in the establishment of Hi-Veld Fruit Packers in Ermelo, more or less equidistant from all five producers.
The group now collectively grows 76ha of apples on their respective farms, and recently purchased new trees, which will see future production almost double. "We want to benefit from economy of scale and dilute our fixed costs," says Ryk, who produces apples on his farm, Winkelhaak. "We've paid our school fees and want to capitalise on the knowledge we've gained. "We know which rootstocks to use, we've identified the cultivars best suited to our area, and we know that apples are a good hedge for the rand through exports."
Orchard manager Danie Hamman (left) and farmer Jan Grey, on Jan's farm Brakfontein near Davel.
The group uses mostly M7 rootstock, a semi-dwarfing rootstock well-adapted to perform effectively in the area's moist conditions during the summer rainfall season. It is also less prone to diseases present in the area. Their apple varieties include Royal Gala, Top Red, Pink Lady, Sundowner and Granny Smith. The latter is used primarily as a pollinator. Royal Gala is especially popular, and the group's Royal Gala apples are the first to be harvested in South Africa's new season.
Approximately 60% of the crop delivered to the packhouse is grown by the five producers; the remaining 40% (about 60ha of apples) comes from Bank Appels, a subsidiary of SIS Farming. The group is fortunate in that it harvests its apples before the rest of the country, an advantage that gains the produce a premium at the market.
"Other producers in the north are usually about two weeks earlier than the Western Cape, but the Ermelo area tends to be nearly another two weeks earlier than the eastern Free State," Ryk explains. "We're seven to 10 days earlier than Bethlehem. When they start harvesting, our first apples are already on the way to stores."

Hi-veld Fruit Packers
Apples are harvested by hand, and Jan employs an extra 40 workers during the harvesting season. The packhouse currently packs about 9 500 crates per year, and employs about 116 labourers during packing season from January to May.
"Our biggest expense is labour, which comprises 54% of our cost structure," says Ryk.
In addition to the local market, apples are exported to East and Central Africa, the Far East and Mauritius. Koos Dafel, a shareholder in the packhouse and a farmer, handles most of the business's national marketing. In2Fresh currently handles all the group's marketing for export into Africa, while exports to other destinations are done through Ian Schnetler from Kromco in Grabouw.
Supermarket demands and logistics are the packhouse's greatest challenges. Some local supermarkets' requirements for traceability, phytosanitary compliance and annual inspections are even stricter than international norms. The packhouse was built with these specifications in mind.
"All our producers are GlobalGAP accredited, which in itself is a tough exercise for both the farmer and farm. We also have 100% traceability," says Jan.
Each producer is solely responsible for his product, despite the group working collectively in the packhouse. "We don't pool any of our products. All producers keep their own product identity and are compensated for apples produced in their own orchards – and not an average price," explains Ryk.
"If one producer's apples sell early in the season, he'll receive more per carton than someone whose apples are available only in week three of the season. This arrangement keeps everyone happy. You take responsibility for your own quality and mistakes."
Micro-irrigation
Because the area receives mostly abundant rainfall during summer, producers irrigate using only about half the amount of water used by their counterparts in the Western Cape winter rainfall area.
"If compared with a centre pivot for other crops in our area, we use only 3 000m3/ ha/year, compared with 7 000m3/ha/year for other crops such as maize and soya beans. In summer we hardly irrigate, but in autumn and spring we use some water for temperature management," Ryk says.
In addition to protecting the fruit from hail, blue netting assists with light conversion and results in a more productive crop.
Micro-irrigation is the best form of irrigation for apples farmed under these conditions, and does more than simply provide water. According to Jan, the aims of micro-irrigation are to:
Establish cover crops: Cover crops are sourced from suppliers in the Western Cape. Jan and his colleagues use strawberry clover with permanent ryegrass mixture, a multi-annual grass cover that houses friendly predators. These predators feed on aphids, among others.
Manipulate the micro-climate within the orchard for frost protection: When trees flower, both the flowers and the small fruit must be protected.Sprayer heads are fitted onto long pipes, which allow for height adjustment relative to the ground. Around August, when temperatures can drop to below 2°C, the sprayers are moved from their position close to the ground to a higher level in line with the top branches of the trees. This delivers high-volume over-tree sprinkler irrigation as a means of cold protection. According to Jan, when temperatures drop to 0°C, over-tree irrigation encases the fruit and flowers in a thin layer of ice. Continuous irrigation of this kind ensures that the temperature does not drop even lower; if temperatures were to drop below 0°C, the fruit would suffer frost damage. "Water is administered at 3mm/hour. Keeping ice wet is essential. If you were to stop the process, the temperature in the ice would drop significantly and the flowers and buds would freeze. You could lose an entire crop in a matter of minutes," he explains.
Manage humidity and cool down orchards on extremely warm days: Fruit can suffer sunburn when the temperature rises too high. Micro-irrigation can raise humidity levels, which slows down the rate of sunburn.
Pest control and fertilisation
Jan's orchard manager, Danie Hamman, follows a fairly standard approach to pest control. Occurrences of insects such as bollworm, fruit fly and spider mite have to be prevented, while apple scab and other fungi are problematic.
"We produce residue-free fruit, so we use pesticides in higher quantities early in the season and try to use a softer approach later," he explains. Friendly predators in cover crops assist with aphid control. The effects of incorrect fertilisation are usually felt only in later seasons, and fertiliser must be administered with care.
Excessive fertilisation may result in trees putting all their energy into vegetative growth, and not into fruit development. This is especially true of nitrogen application. Through experience, Danie has learnt how to maintain a fine balance.
Experience is the best teacher
"Apples are hard work. There are numerous small things new entrants won't necessarily know about that can make or break their production," Ryk says.
He explains that a producer must do everything to ensure that a tree carries as many apples as possible in the run-up to the season. "As soon as there are as many small fruit as possible, 40% of the fruit must be removed so the apples can increase in size."
Apples are cross- pollinated, so more than one cultivar in flower is needed to ensure viable pollination. The group hires in bees for this purpose. Sunlight and night temperatures below 10°C determine colour. Orchard rows must be planted in a north-south direction to ensure the right amount of light; too little light results in no colour, while too much light results in burning.
Apple producers need to assist trees in their growth. "In the first year in the orchard, we place a toothpick between the trunk and branches to ensure the branch grows sideways. When growing horizontally, branches are more fertile and therefore produce more apples "In the second year, the toothpick isn't strong enough to hold branches sideways anymore, so
we have to use string to tie the branches down.
The year after that we have to move the string, otherwise knots form. The year after we move it again. With 1 500 trees/ ha, this is labour-intensive," Ryk says.
Challenges
Among the producers' greatest challenges are road infrastructure, electricity cuts, water quality and theft.
Road infrastructure: "Dirt roads are not maintained [by government]. We maintain them from our own pockets and receive no assistance from local authorities," Jan says. "Apples are hard fruit and bruise easily. Road conditions have a major effect on the quality of our fruit," Ryk adds.
Load shedding: "If you have 120 labourers in the packhouse, you can't simply let them go home when there's no electricity and tell them you're not paying them for the day," says Ryk. Frost prevention is also a problem without electricity. "We recently had to run the packhouse on a generator for a week. Cold facilities also need stable power and can't handle dips in electricity."
Water purity: GlobalGAP accreditation requires a certain level of water purity that is not available in some areas, posing significant challenges for export producers. "We've heard of farmers who can't provide water for their cattle with the water on their farm, because sewage runoff is such a huge problem. Sewage systems are not maintained in proper order," Jan says.
Theft: Informal settlements in the area are expanding rapidly, with about 90% of the population being unemployed.
"We don't mind if someone takes a few apples for their families, but the current 'entrepreneurship' – where someone stops and steals a bakkie-load of apples to sell – is unacceptable," Ryk says.
Despite these difficulties, Jan says he is not discouraged. "I don't want to do anything else. This is my passion, so I don't complain. I do the upkeep of roads at my own expense. I use my own generators when the power fails and I pay for my own electricity. All because I like farming."
Phone Jan Grey on 082 558 3847 or Ryk Pretorius on 082 853 8307.