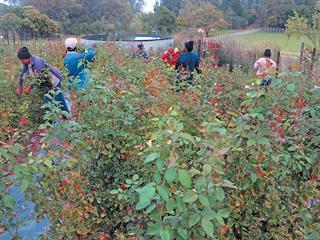 Langkloof Roses, a landmark in Wellington in the Western Cape, is renowned for its blooms. No fewer than 38 varieties – a total of 14 000 rose bushes – are grown there today. In charge of production is Jacoba Samuels, affectionately known as 'Mama Rose'.
Jacoba started her career as one of the workers on the farm, making vine cuttings or 'stokkies'. "Whenever I had a break, I'd go to the roses to watch people working on them. Little by little I learnt about growing roses and eventually I switched jobs to rose growing," she recalls.
Jacoba's first job in this division was carrying cut roses out of the gardens, and it is here that she learnt about picking and pruning. After demonstrating an affinity for growing roses, she was appointed production manager, a position she has held ever since.
She now oversees four other staff members and is in charge of all aspects of the farm's rose-growing division, including the management of hands-on farming.
Varieties
All of the rose varieties at Langkloof Roses are sourced from renowned Ludwig's Roses. As the farm is also a popular wedding venue, most varieties cultivated are antique roses, and the cluster or floribunda roses commonly popular with brides.
Interesting varietal names include Madiba, Brumilda van Rensburg, Kiss, South Africa and Margaret Wasserval (the previous editor of Garden and Home and Country Life magazines).
'Mama Rose' – Jacoba Samuels – has been working at Langkloof Roses for 18 years.
Production
Wellington's high temperatures makes this an ideal region for rose growing, Jacoba explains. "Roses love heat and water, and we have both here," she says.
Some of the farm's rose bushes are 20 years old and still highly productive as a result of correct pruning practices. Old barky canes are removed to direct the plants' resources to young canes, and to open up space for new basal breaks.
All planting is done in summer. Roses are planted in rows, spaced 25cm apart, with alternate placing in succeeding rows.
Winter (May to October) is a dormant period for roses, and the plants are neither watered nor fertilised. In summer, the roses are watered for 30 minutes every day to promote growth and blooming. Drip irrigation is used for efficiency and to prevent unnecessary evaporation.
On days that the plants are sprayed for pests, the roses are not watered, as a seven-hour waiting period is required after spraying.
Calcium is applied separately, followed by fertiliser, which consists of a mix of magnesium, potassium and MAP (mono-ammonium phosphate), applied by hand. "We fertilise twice weekly in season," Jacoba says. "We alternate the pesticides so the pests don't develop resistance. We also spray multi-feed for plant nutrition."
Pruning
"We prune in July and August, and we debud roses whenever necessary through the summer months," Jacoba explains. "The reason for debudding is so that the stems grow longer and the plant doesn't waste nutrition on buds that cannot be cut for bunches. We don't debud stems from the basal because those are the new stems on the bush. We only debud older stems."
According to Jacoba, it is important to leave three or four branches per plant, depending on the size and strength of the plant. To ensure better growth, the branches must not lie over each other and they should encircle the base of the plant. Pencil-thick stems are cut away to stimulate growth and length. "Stems are no good to us if we can't bunch them," Jacoba explains.
Cutting and bunching
"When we have a flush of roses, we bunch about 180 bunches a day. Flowering starts in October or November and continues until May," Jacoba explains. After cutting, a rose bush takes six weeks to bloom again.
Cut roses are carried directly to the sorting table and grouped according to length, as this makes it easier to put the stems through the stripping machine, which removes leaves and thorns. Stems are then sorted into colours and similar lengths, and immediately placed in buckets of fresh water in the cold room.
From here, they are bunched and wrapped in brown paper for delivery, while flowers needed for weddings are kept aside. Jacoba says the most popular rose, and a common choice for weddings, is 'Majolika', a floribunda rose.
Pest control
Thrips is one of the greatest threats to the plants, and Langkloof sprays preventatively to control this pest. They also employ chemical control for mildew as well as the treatment and prevention of scale insect infestation. Jacoba points out that scale occurs when plants are stressed, and that it can easily kill a rose bush.
Soil around the base of the plant is loosened to prevent infection. "We are currently doing experiments on switching to organic pesticide to make our farm a more environmentally friendly place," Jacoba says.
Another challenge is black spot, a fungal infection that causes leaves to fall off. Unfortunately, no pesticide sprays are currently available to treat this disease. Wellington's summer temperatures regularly exceed 40°C, and sun damage to roses is particularly problematic in February.
"Yes, roses love full sun, but they can be scorched," Jacoba says. She adds that the recent drought did not negatively affect the roses, but they needed to be irrigated more frequently. May is a windy month in Wellington, and some rose bushes inevitably suffer wind damage, negatively affecting the quality and number of roses.
Markets
Langkloof supplies cut flowers to Checkers's Boland outlets in Durbanville, Paarl, Wellington and Sea Point, as well as various delicatessens and florists. It also sells to visitors directly from the farm. Many roses are also used for the weddings held on the farm, and there is also a rose-inspired coffee shop on site.
The secret to success
Jacoba says that there are roses available year-round, but the quantity varies. "We're lucky because our markets always take all we can supply. We give certain outlets flowers on certain days, but if we don't have enough roses for some reason, we make sure everybody gets something at least."
If there's a secret to growing roses successfully, Jacoba says it's in how roses are cut and fed. "They may be tough plants, but they do need care," she stresses.
Jacoba says that she loves every aspect of rose farming, and she takes particular pleasure in seeing Langkloof Roses in so many Checkers outlets. "That, and seeing how a beautiful bunch of roses can make somebody so happy. People really appreciate the beauty of a rose and that makes my job even more fulfilling."
Phone Langkloof Roses on 021 864 1014 or email [email protected].