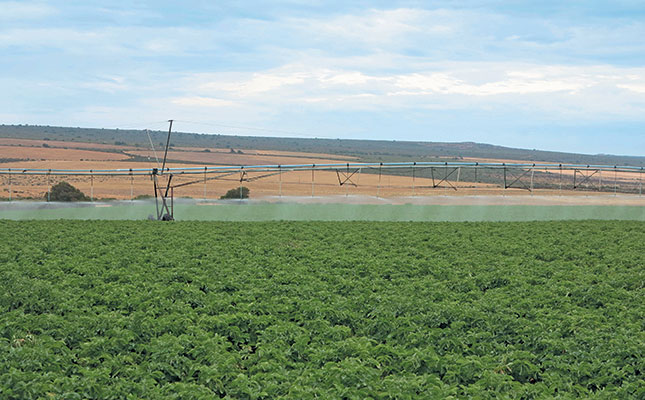 Sandberg farm lies in the heart of the Sandveld, between Elands Bay and Graafwater. In the Laubscher family since 1869, the farm is currently owned by brothers Pieter and Jan Laubscher. Each has three children, and all are involved in various farming operations.
READ Learn how to grow tomatoes
Pieter's son, Johann, is in charge of potato production and marketing.  Johann's grandfather farmed subsistence vegetables and sheep in the 1970s, but with the arrival of electricity on the farm in 1979, boreholes and irrigation became a reality. As a result, the potato operation quickly expanded.
"In the 1990s, mechanisation with planters and self-propelled harvesters made farming potatoes on a bigger scale even easier," Johann explains.
Today, Sandberg has eight farm managers, 45 permanent staff on potatoes, 10 on citrus and two in the vineyards. The business also employs 60 seasonal workers in the potato packhouse, which operates 10 months of the year. Potato staff also work in the vineyards when necessary.
Sandberg covers 4 500ha, with 2 000ha set aside as a conservation area managed by CapeNature. On the remaining 2 500ha, 1 500ha is irrigated. Only 500ha are used every year of which some 200ha is under potatoes; the rest is planted to oats and vegetables such as butternuts.
"We have a sandy soil, which makes the quality of potatoes very good," says Johann. "We plant throughout the year and have three seasons instead of one."
Three farms
The Laubschers' operation is spread across three farms, which involves planting at different times of the year. In addition to Sandberg, they have a farm at Strandfontien (6 200ha in total, with 50ha planted to potatoes) and another near Lambert's Bay (1 500ha, also with 50ha planted to potatoes).
On the Strandfontein coastal farm, the climate is cooler than that found in the Sandveld. Potatoes are therefore planted from August to November in order to harvest them in summer.
"After planting the coastal farm, we plant the Lambert's Bay farm from November to January, and Sandberg from February and March, and again from May to July," explains Johann.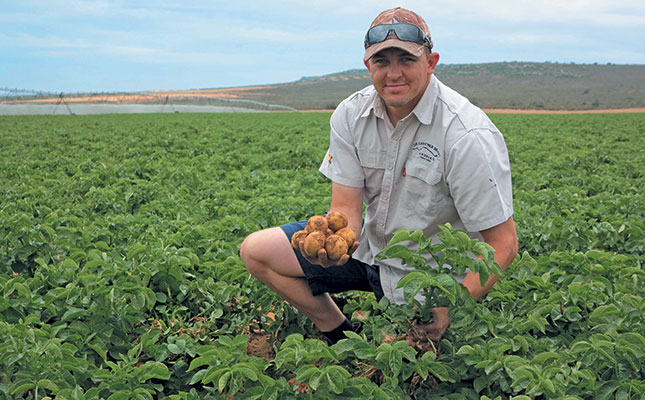 At one stage, the Laubschers planted potatoes almost exclusively for the export market, but today their main focus is the retail and fresh produce markets in South Africa.
"Our main varieties we source from Wesgrow, the Free State seed growers. These include Mondial, Sifra, Panamera and Electra."
These are shorter growers and more resistant to soil-borne diseases. They have a higher yield and can resist the strong West Coast wind.
Planting, fertilising and irrigating
Johann and his team "fight nature with nature" and plant a rotational crop of rye and wheat.
"After harvesting the wheat, we plant the potatoes in the stubble the following year. This protects the emerging plants from the wind," he explains.
READ Turnerland: potato and onion harvesting equipment
"We let our potato lands rest for five years, one year of which is used for soil preparation ahead of planting. During this time, we do a soil analysis and get the pivot and irrigation systems ready. Then we rip the soil, apply the fertiliser and irrigate to wet the soil well before we plant.
Fertiliser application and irrigation are determined by the soil analyses and the variety of potato planted.
"At the moment, we use Kynoch or Yara fertiliser technicians. Both companies are accredited to do soil analysis in our area. "These companies provide us with a protocol for fertiliser application based on the results of the soil analyses."
To avoid damage to the soil, they apply the bare minimum of fertiliser required to produce the optimal yield. "We also take care not to leach the soil of nitrates."
No-till practices help to preserve the top soil. "But if there's too much stubble when we plant, we have to kill off any growth that competes with the potatoes, and this may require using chemicals." Similarly, tillage is sometimes needed to loosen compacted soil.
Sandveld soil can retain 7mm to 14mm of moisture. "How much we irrigate depends on the time of year, the wind and the variety," says Johann.
"Water is scarce and electricity is expensive, so we also do water monitoring with Potatoes SA, as well as GEOSS (Geohydrological and Spatial Solutions International) from Stellenbosch, which works with the Department of Water Affairs."
Sandberg has verified water rights and allowances, and has enough water to farm sustainably. However, if the changing weather patterns of the past two years persist, the operation could be in trouble, he notes.
Pests
Fighting pests and diseases is a year-round battle. "From March to August, it's mainly fungi, and from August to April, it's more insect pests," says Johann.
"Potato leafroll virus is carried by aphids and we just can't get rid of it. Then, in winter, we have early blight and late blight, and control this chemically. If a week of rain is forecast, we spray as a precautionary measure."
The potato leaf miner is the most harmful of all. Immediately after the winter rain, this pest heads for the green potato lands, where it causes major damage.
"We spray weekly for these and other insects," he says.
Soil-borne diseases are another challenge, but these can be managed by buying only certified potato seed.
"We plant 20ha to 30ha/ month on each farm and harvest 20ha to 30ha/month too, so production is ongoing," says Johann.
Potatoes are harvested from June to mid-January at Sandberg, from March to May on the Lambert's Bay farm and from January to March at the Strandfontein farm.
"In summer, we try to harvest more quickly, because heat fluctuations in the soil can lead to quality problems," says Johann.
The current average yield across the three growing areas is between 45t/ha and 48t/ha.
"We're currently harvesting a land that is giving us 56t/ ha. But a farmer is more interested in yield/ha marketed than the amount harvested. If one harvests 80t/ha, but only 30t end up on the market, it's not viable to farm potatoes."
The packhouse on Sandberg can pack 100t of potatoes a day, the equivalent of 10 000 10kg-bags. "We're currently packing about 75t/day or 7 500 bags of potatoes, but it all depends on the market need at specific times."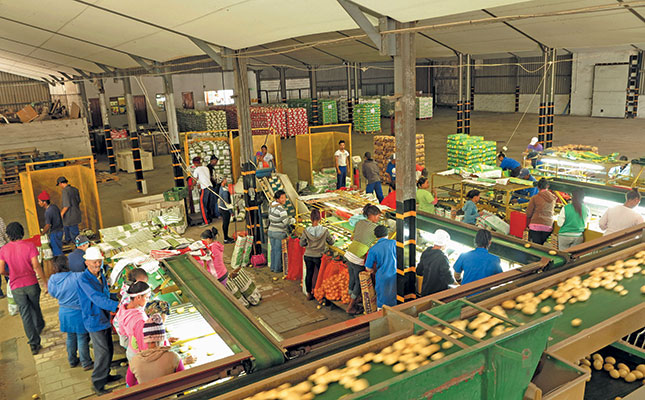 Prices and profits
Price fluctuation is one of the greatest challenges. "I've been paid from R22/bag to R100/bag this year, which is a massive difference!" says Johann.
Other challenges include the cost of labour.
"We have a labour-intensive farming operation and we need to increase our workforce. I'm more than happy to pay people well, but I also in turn need a fair price for my product.
Operational costs and potato seed are expensive, as there aren't many sources of clean, early-generation seed in South Africa. Input costs are high, because fertilisers and chemicals are imported, and their price is killing us.
"We're looking into solar and wind energy to save money, but the setup costs are high and all our money is put straight back into production. We need government to subsidise renewable energy projects."
Johann is currently investigating markets in the Middle East and Gulf states.
"At the moment, about 20% of our produce is sold under the Sandveld Aartappels label, and 80% is sent to Cape Town. From there, it's distributed through Cape Pots to the retail market and some wholesalers too. Golden Harvest is also one of our distribution partners.
"There are times when I wonder why I'm farming potatoes," adds Johann with a smile. "But I didn't choose the spud life – it chose me. It's in my DNA. And when you love what you do, it's not work."
Phone Johann Laubscher on 027 412 2442 or email him at [email protected].