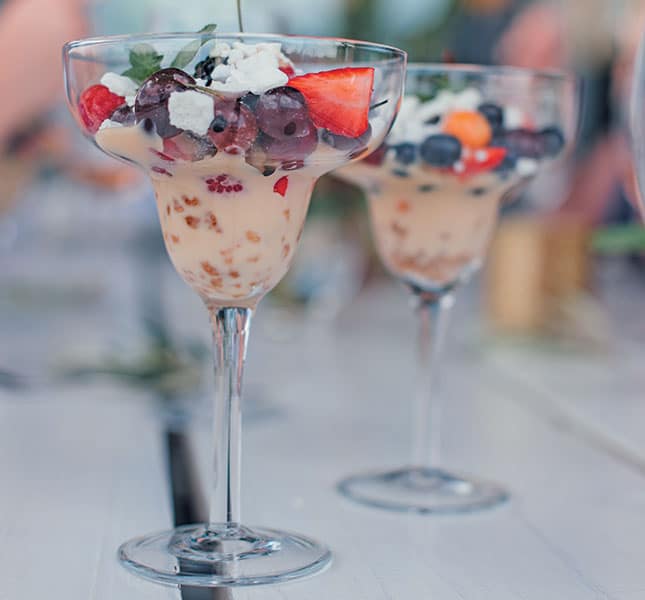 To make a modern boozy berry trifle for six diners, you will need:
About 700g of fresh fruit and berries of your choice
Two boxes of crushed Amaretti or Romany Cream biscuits
1ℓ homemade or store-bought custard
A heavy hand of Amarula Cream
Crushed meringue
6 sprigs of fresh mint
To be a homemade custard adventurer, you will need:
3 egg yolks
80g castor sugar
25g cornflour
Pinch of salt
Squirt of vanilla paste
500ml cream
Crush the Amaretti or Romany Cream biscuits and layer them at the base of your serving vessel – either a single, large serving dish or separate wine or margarita glasses.
Add Amarula Cream to your store-bought or homemade custard and mix.
Cover the crushed biscuits with a generous ladle of the amarula custard, then layer the berries and fruit on top, and cover with another ladle of custard. Sprinkle the crushed meringue on top and garnish with a cherry and a sprig of mint.
To make the homemade custard, heat the cream on the hob, watching that it doesn't burn. While waiting for the cream to heat, beat the yolks with the sugar, cornflour and salt until the mixture appears light in colour and fluffy.
Now for the important part: add the boiling cream to the egg mixture in a slow, steady stream, beating continuously to avoid lumps forming. Put this mixture in a pot on the hob, and, over a medium heat, beat until the custard has thickened. Remove from the heat and add the vanilla paste.
Allow to cool before serving. Revel in the admiration of friends and family.
David Basckin is a freelance journalist and videographer.