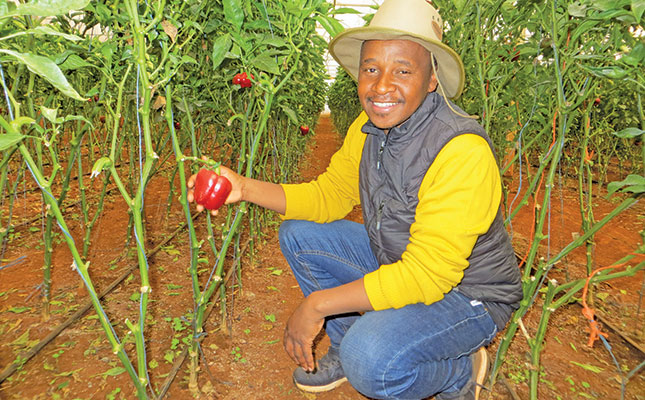 Oneo Farms, which is situated near Tarlton in Gauteng, has experienced its fair share of setbacks. But thanks to the guidance of mentors and the kindness of neighbours, owner Eric Mauwane has been able to survive the tough times.
The farm produces mainly sweet peppers, but Mauwane also grows jalapeño, broccoli, cauliflower, red cabbage, green beans and baby marrows.
Inspiration
In 2012, Mauwane, who had worked for a market research company for more than 10 years, decided to leave the corporate world to pursue a career in farming. He was inspired to do so by his mentors at the time, Kabelo Bogatsu of Bogatsu Boerdery, and Annah Phosa of Dreamland Piggery and Abattoir.
Before giving up full-time employment, he spent six months researching pig farming. As part of this, he approached the South African Pork Producers' Organisation, which sponsored him to attend a two-week course in piggery management at the Baynesfield Training Academy.
With his training behind him, his next step was to find suitable land. He started by renting it, and eventually, in November 2015, managed to purchase a property from Phosa. This comprised a 2ha farm with three pig houses and 1,5ha of arable land. To finance his farming operation, he sold his house and car, and also used savings from his previous employment.
Mauwane spent approximately R300 000 on renovating the farm. With expenses outstripping his budget, he decided to plant vegetables in order to raise further funds for the piggery. This would turn out to be a game changer for him.
In 2016, he met vegetable farmer Johan Thyssen, owner of Pinocchio Farm in Tarlton. According to Mauwane, Thyssen and farm manager Raphias Sithole taught him a great deal about vegetable farming, and they still maintain a good working relationship.
After a six-month foray into vegetable farming, Mauwane became convinced of its profit potential, and decided to focus his energies exclusively on this. He therefore sold the land intended for the piggery and set about looking to buy a farm for expanding his vegetable production.
As luck would have it, he managed to find a property in Tarlton, closer to Thyssen. It cost R3,5 million, and Mauwane was able to get together a R1,2 million deposit, which was enough to secure him a loan for the balance.
"During the process, I almost lost the deposit, as the seller threatened to pull out of the purchase because there were delays in securing a loan.
"The contract was signed in September 2016, but the seller only got his money on 30 December. During this period, my family and I lived in a pig house on our old farm."
On 31 December, Mauwane and his family moved onto the new farm. He erected an electric fence and started clearing the land, which was infested with weeds. It had been a lawn and flower farm for more than eight years, and had two multispan tunnels with a combined area of 4 500m² and two boreholes, pumping a total of 40 000ℓ/hour.
"I planted red peppers in January 2017 using second-hand drip irrigation equipment I'd bought. I'd signed offtake agreements with Dew Crisp [which supplies salad products to the retail and food industries] to secure the loan as required by the bank."
Planting
Before planting, he irrigates the soil with overhead sprinklers, turns it with a ripper, and works in chicken manure.
"I then line up the drip irrigation systems and open the water to test the drip pipes. The irrigation system is also a useful indicator for spacing between plants."
He uses 30cm intra-row spacing, and divides the rows into pairs 50cm apart, with each pair separated from the next by 80cm to allow space for planting and maintenance.
Pepper varieties selected include Excellence from Sakata, Rhemus from Starke Ayres, and Massillia and Sven from Rijkzwaan. Planting is carried out from September to January to ensure an extended period of supply.
Green peppers take three months from planting to market readiness, and red peppers take four months.
A pepper plant's lifespan depends on the health of the plant, and can be up to eight months.
Mauwane uses the services of an agronomist, who takes leaf samples of the plants and recommends fertiliser based on the test results.
"We sometimes send photographs when we have urgent queries," he adds.
"This has reduced the fertiliser cost for the farm as we don't have to buy fertiliser unnecessarily."
Ventilation and temperature
Mauwane places three pepper plants per square metre to ensure enough ventilation in the tunnels for plant health.
Thermometers are used to measure the ambient temperature. Sometimes, even during winter, the ventilation curtains are kept open for 24 hours due to the heat.
The temperature has to be kept between 15˚C and 30˚C for the peppers to produce flowers and fruits. If it increases, overhead sprinklers are used to cool down the tunnels.
"This can cause problems, however, as it invites powdery mildew, which can kill all the plants if not treated," he says.
The plants each receive 2ℓ of water a day. As they grow, they are kept erect with trellising rope.
"Peppers grown in summer reach an average size of 350g, but in winter, they can be smaller," he says.
"I pack an average of 16 peppers into a 5kg box."
The right size and quality are important for markets. In October 2017, disaster struck when the area was hit by a tornado.
"We lost everything we'd planted, and at that stage, the entire farm was fully planted," says Mauwane.
"We lost production worth over R5,8 million. We didn't even have money to pay the bank. We were blacklisted and the bank threatened to repossess the farm," he says.
Determined to get back on his feet, he raised funds by selling a number of implements, and planting green beans in tunnels fixed with second-hand plastic he received from neighbours.
But more storms followed, and the wind and rain tore the weak plastic, flooding the crops.
Once again, Mauwane lost most of his crops.
"At the beginning of 2018, I attended a meeting for farmers hosted by the Gauteng Department of Agriculture and Rural Development," he recalls.
"There, I had an opportunity to talk to the then MEC, Lebogang Maile, about paying us a visit to see the extent of the damage, and assist with some of the challenges we faced after the tornado.
"Luckily, it was raining on the day the MEC official arrived, and he saw how badly we'd been affected.
"The matter was taken to the MEC, who helped with seedlings and plastic to start operations again in August 2018."
Mauwane has learnt the old lesson the hard way: a farmer can plan as thoroughly as possible, but nature always has the upper hand.
"You need to plan for the unexpected and have contingency plans, and you need assistance and mentorship to prepare for possible disasters," he says.
Guidance
Vincent Sequiera, owner of Rugani/Greenway farms, helped Mauwane devise the current planting programme, especially for the peppers.
During the 2019 winter production season, the peppers would have died, but the planting programme ensured that they could endure the low temperatures.
"Those plants surprised me," says Mauwane. "I was expecting things to be really bad, as the temperature reached -8°C on some nights."
Managing staff has been another learning curve. He offers his employees incentives to work overtime and meet targets.
He says the success of Oneo Farms depends on three key elements: quality, consistency and the right packaging.
"We make sure that whoever we supply is stocked up with our produce at all times."
Oneo Farms currently delivers 99% of its produce to the Joburg Market.
Mauwane is expanding his farming operation to include more tunnels due to increasing demand for his green beans and peppers.
Phone Eric Mauwane on 083 533 8907.