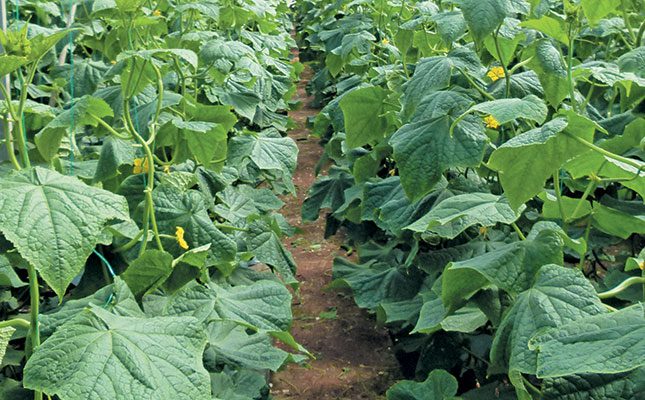 Korema Farm was established by Kobela Mokgohloa's grandfather in Winterveldt near Pretoria in 1995 with the main focus on growing cabbage and spinach.
By 2002, his father was also involved in the business, and the family expanded into a more diverse operation and started planting tomatoes and peppers on the farm.
Around 2004 the farm employed 17 people and its main produce were cucumbers, peppers and tomatoes. Korema supplied chiefly the Tshwane and Joburg markets.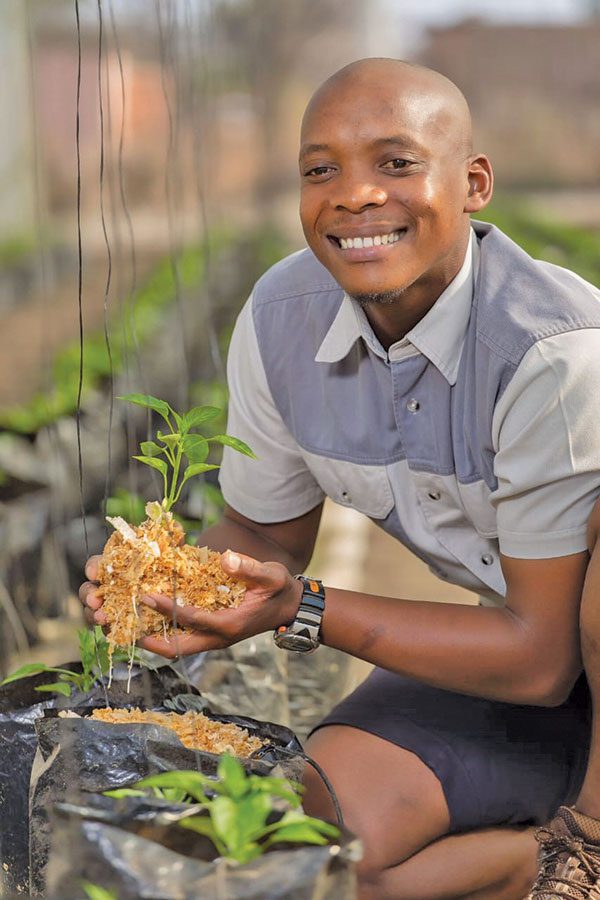 Mokgohloa matriculated from the Potchefstroom High School for Boys in 2005 and went on to work for five years at aircraft manufacturer Global Composite Solutions at Wonderboom Airport.
His employer encouraged him to learn to fly, and he obtained his private pilot licence in 2008 through an aviation school in Pretoria. However, all the passion that Mokgohloa had for flying was put on hold when he won the SAB KickStart entrepreneurship programme around 2009.
"They awarded me R100 000 towards a concept I had presented to them on feedlotting cattle," he recalls. "I then left aviation to pursue my career in agriculture on our family farm in Winterveldt."
Mokgohloa farmed tomatoes and green peppers hydroponically in tunnels in 2010 and also started operating a small feedlot.
He soon realised that it did not make business sense to produce the vegetables in only three tunnels. He had to compete with farmers producing on a large scale in open fields, and when the market was flooded, he took a knock. The solution, as he saw it, was to switch entirely to cucumbers and become the cucumber specialist in the area.
By 2012, his operation had grown to 15 tunnels. He says his business was recognised by the National Youth Development Agency for the rapid progress it was making.
The high maize prices of 2012, when a ton cost over R5 000, forced him out of the feedlot business.
In 2014, the cucumber yield on Korema Farm was about 17 fruits per plant. This has since increased to 20 fruits per plant, which Mokgohloa attributes to better management.
Currently, he has 5ha under cover. Each tunnel houses about 600 plants, and under ideal conditions should yield about 12 000 cucumbers in a five-month cycle.
"My goal is to produce at least 25 cucumbers per plant, because it is possible," he says.
Improving management
Mokgohloa began by improving the tunnels. After noticing that the old tunnels had poor ventilation, he made sure that the new ones were properly ventilated. Instead of having only one door at either end of each tunnel, he has two. He also increased the roof height from 4,2m to 5,2m.
"Poor ventilation allows heat to build up and the fruit loses its original shape. Crop yields also drop. The ventilation in the new tunnels is much better," he says.
He tries to maintain the temperature inside the tunnels at 25°C. In summer, he opens the tunnel flaps and doors at 6am and closes them at 6pm; in winter, he opens them later and closes them earlier.
Because greenhouses are expensive, the farm manufactures its own greenhouses. This enables Mokgohloa to have greenhouses that meet his required specifications. In this way, he has also eliminated some of the production risks as the entire process is under his control.
He only uses Rijk Zwaan seed in the entire production process. He says that by using good-quality inputs, it already reduces a great deal of production risk.
The entire business is built on the yield and quality of the cucumbers and he cannot afford to use seed of low quality, he says.
"My customers value the long shelf life of the raw cucumbers that I supply and the added value it provides," he says.
Mokgohloa has also changed his planting method to save time and money. Instead of buying seedlings every season, he now uses seedlings in winter only. In summer, he sows seeds as germination takes place more quickly than in winter, and it's easier and more economical than planting seedlings.
Keeping costs low and quality high
Irrigation and nutrients demand constant attention. In summer, Mokgohloa gives his cucumber plants up to 3ℓ of water each daily. He recycles 40% of the water back into production.
As water is such a valuable natural resource and the management thereof is crucial to his business, the farm recycles 40% of the water back into production. This reduces costs and Mokgohloa uses less fertiliser.
"When the municipality does not clean the water properly, we have to incur additional costs to clean the water so that it is suitable for growing cucumbers."
He says he recently managed to secure water rights to a big water source. "This will ensure we grow the business and farm sustainably in the future."
He uses sawdust as a growing medium, and fertilises with calcium, potassium sulphate and a hydroponic mix containing zinc, copper, boron, magnesium, nitrogen and phosphorus.
He has introduced some biological pest controls, and the protective tunnels also reduce the risk of insects. Mokgohloa explains that to stay in business, he has to find better ways to keep costs low and quality high. The best way to do this is to keep up with developments and improve his farming methods by visiting as many farmers as possible, and by reading.
"My motto is to learn at least one new thing a day. No matter how little it is, it makes a difference," he says.
He is currently looking at grafting cucumber plants onto butternut roots as these are stronger and feed the plant better. "It's a bit expensive, but I get more fruit this way," he says. His diversification into juice production was long coming.
He was always looking at ways to add value to what the farm was already producing. "It took us six years to get the right blend and still keep the juice fresh. We give health-conscious consumers clean products without preservatives," he says.
Thinking and planning
Mokgohloa believes that in order to expand his production further, he needs to spend time thinking and planning.
"When I first started, I wanted to do everything myself," he recalls. "But now I delegate more. This allows me to concentrate on my strategy, which is to lower production costs, use as much technology on the farm as possible, and carefully measure productivity to make sure I am still on track and make a profit."
He believes that many new farmers are not responsible with money and confesses that he too has made mistakes in this respect.
"In farming, you can sell a lot of produce and end up with a heap of cash in your account," he says. "But the fact is that profit makes up only a small portion of that money. Most of it has to go back into producing your next crop.
"I've studied a lot of farms and have seen that you should first focus on one thing before jumping to another," he says.
"When A is running smoothly, then move to B."
The farm previously supplied Massmart stores such as Game, Cambridge and Makro with vegetables but stopped, Mokgohloa says, because Massmart did not want him to brand the vegetables.
"Branding is a crucial element of growing our business. That's why we pulled out of their contract around 2013."
The business currently supplies three big fresh produce markets, namely Springs, Joburg and Tshwane. This is an indication of the successful and steady expansion and growth of the business over the years.
"We have a presence on the market floor, and we realise that the prices we fetch there are not under our control," he says. In addition, the business has also managed to achieve a successful cold chain process to ensure consumers enjoy their fresh cucumbers and cucumber juice.
Challenges
Some of the challenges experienced by Korema Farm are high interest rates at banks, the lack of appropriate funding (a blanket approach that doesn't cater for each producer's needs), some government departments providing Korema with equipment and machinery that the farm does not need, and a low demand for proudly South African products.
Mokgohloa in the past sometimes struggled with being paid late for his produce. Instead of payments being made within the 30 days prescribed by government, some payments were received 60 to 90 days after they were due, and this caused serious problems for the farm.
A consequence was that Mokgohloa could only employ workers on a temporary basis due to the unreliable flow of income.
The unreliable supply of electricity created problems and necessitated an alternative focus. The farm is now totally off the grid, producing its own electricity via solar panels.
Mokgohloa says constant power is a crucial input for a hydroponic system. By utilising the sun, a natural resource, they have bypassed the problem of rolling blackouts.
Plans for the future
"Our plans for the next 10 years are very simple: we want to capture 60% of our value chain. If we can do this, we will be able to reduce costs," says Mokgohloa.
But he also wishes to focus on his community. He feels an obligation towards growing Korema as a brand and creating employment in the Winterveldt area.
"Our biggest investment is in staff development. Over the past 12 years, we have been using the off-peak production times to further train and share industry sights on what other countries are doing.
"People who apply for jobs often come from a background where they have little or no exposure to agriculture. It means that we do not get the full benefit from our employees in the first few months.
"The solution to this is straightforward: I want Korema Farm to become a centre of excellence and assist the sector to bridge the [knowledge] gap."
Mokgohloa believes that black youngsters are not attracted to agriculture because there have not been enough farming success stories.
"Past generations didn't treat farming as a business, but as a means of survival," he explains.
"Nonetheless, a few young people are getting into farming here and there. If they are successful, they will help inspire others."
He is also involved in the mentorship of young people.
"This is an ongoing thing for many farmers that aspire to operate like Korema Farm. It is an informal process that they enjoy. Many people call me looking for help on where and how to start their farming businesses."
His advice to aspiring farmers is to embrace collaboration in every way possible. And, he says, farmers must remember that they will lose nothing by asking for a discount when purchasing inputs.
Phone Kobela Mokgohloa on 072 822 8993, or email him at [email protected].