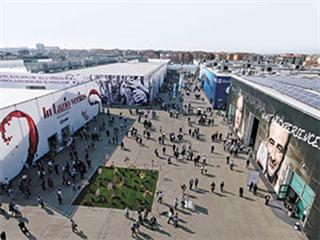 Italy's hallowed trinity – religion, food and wine – flows richly in its past and present. And if the magnificence of the Vatican is a sublime symbol of the Italians' faith, Vinitaly is no less a monument to the fruit of the vine. The world's oldest wine exhibition, Vinitaly takes place in Verona each year and is a gathering place not only for Italy's vast wine industry but for thousands of international visitors. Vinitaly 2013 marked the 47th edition of what has become one of the most important wine events on the wine trade calendar.
This year's event, which took place at the start of April, was attended by more than 4 200 companies from over 20 countries in an exhibition area that exceeded 95 000m². "Vinitaly provides the wine and food industries with the broadest and best-structured world platform for business, promotion, networking with national and foreign institutions, buyers and consumers," says Ettore Riello, the president of Veronafiere, the event's organisers.
This year, Vinitaly had an attendance of 148 000 (up from 140 000 in 2012), of which 53 000 were international visitors from more than 100 countries. "The 6% increase in the total visitors rewards exhibitors investing in Vinitaly with a larger pool of potential buyers, thereby acknowledging the international centrality of the exhibition," says Riello. He stresses that what makes Vinitaly so important for Italy is the fact that the wine industry is one of the major drivers of the country's balance of trade. It is also an important employment creator.
World wine situation
According to statistics released by the International Organisation of Vine and Wine (OIV), the world's registered wine-growing areas in 2011 amounted to 7,5 million hectares. This was 1% smaller than in 2010 and presented a 3,4% reduction area over the past decade. The OIV believes future growth is likely to take place in countries such as Brazil, Chile, Argentina and China, but even in these countries growth will be slower than it has been in recent years.
In Europe, the situation should remain stable, following an end to the policy of incentives for the permanent abandonment of vineyards, which was implemented by the EU in the past three years. This brought about a reduction of 270 000ha in Old Continent vineyards by encouraging farmers to abandon old, unproductive vineyards.
The OIV predicts that South Africa and Australia will also suffer a downward trend, with a 12 000ha reduction of vineyards.
The net effect will be a long-term decrease in the vineyard area planted worldwide, with major impact on world production figures. World wine production in the 2012 harvest season amounted to 248 million hectolitres, 6% less than in 2011. A significant contributor to this drop was France, with a total production of 40,5 million hectolitres, 19% less than in 2011. This meant that despite experiencing a 3% decline, Italy was the world's largest wine producer in 2012 with 40,8 million hectolitres bottled.
Italian wines
According to Riello, the Italian wine sector has 383 645 wine-producing companies, with an output of more than one million labels. Together, they account for just less than a quarter of total agricultural production in Italy. The primary wine sector employs 700 000 employees, but the number shoots up to 1,2 million when taking into account the wine value chain. This stresses the importance of the sector for Italy, which, as a result of the economic meltdown in the Eurozone, is grappling to rein in fast-growing unemployment, especially among the youth.
Italian exports
Riello points out that the Italian wine industry has become more and more reliant on exports. "Domestic consumption has
fallen below the historic threshold of 40l/capita/year, but exports are helping to maintain turnover generated by Italy's vineyards," he explains. It is for the sake of securing new export contracts that Vinitaly has become a critically important business platform for Italian wine producers.
The event has also helped Italy become the largest exporter of wine in the world. "The Italian wine-making industry earns more than 10 billion euros (R118 billion) per year, while 4,7 billion euros (R56 billion) come from exports," Riello explains. "Almost 50% of total Italian wine sales (about 21 million hectolitres) is generated by exports, compared with a European average of 18%. Such success is based on the huge variety and quality of Italian wine."
In 2012, Italian wine exports increased by 6,5% in value terms (export volume declined by 8,8%), earning the country 4,7 billion euros. Wine export turnover was driven by traditional markets such as the US, Canada, Germany and the UK. Italy managed to achieve double-figure growth (albeit off a low base) in the Far East, with China and Japan expanding by 15% and 28% respectively.
Wooing Chinese wine consumers
Recognising the importance of China as the world's fastest-growing wine consumer, the organisers of Vinitaly invited an official delegation of the Ministry of Commerce of the People's Republic of China and presented initiatives aimed at Chinese buyers.
According to Giovanni Mantovani, CEO of Veronafiere, Vinitaly is increasingly acting as the bridge between Italian wine producers and the Asian market. More and more visitors to Vinitaly are specialised operators and buyers, not only from traditional markets but from emerging countries such as China and Russia, where there is a growing interest in Italian wine.
At the official opening of the four-day event, Italy's agriculture minister Mario Catania commended the organisers for keeping a close eye on exports and on China in particular. "A huge space is opening up in the Chinese wine market. We (Italy) are very strong in the historical markets such as the US and Germany, but we are rather behind in new markets such as Asia and China. We must work to regain lost ground; we must work better and we must avoid wasting resources," he said.

A lesson for south Africa?
Italy ranks fifth among countries supplying wine imports to China and holds only a 6,2% share, despite increased volumes and values for exports in 2012. The focus on China should be a wake-up call for the South African wine industry, which has yet to make significant inroads into the Chinese market. According to forecasts, China is set become the world's top wine consumer by 2015.
Sol&Agrifood
Running parallel with Vinitaly, the Sol&Agrifood Expo is a celebration of 'Made in Italy' agricultural produce. According to the organisers, Veronafiere, Italian agri-food products are increasingly popular overseas and exports are growing as a result of the enterprising spirit of Italian companies and their ability to innovate while respecting age-old traditions. Sol&Agrifood offers companies a platform of services to generate business abroad and also seeks to increase awareness of Italy's wealth of food and wine.
Agri-foods are Italy's top export items and exhibitors at Sol&Agrifood are constantly seeking to attract international buyers. Special attention is given to wooing buyers from new and emerging markets, but without losing sight of traditional consumers in Europe and North America. Exhibitors at Sol&Agrifood showcase all the food specialities that have made Italy famous, from pasta, confectionery, cured meats and fish products to cheese, extra-virgin olive oil, honey, chocolate, legumes and small brewery beers. Sol&Agrifood also has the largest coffee-tasting counter in the world.
View the Vinitaly photo gallery.
For more information about Veronafiere and Vinitaly visit: www.vinitaly.com/EN or www.veronafiere.it