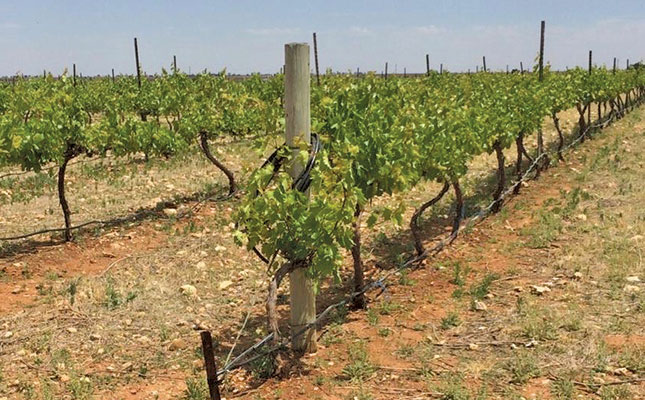 Tebogo Ditsebe's introduction to farming was a remarkable combination of accident, luck and passion. As a consultant in Kimberley in the Northern Cape, agriculture was the last thing on her mind.
In 2001, however, she needed a place of quiet and calm to clear her mind after experiencing some personal hardship.
A friend, the late Herman Galaman, invited her and her children to stay on his plot in the Bloemfontein district. This was home to a few animals and Ditsebe undertook a few light duties on the farm.
"This is where my interest in agriculture was ignited," she recalls.
The chance of a lifetime
In 2011, seeing her growing interest, Galaman offered to sell her his 48ha wine farm in Jacobsdal in the Free State.
"At that stage, my consultancy business wasn't doing well," explains Ditsebe.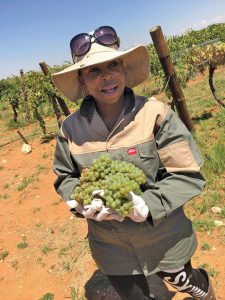 "Herman made it possible for me to become a farmer. He noticed my passion for farming and encouraged me to pursue the opportunity he presented. I realised this was a once in a lifetime opportunity and grabbed it."
Ditsebe approached the then Department of Land Reform and Rural Development for financial assistance to acquire the farm, and in January 2013 finally received a 30-year lease with the option of buying the land through the Proactive Land Acquisition Strategy.
The property, especially the vineyards, needed a great deal of attention and Ditsebe therefore applied for and received Recapitalisation and Development Programme funding of R2,4 million in 2014.
"The first thing I did was to employ workers and fence off the farm. I also built a shed and house," she says.
Restoring the vineyards and learning the craft Ditsebe focused on cultivating the vines and bringing weeds under control, and with much nurturing, she and her team managed to revive the vineyards. The initial tonnage was 106t.
"However, due to climatic changes and old vines, the current production in terms of carrying capacity is 96t. I'm therefore systematically replacing older vines with new vines," she explains.
During this time, Ditsebe also set about learning as much as she could about wine and wine production.
"I visited the Cape Winelands regularly to learn from various industry stakeholders. I also attended a winemaking course at Stellenbosch University."
Approximately 16ha of the farm is under an assortment of grapes: white Muscadel, Villard Blanc, Chardonnay, Chenin Blanc, Colombar, Touriga Naçional, Souzão and Cabernet Sauvignon.
Ditsebe produced her first harvest in 2014. The harvesting starts with white cultivars from the middle of January until the end of February. The red cultivars are ready for harvesting by mid-March.
She presently has three permanent farmworkers, and employs an additional 30 people during harvesting, and between 10 and 15 during pruning from June to August.
From the depth of Africa's soils 
Ditsebe launched her wine range in 2015 after paying great attention to the design of her wine label.
"A good wine label does more than just provide customers with information," she stresses.
"It should tell a story. I looked at my life experiences and environment, and wanted the label to represent these."
'Botébo' is a Sotho word meaning depth.
"It refers to the depth that starts with the richness of our soil to the brilliance in colour of our grapes, which ultimately is captured in the richness of our variety of wines," explains Ditsebe.
On her farm, the soil is characterised by stony red and lime soil, which is good for wine grape cultivars.
Ditsebe adds that the name of her wine is also testimony to her own depth as a woman who overcame adversity and challenges.
The Botébo range curently comprises Rosé, Chenin Blanc, Merlot, sparkling wine and Cabernet Sauvignon (her flagship wine), and are sold online.
"I want to keep my product exclusive and produce limited editions for specific markets," says Ditsebe.
She also attends many wine exhibitions.
"My first was in Hyde Park in Johannesburg in 2016. During this festival, well-known brands were on show. When I sold all of my wine at the festival, I knew I was going in the right direction."
Ditsebe will also be planting 10ha of grapes for the raisin market this year.
"I met a farmer in Upington to buy nets to protect my grapes, because bird damage is a
huge problem, especially just before harvesting, and can really destroy a good harvest," she says.
The farmer suggested that she forget about wine and focus instead on raisins.
"I was quite annoyed, as I'd visited him to talk about nets, not raisins. However, I went home and did some research on raisins. I always do my research; I don't just jump into anything without acquiring some knowledge. From the research, it was evident the raisin market is very lucrative."
Ditsebe received Comprehensive Agricultural Support Programme funding from the Department of Agriculture, Land Reform and Rural Development to plant 5ha of grapevines to produce raisins. She sourced her own funds to plant the additional 5ha. She will be selling her raisins to Carpe Diem Raisins in Upington, which exports raisins worldwide.
"I'll be the first black woman in the Free State to enter the raisin market," she says.
In addition to diversifying to raisin production, Ditsebe dreams of turning her farm into an agritourism destination.
"I want Botébo to become the ultimate place to come and relax and have a good time," she says.
Challenges
Ditsebe admits that her farming journey has come with many challenges and that she has put a lot of blood, sweat and tears into Botébo Wines.
She cites theft as a particular problem, especially from December until her grapes are harvested. To address the issue, she beefed up her security.
"We saw positive results, especially on the white Muscadel vineyards. These grapes are very sweet so they're popular with thieves," she explains.
Birds are another problem, as they cause great damage to the vines at this time of the year.
Her farm uses water sourced from the Oranje-Riet water scheme, which ensures a constant supply; this is channelled through the canal system to the farm.
"Water plays an important role in any farming activity; it's a scarce resource that must be protected," says Ditsebe.
"It's a challenge for me to source additional water from the scheme.
This is due to claims that the scheme can't supply more water because the [canal height must be increased] to supply additional water to emerging farmers. As someone who wants to operate as a commercial farmer, I'm hampered by this."
According to Ditsebe, she needs huge financial capital to expand her operations and ensure that all bills get paid, and obtaining funding is difficult. She emphasises, however, that she does not expect handouts.
"I used every cent I had to make a success of Botébo Wines. It has been hard work, but worth every cent."
 Email Tebogo Ditsebe at [email protected].