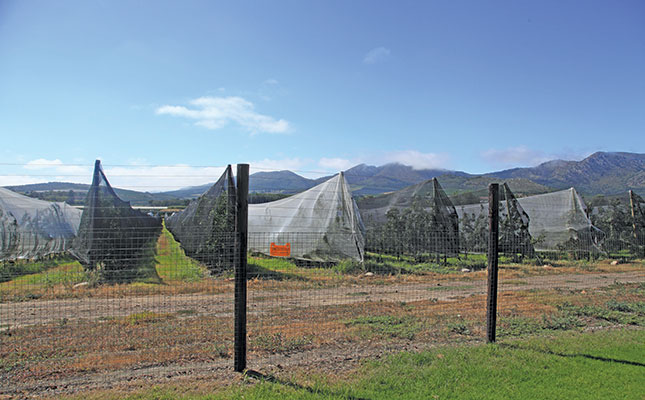 Pome fruit production in the Langkloof is associated with high climatic risks, ranging from cyclical droughts to seasonal hailstorms. Calla du Toit, procurement manager at Tru-Cape Fruit Marketing, says that most farms in the region have been family-run enterprises for generations, resulting in many years of intergenerational wisdom that has taught these growers how to thrive under these challenging conditions.
He adds that farmers here tend to be more conservative with their plantings and finances than those in other regions.
"Instead of planting as much as they can, they plant fewer hectares to ensure there's sufficient water to carry them through times of scarcity. They're also highly disciplined with their money, choosing to build reserves for difficult times rather than spend everything at once."
Crop insurance
Insurance premiums for farms in the Langkloof are exorbitant because of the high risk of hail in the area. Jimmy Zondagh, owner of Belle-Vue farm near Uniondale in the Western Cape, estimates that it can cost anything from R16 000/ha in the region.
To further complicate matters, insurance does not pay out in full when an orchard is destroyed; instead, the payout is based on an assessment of the fruit lost, minus the excess payment and the value of the fruit that could have gone to juicing. As a result, producers may end up with substantially less money than what their orchard was actually insured for.
For this reason, every year Zondagh only budgets for insurance that covers his late, high-value apple varieties, such as Granny Smith and Sundowner. He explains that hail can hit at any time, and the risk of damage increases the longer the fruit stay on the trees.
The risk of damage to pears is lower than it is for apples, as pears are picked from February to March, while the apple season runs from March to May. Pears are also harder while they're still on the trees, making them less prone to bruising and other damage.
Zondagh prefers to self-insure the pears rather than buying crop insurance for them. This involves making payments into a tax-free personal fund with an insurance company. The money accumulates during years when no withdrawals are made, leaving more available for when losses occur. He also uses draped nets to protect some of his high-value apples against hail and sun damage, but isn't convinced that this is the best solution for his production conditions.
"Draped nets create a more humid climate around the trees, turning it into an ideal breeding ground for insects and fungal diseases, which drives up pest management costs. The situation is exacerbated by the afternoon mist that moves onto our farm every day, especially during times of drought."
He says that, over the past five years, the farm has been subjected to the worst recorded drought in the region, and experienced a 45% drop in production in 2021.
Plant density
To further reduce climatic risks, Zondagh plants apple trees on vigorous, "tried-and-trusted" rootstocks, such as M793, and the trees are spaced relatively far apart, at about 4m x 1,3m, although this is closer than they were planted in the past. However, the industry trend is moving towards 3,5m x 1m.
He says that their limited water supply restricts the number of trees planted per hectare.
"To provide for years of drought, I don't plant to the farm's full irrigation potential. Trees spaced wider apart are also more resilient during times of drought, as there's less competition for water and soil nutrients."
He adds that trees planted on dwarfing rootstocks at a high density have to be trellised to keep them upright as they carry such heavy loads, ranging from double to triple that of conventional trees. This drives up orchard establishment costs significantly, with the flat, open structure of the trees leaving them more exposed to hail and sun damage.
Zondagh estimates that trellises and nets can drive establishment costs up from R350 000/ha to R750 000/ha. Mistakes made in these orchards are therefore far costlier than those in orchards that are less expensive to establish.
In addition, these trees generally don't last as long as those carrying lighter loads. Zondagh admits, however, that this doesn't necessarily put his operation at an advantage, as many varieties are replaced when they fall out of favour in the market or can be substituted with improved ones.
"We generally replace 4% of our trees every year, but they can reach 25 years of age and still produce good yields," he says.
Zondagh says it helps to talk to other farmers to bounce ideas off them and become familiar with what is happening in the industry and abroad.
"But in the end, you need to do what works and is economically viable under your production conditions," he says.
Family loss
The Baldie family has lived on and farmed at the Misgund Orchards farm since 1904. The farm was established by their Scottish ancestor, Alexander Baldie, who is credited with planting the first commercial apple orchard in the Langkloof. Today, Misgund also boasts one of the oldest recorded apple trees in the region, called the Kroontjie.
Robin Baldie, who manages the farm and is the youngest of three children, says that the family has suffered a number of tragedies and setbacks over the years. His second-oldest brother, Lloyd, died in 2008, followed by his father, David, in 2009.
Then in 2017, his oldest brother, Wayne, died, forcing Baldie, who, up until then had been responsible for labour and production management, to take on the running of the marketing and finance areas of the business.
The family farm now comprises Baldie; his mother Linda-Lou; his wife Mieke; and their children, Mckayla and James; and his sister-in-law, Paulette, and her children, David and Alexander.
While 2016 was a good season, the region was hit by a drought that continues to this day and, according to Linda-Lou, is one of the worst she has ever experienced. Baldie says the water shortage requires careful production planning and management to insure the best return on water used.
Nature's wrath
In 2020, the region also experienced a freak snowstorm, which resulted in the collapse of 8ha of hail nets and damage valued at over R2 million. Baldie says that while some of the nets could be repaired, many of the nets, poles and cables had to be replaced.
On top of this, a hailstorm hit the farm last year, wiping out 70% to 80% of the
orchards in a matter of minutes. Baldie says that the juicing factory tried to accommodate them as far as possible, but between 30% and 40% of the fruit wasn't even good enough for the juice market.
In light of these significant losses, the family was forced to retrench 80 of their packhouse workers. To ease the situation, Baldie consulted with small groups of workers before discussing the situation with everyone.
"The workers were tense during the initial talks, but settled on retrenchment packages based on the number of years they had been employed, with little resistance or conflict.
"Everybody understood the situation. It also helped that we had good relationships with our workers," he says.
In the six months that followed, damaged trees were either tended to or replaced. This time was also used to decide on the future of some of the farm's marginal orchards, and whether or not they needed to be replaced. In addition, in an effort to run more fruit through Misgund's packhouse, Baldie entered into a partnership with Freshgold to pack its farmers' fruit.
Since December 2021, the farm has re-employed 90% of the workers who lost their jobs.
In light of the losses experienced on Misgund, Baldie has made plans to reduce the risk of hail and snow damage. He took out a loan to increase the area under net protection, and approximately 60% of the orchards are now covered. Of these, 60% are under draped nets, which are used for older orchards, and the remaining 40% are under fixed nets, which are used for new orchards.
"The whole experience reinforced my belief that insurance isn't a worthwhile expense. We had been systematically putting our orchards under nets to reduce our risks, but then realised we weren't doing so fast enough. Following the snowstorm experience, we also realised that we needed to be able to open the nets at the top to prevent snow and hail from accumulating on top of them."
It was a huge capital investment, with draped nets costing around R110 000/ha and fixed nets between R250 000/ha and R300 000/ha, but Baldie says the lower interest rates significantly helped with the transition.
He adds that it generally takes up to six years for an investment like this to pay off, but a major hailstorm would clearly shorten this period, as the nets will prevent damage.
The nets have other advantages, too. They improve the water-use efficiency of orchards by decreasing evaporation, and increase pack-out rates by reducing sunburn on apple varieties such as Granny Smith and Golden Delicious.
Baldie explains that black nets are the best option for varieties such as Granny Smith, when the goal is to protect the fruit from sun damage. White nets, on the other hand, should be used on red varieties such as Fuji, as they have less of an effect on the colour of the fruit.
Aside from reducing the risk of tearing during snow and hailstorms, draped nets and those that can be opened and closed offer an added benefit in that they can be lifted or opened once picking is finished, and then closed once more after fruit set.
"It's better to have nets like this, as bees seem to get disorientated under fixed nets, which can negatively affect pollination. We've also seen that draped nets can decrease insect problems by preventing the pests from getting to the fruit."
Staying positive
Over and above climatic conditions, Baldie, much like the rest of the industry, has had to juggle input costs that have skyrocketed over the past year, logistical challenges, load-shedding, and the impact of the recent Russia-Ukraine conflict on the markets. In addition, he has had to deal with local wildlife.
He works closely with CapeNature to help manage the baboons and kudus in the area.
"We have electric fencing to protect the orchards from baboons and kudus, which increases production costs, but this isn't enough. We lost almost our entire crop of Forelle pears in one orchard last season. Out of desperation, I've now decided to buy lion and leopard excrement, which supposedly works as a deterrent," he says.
While all of these challenges can be overwhelming at times, Baldie says that both he and his mother are optimistic, which helps them bounce back quickly when complications arise.
"Dwelling on problems doesn't help anyone, so we prefer to focus on what we can do, and doing that to the best of our abilities. Despite all the difficulties, I have the privilege of living my dream of working and living on a farm."
He has also found inspiration in Howard G Buffet's book, 40 Chances: Finding Hope in a Hungry World. The essence of the book is that the average farmer has roughly 40 growing seasons, thus effectively 40 chances of improving productivity.
"You can get sidetracked if you only look at your balance sheet to determine the success of your farm. You need to have at least three plans, and even alternatives to those for when things don't go the way you planned," says Baldie.
Email Jimmy Zondagh at [email protected], or Robin Baldie at [email protected].