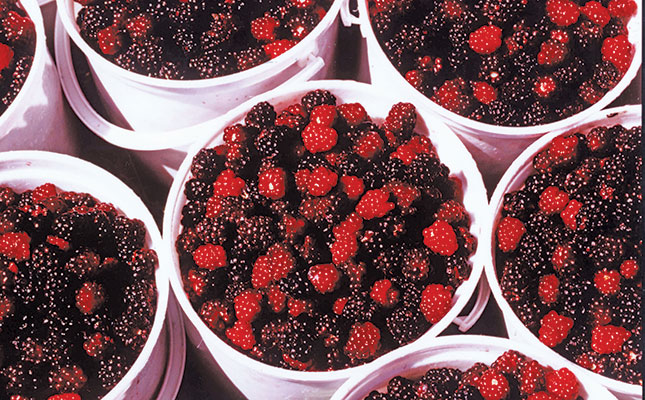 A decade ago, the Hermitage Valley near Swellendam was one of the largest youngberry- and blackberry-producing areas in South Africa.
Today, it is effectively only blackberries that remain; Wildebraam Berry Estate is the only farm in the area to still grow youngberries, and that on a mere hectare. The crop is used almost exclusively in value-added products, such as liqueurs and jams.
Natalie Turck, who owns the farm with her husband, Martyn, blames the decline on poor returns.
"Bulk buyers stopped differentiating pricing between youngberries and blackberries. So we, like many other farmers in the region, switched to blackberries, which are easier and cheaper to produce as they don't have a trailing habit and produce a higher yield than youngberries."
Wildebraam, which covers 11ha, now has 4ha under blackberry production.
Despite the rising demand for fresh berries, blackberry production, too, is under pressure due to increasing input costs, especially labour and electricity, in combination with competition with cheap imports, primarily from the East. The Turcks have therefore had to think out of the box to find ways to enhance farm profitability.
One of the biggest changes they have effected is the way they sell their berries.
"In the past, we could merely sit back and wait for buyers to fetch our berries. These days, we're much more progressive in negotiating sales terms, and have significantly diversified our markets," says Turck.
While Wildebraam has always added value to a small portion of its produce by processing it into jams, chutneys and liqueurs, they now divert their bulk sale berries to the fresh and frozen markets.
The frozen market
The farm has a blast freezer with the capacity to freeze up to 700kg of berries a day. The fruit is either processed on the farm as needed, or sold to entrepreneurs, who sell it at farm markets and other outlets.
"We used to sell at farmers' markets. It's tough but a great way to introduce a new brand," says Turck.
Freezing their own berries is becoming increasingly expensive due to rising electricity costs.
Fortunately, they have managed to secure a supply contract with frozen food supplier Euroberry, based in Somerset West, and most of their first-grade berries end up here.
Wildebraam initially had to deliver its berries to Euroberry, but growers in the area started working together and negotiated for the buyer to collect from the farm.
"Ensuring that Euroberry has a full load when fetching the berries has helped to significantly reduce transportation costs, and it also eases logistics management," says Turck.
Fresh market
Up until recently, most of Wildebraam's fresh berries were sold from the farm by allowing the public to pick their own berries.
"We've been hesitant to supply retailers with fresh berries, because they're fragile. They bruise easily and quickly lose their shelf life if the cold chain is managed poorly," says Turck.
Despite these reservations, they are in negotiations with a retailer looking to sell fresh blackberries.
Supplying the retailer would result in a major shift in operations, explains Turck. Their workers, who up until now have been paid according to the volumes they pick, will have to be retrained to pick berries more selectively at optimal ripeness.
To reduce post-harvest handling, the berries will be picked and placed directly into punnets in the orchards; the retailer's cold truck will then collect the punnets from the farm.
Processing
When the estate was first established, the young entrepreneurs commercialised an old family liqueur recipe to add value to their youngberries.
From there, they developed 12 flavours, including chocolate, chilli, fennel, honey and their bestselling rooibos tea, as well as a wide range of jams and a sundried tomato mustard.
Twelve years ago, while selling their produce at the farmers' market in Wilderness, the Turcks made friends with Jan and Rita Moerdyck, an elderly couple who sold relishes. Wanting to retire, the Moerdycks invited the Turcks to take over their business.
The Turcks were hesitant, but the Moerdycks insisted, and sent their head cook to Wildebraam Estate to teach the staff how to cook the relishes.
"We were able to buy the business on favourable terms, and it proved to be one of our major business divisions, probably thanks to the catchy names of the relishes, which Rita and Jan invented, such as Lord of the Ring, Rattlesnake Bite, Hiroshima, Ring a Ding Ding, and Ring of Fire," she says.
Buying in produce
Only blackberries and youngberries are produced on Wildebraam; the rest of the ingredients used in their processed goods are sourced from within a 60-minute radius of the farm.
Stone fruit comes from Montagu, onions from Caledon, olives from Mardouw farm in Hermitage Valley, blueberries from Napier, and raspberries from the Hemel-and-Aarde Valley. The only exceptions are tropical fruit, such as pineapples, bananas and mangoes.
Over time, the processing side of the business has become more lucrative than fruit production. Whereas they employ one permanent worker on the farm (increasing up to 60 seasonal workers during picking), they have five permanent employees in processing, one working with the liqueurs, and two in dispatch.
While the wide range of products has an obvious marketing advantage, it makes production planning extremely difficult.
"Over the years, we've learnt when our peak times are, and have since developed a schedule," says Turck. "This very much corresponds with when specific products are in season. For example, when we make green fig preserve, we make only that for four weeks. Trying to do anything else complicates things."
Small volumes of the processed products are sold from the farm, but the bulk is sold via farm stalls and select retailers.
"The farm offers a whole basket of different processed products, which is really attractive to farm stalls. We've found that consumers buy more traditional products at shops, whereas they become more adventurous when they buy the products on the farm after having tasted the products."
Tourism
To boost earnings, Wildebraam has run self-catering accommodation for the past 10 years. This comprises two apartments, one garden cottage and a garden suite.
The accommodation complements the rest of the business, as visitors usually stay for a weekend to pick berries, and buy products from the farm shop.
"When venturing into the tourism market, you really need to know your competitive advantage, especially when you live in an area where there are many offerings, as is the case with Swellendam. Our main [selling points] are our unique products, berry-picking, and an out-of-town farm experience," says Turck.
The accommodation is listed on various rental platforms, such as LekkeSlaap and Airbnb. These listing companies take a percentage of profit, but significantly enlarge the consumer base, which in turn improves occupancy, says Turck.
Her advice to other farmers who want to venture into this market is to be diplomatic, and address valid complaints as soon as possible.
"For difficult clients who expect five-star accommodation when they have booked three stars, it pays to try and go the extra mile and offer a 'wow' factor."
Since the beginning of the year, Wildebraam Berry Estate has been on a regular tourist route. It began with the sudden arrival of a tour operator twice a week with groups of Europeans.
Puzzled, the Turcks enquired about this, and the company confirmed that the farm was indeed on their itinerary.
"Neither the company nor I have any idea how we managed to get on their itinerary. We used to take part in tourism indabas, where we were told that it could take up to five years to get any payoffs, but I assume it is rather a case of an influential person visiting the farm and placing us on their itinerary because they liked what they experienced," says Turck.
She adds that the farm has been open on Sundays for many years, which might have added to its attraction.
"Many farms and attractions are closed on Sundays, which is actually a time that many people are driving by on their way back home, or looking for something nice to do. When we started opening on Sundays, traffic was slow at first, but the word spread quickly, so it has become one of our busiest times of the week."
Consultants
The Turcks always use a consultant to help them with big decisions. They learnt this lesson early in the operation, after selecting a name for their liqueur from a Greek dictionary. They printed the labels, stuck them on the bottles, and were very pleased with themselves for selling 40 bottles at a market in Stellenbosch, where well-established wineries were also exhibiting.
Later that evening, however, they learnt that the name they had selected, Purpura, refers to the colour purple in Greek, but also to a skin disease.
"After that, we employed a graphic designer to help us develop a brand name and logo. It was extremely expensive, but an important investment in the future of our brand," she says.
Phone Natalie Turck on 028 514 132, or email her at [email protected].