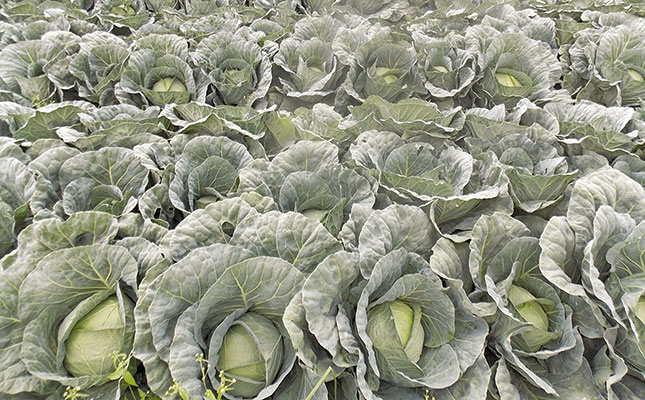 The free market system affect vegetable production, this means that if you don't have a contract, you start production with fixed costs not knowing the price you'll get for your produce. This may well be below cost price.
READ: Food on the table, money in the bank
 Factors that affect vegetable production
This is apart from other production risks, which include hail. Hail has wiped out many crops this year after they have faced drought and heatwaves.
Vegetable prices have been on the low side for a while. This is quite normal. When the price of a specific commodity remains high for a long period, new entrants looking to capitalise on vegetable production are drawn into it. This leads to a surplus – and a falling price.
We are now experiencing a rise in vegetable prices due to this cycle and the drought. The latter has dried up many boreholes and limited yield. Then there were the hailstorms.
At the time of writing, the price of cabbage had risen to between R90/ bag and R100/bag, and farmers who have never planted this crop before have been asking my advice on how to grow it.
Should the price remain very high for a long period, we'll see a number of new entrants to vegetable production, while existing growers will be tempted to increase the area planted. The surplus will most likely cause the next dip on the price graph.
I say 'likely' because many will speculate that the high prices will cause a later drop and they will not be tempted to expand production.
There are other factors to consider in vegetable production too. When grain prices are very low, farmers with irrigated lands tend to look at the high prices, take out their calculators and do some quick sums: 45 000 cabbages/ha with eight to 10 heads in a bag at R90/ bag adds up to R450 000/ ha. At these prices it's tempting to convert a pivot land used for maize production to cabbage. Only a few farmers need to do this to get prices to tumble.
When I worked for a large seed company, a prominent farmer at the time would come to the demonstration trials with his accountant. The accountant would tap away on his calculator, factoring in market prices, historical data and the like. The two would then decide what to plant the following season.
This was a very large producer, so his decision influenced prices on the market. Unfortunately, despite all the frantic calculating, he often would make the wrong decision! And, although a good farmer when all was said and done, he finally went out of business.
With many crops produced by seedling growers and with no specialised equipment needed, it is easy to move from not being a producer of that crop to growing a huge area and influencing the market price.
Which farmers survive?
Crops that require specialised equipment or are very expensive to produce are perhaps less likely to have such wild swings, as they require long-term commitment to justify the capital outlay to be competitive.
The farmers who survive are those who determine which vegetables suit their farming. This would include the distance from their markets and also personal preferences. In addition, the viability of the crops to be grown will be based on long-term price averages.
Once you have made your decision, stick to the range of crops selected; do not be tempted to chop and change.
Gamble with small quantiites
The trend today, determined by current economic realities, is to grow fewer crops and specialise in them. Vegetable farms are becoming larger and fewer in order to remain competitive.
This is a worldwide trend. And, as I say, these are economic realities determined by survival of the fittest in a free market. Government agricultural policies are not based on economic reality and are doomed to failure at the taxpayer's expense.
Finally, if you really feel the urge to gamble, plant 10% more of a vegetable when its price is low, and vice versa – 10% less when the price is high. In the long term, you will score.
This article was originally published in the 1 January 2016 issue of Farmers Weekly.