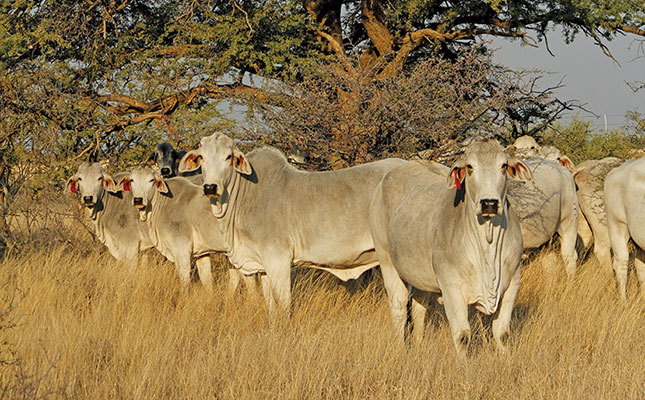 This Bos indicus breed, with the trademark hump on top of its shoulders, large pendulous ears and folds of skin, was developed in the US. The name "Brahman" was adopted in 1924 when the American Brahman Breeders Association was formed.
READ: Breeding Brahman cattle with superior genetics
The first Brahmans arrived in South Africa in 1954. Breeders who helped establish the breed here include JFW Herbst and son, JB Orpen, Eric Bilse and Louis Bosman.
The breed's strong points include:
Economic efficiency – good use of extensive grazing reduces financial inputs.
Longer marketing period – qualifies for A and AB grades for as long as 32 months.
Longevity – cows can still be productive at the relatively "old" age of 15 to 18 years.
Parasite control – due to the animal's smooth coat, loose skin and oil gland secretion, it can control parasites efficiently.
Hardiness – can perform and reproduce under extreme environmental conditions.
Adaptability – does well in diverse environmental conditions.
Mothering ability – very protective of calves.
Calving ease – the sloping rump eases the birth process.
For more information, contact the Brahman Cattle Breeders Society of South Africa on +27 51 446 4619 or e-mail [email protected].
Sources: Beef Cattle Management (ARC-Animal Production Institute, Irene), Brahman Cattle Breeders Society of South Africa.