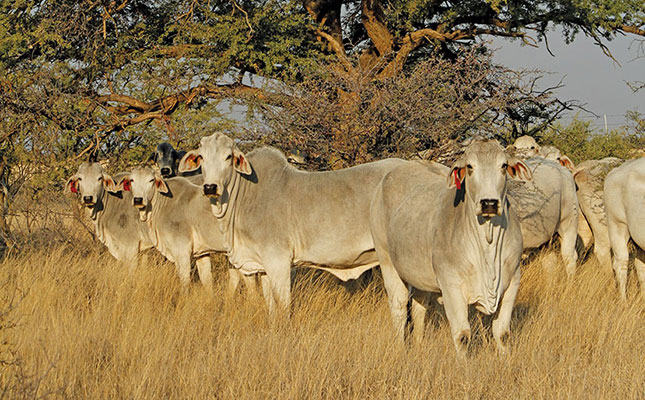 North West cattle farmer, Heinrich Bruwer, is a walking encyclopaedia on cattle breeds. When he is not working with them, he is researching genetic bloodlines, consulting and advising other breeders. However, of all the breeds, he is particularly passionate about the Brahman.
At only 29 years old, he was recently appointed a senior interbreed judge by the SA Interbreed Judges' Association – the youngest ever in the country.
READ: Know your cattle – Brahmans
Heinrich was born on his family's farm and got his first real taste for cattle farming when he began participating in youth shows at the age of 15.
Here he met his most valuable mentor, the legendary international interbreed cattle judge Martin Syfferdt, whom he credits for teaching him the valuable basics of judging, classifying and identifying faults by looking for functional efficiency.
While still at school, he began attending courses in judging and classification in herds.
"That was one of the best things I've ever done," he recalls. "I can't put a value on the knowledge I gained. This is where a young cattleman learns how to select cattle and identify faults. The stricter his selection, the better his cattle will be. Selection is the basis and the tool for breeding the best cattle."
Heinrich Bruwer (left) with Dr Marnus de Jager, close friend and vet, with stud cows from the Sugarland line in the background.
Today, Heinrich is a senior breed judge for Brahman, Santa Gertrudis, Hereford and Sussex. He is also a junior breed judge for Limousin, Gelbvieh, Afrikaner and Braunvieh.
He appreciates the value of surrounding himself with like-minded people, participating in conversation and listening to advice.
He ascribes his success to the mentorship of Syfferdt, as well as cattle breeder Burnie Staal, Brahman breeder Llewellyn Labuschagne, and close friend, veterinarian Dr Marnus de Jager.
A family business
Heinrich farms with his father, Bokkie, in the Vryburg district in North West. They have three farms – Lovedale, Grandview and Excelsior – that collectively total 2 500ha.
Of this, 1 200ha is permanent Anthephora pubescens (wool grass) pasture, an indigenous species with high grazing value that occurs naturally in the district. The balance is natural savannah thornveld.
The farms are divided into camps of around 50ha each, and grazed in rotation. Resting a number of camps at any one time is part of a veld management system that ensures that the Bruwers never run out of grass.
According to Heinrich, the area's carrying capacity is between
7ha/MLU (medium livestock unit) and 8ha/MLU. However, he stresses that at a stocking rate of 10ha/MLU, cows' conception and calves' growth rates are higher.
"Give cows enough grazing and let them get on with it," he says.
Discovering his passion
In 2001, Heinrich bought his first eight pregnant stud Santa Gertrudis heifers for R3 000 each from Thys Brits of Vryburg.
He kept only one bull calf and heifer from his crop of calves, and later sold the former as a commercial bull. The heifer, Show Girl, was breed champion at the Vryburg Show for four consecutive years.
With the income from his first crop, he bought a top registered cow.
"This was one the best investments I've ever made," he recalls. "It's better to pay R50 000 for one top cow than to buy two lesser cows for the same amount. There should be no compromise when it comes to quality."
Subsequently, he purchased registered Simbra and Brahman cattle. The Brahman soon became his favourite, however, so he sold his Santa Gertrudis and Simbra cattle to concentrate on the breed.
"I'd prefer to be known as a breeder that sells only top-quality bulls. I would rather not sell any bulls than sell a single inferior one," he says.
Heinrich selects his potential sale bulls at weaning. They are then sent to the Armoedsvlakte research station in Vryburg for Phase C testing, to establish their average daily gain and feed conversion ratios. In this manner, he ensures that the sires he breeds will grow quickly and convert feed into beef efficiently.
Brahmans have natural adaptability, heat and tick tolerance, maternal ability, longevity and fertility under extensive ranching conditions.
"If I can add good growth and feed efficiency to the package, I have a truly unique and unmatched product," he says.
Brahman dam lines
Heinrich knows the practical value of a dam line and records that, in his own herd, a good cow line always breeds superior progeny.
Dr Johan Coertse of Parys-based In Vitro Africa, flushed embryos from four of Heinrich's best cows, obtaining 23 embryos. These have been frozen and will be transferred into Braford and Hereford surrogate dams in the future.
Heinrich's most successful Brahman genetic line is from the Sugarland Brahman herd in the US. The late Reg Hunt of Hunt Brahmans in Warrenton imported a number of these animals before the stud was dispersed.
Heinrich greatly admires Hunt's breeding policy and was fortunate to buy 10 heifers from his herd as foundation stock for his own Brahman herd.
Of these, two became outstanding performers and Heinrich later discovered that they shared a common granddam.
From these cow families, he bred the 2014 National Champion Brahman Cow, the highest priced (R100 000) female at the 2014 National Brahman Sale, as well as the 2015 ARC Elite Cow.
Brahman sire lines
Heinrich uses semen mainly from Burnie Staal, Llewellyn Labuschagne and Linde du Plessis, as well as from a few bulls from the JD Hudgins Ranch in the US.
He is generally wary of buying semen from a catalogue, however, as a photograph of a bull does not allow him to observe important factors such as walking ability, hocks and scrotum.
He has also used semen from the bull Brandwater Moremi, which sold for R575 000 last year. This semen cost R1 200 per straw. Heinz had seen the dam and progeny of Brandwater, and was confident using his semen.
He also has a number of straws belonging to Sugarland bull, Rexcrata 282.
Heinrich is line-breeding some of the top Sugarland cows by mating half-brothers to half-sisters and has found that these matings yield the best calves of the season.
"By doing so, I'm strengthening the dam line and making it more predictable."
Buying bulls
Heinrich is selective about buying bulls, preferring to view the bull's dam, granddam, sisters and half-sisters in the flesh.
He looks for structural correctness in the females in the bull's pedigree, concentrating on udders, teats and structural soundness in addition to production figures.
"The opportunity to see the females in a bull's family gives me a far clearer picture of the progeny he will sire," Heinrich explains.
"The stronger the pedigree behind the bull, the better the chance of its breeding superior genetics. Breeding superior cows and bulls to one another produces predictable results and superior animals."
The herds
Although Heinrich is a dedicated stud breeder, he also runs commercial herds to produce weaners for the feedlot.
The 50 Brahman stud cows on Grandview farm are artificially inseminated and flushed for embryos. Only the best cows are inseminated with semen from the best AI bulls available.
Progeny are strictly selected, and those that don't make the grade are moved to Lovedale farm where they are incorporated into the purebred commercial Brahman cow herd.
Hereford bulls put onto these Brahman cows sire Braford-type heifers, which are excellent commercial beef producers. They are fertile, deep-bodied cows with plenty of milk.
The bull calves of these cows are sold as weaners, while the best heifers are selected to join the Braford nucleus herd which, when mated with Charolais bulls, yield fast-growing large terminal weaners for the local feedlot.
By using the benefit of hybrid vigour from the Hereford and the Charolais, Heinrich weans impressively heavy weaners. At six months, the average Braford x Charolais weaner weighs 280kg.
Phone Heinrich Bruwer on 079 506 8198.
This article was originally published in the 30 October 2015 issue of Farmers Weekly.