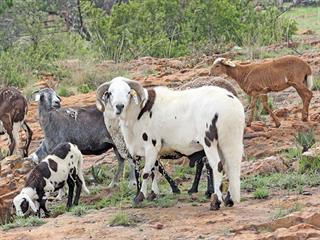 All too often, indigenous sheep and goat breeds are regarded as inferior to their commercial counterparts. By rights, they should be regarded as national assets.
READ: Goat breeding: the challenges faced by smallholders
Damara
A fat-tail sheep named after the Damara region in Namibia where the commercialisation and characterisation of the breed started at the Omatjenne Research Station in the late 1950s. The tail is long and straight and tapered towards the tip.
The short, woolly undercoat grows in winter and is shed in summer. Rams have prominent, outward-curling horns; females have smaller horns or they can be polled. The breed enjoys commercial status.
Namaqua Afrikaner
This long-legged breed has a smooth, white- haired coat with a black or red head. Both rams and ewes have horns. The tail is long with a typical curve.
The breed is deemed 'vulnerable' and is therefore part of a research and conservation programme.
The largest flock in the country is maintained by the Grootfontein Agricultural Development Institute's Biological Reserve for Smallstock.
Photo: 
www.idavale.com
Zulu Sheep
The Zulu Sheep is native to South Africa and found mainly amongst rural farmers in KwaZulu-Natal. It belongs to the Nguni type of sheep and is predominantly dark brown.
The breed is well adapted to the warm humid environment of KZN. It has a fat tail that may or may not have a curl in it. Zulu Sheep rams are mostly polled, but small stumpy horns do occur.
READ Profitable small-scale sheep farming
A distinguishing characteristic is small 'mouse ears' or even no ears at all. Normal ears also occur. The breed's status is 'endangered' and the Zulu is part of a research and conservation programme involving the Farm Animal Genetic Resources Directorate of the department of agriculture and the ARC-API.
BaPedi
A Nguni-type sheep native to South Africa. This is a fat-tailed breed with a predominantly white, brown and red coat of hair. The tail is broad at the base and tapered towards the tip. Bucks and does are both polled. The BaPedi enjoys commercial status and is also part of an ARC-API research programme.
Boer Goat
This improved goat breed originated from selective breeding practices over the course of almost a century. It has a red head with white body and long, pendulous ears. The breed has a high growth rate and excellent carcass qualities, making it one of the most popular meat goats in the world.
Kalahari Red Goat
Very similar in conformation and size to the Boer goat, but has a full red coat. Enjoys commercial status.
Savannah White Goat
Similar to the Kalahari Red and Boer in conformation and size, the Savannah was developed under unfavorable environmental conditions to allow for adaptation. Enjoys commercial status.
SA indigenous veld goats
These are grouped according to the following eco-types:
Nguni type (Mbuzi): A small-framed goat with pointed ears. Both bucks and does have horns. Various colour varieties occur.
Northern Cape speckled goat: A large-framed goat, well-muscled with a speckled coat and ears that hang. Both rams and ewes have horns.
Eastern Cape lob-ear goat: A large-framed, well-muscled goat with lob ears. Both rams and ewes have horns.
All three eco-types enjoy commercial status among commercial and pastoral breeders. They have the ability to live on almost every type of plant material and survive under extremely unfavorable conditions.
To learn more about indigenous sheep and goat breeds phone Leon Kruger (ARC-API) at 012 672 9169 or email him at [email protected].