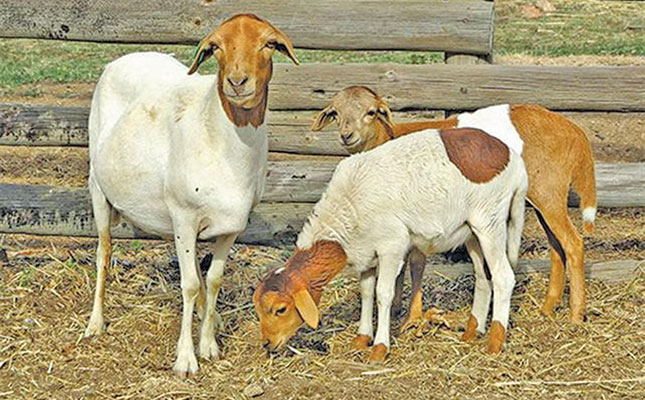 The fat-tailed Pedi sheep arrived in South Africa between 200CE and 400CE with the Bapedi people, who migrated southwards into Limpopo and settled in the area south of the Soutpansberg.
In the mid-1980s, an effort was made to ensure the survival of this indigenous breed by establishing two flocks in Limpopo: one at a breeding station in Sekhukhuneland, and a second, for recording and evaluation purposes, near Roedtan.
These two flocks, as well as a third kept at Limpopo's Mara Research Station, are still maintained.
The Pedi Club of South Africa was established in 1998 and applied to be recognised as a breed society in 2006 under the name Pedi Breeders' Society of South Africa. Registration as a breed society was delayed, however, when it became apparent that a group of Bapedi people also wanted to register a breed society.
The two groups met, and drew up a common constitution. They also agreed that the breed should be known as the Bapedi sheep, in keeping with its origin.
Description
The Bapedi is a relatively small-framed sheep with a typical symmetrical respiratory type build (flat, shallow body, and long legs). It is a naturally polled, hair sheep with a fat, wedge-shaped tail.
Colours vary from uniform brown to white with a red to brown head, or a variety of brown-and-white or black-and-white patterns, or even all black. Black is genetically recessive.
The hair is generally short, with a cashmere type undercoat, especially in winter. Young sheep tend to have longer hair with more woolliness; they lose this as they get older.
Production
Bapedi sheep mature at an early age. The meat is lean, as the fat is found mainly in the tail. The skin is of a high quality.
Source: 'South African sheep breeds: Pedi' Info-pack ref. 2014/025, Grootfontein Agricultural Development Institute.