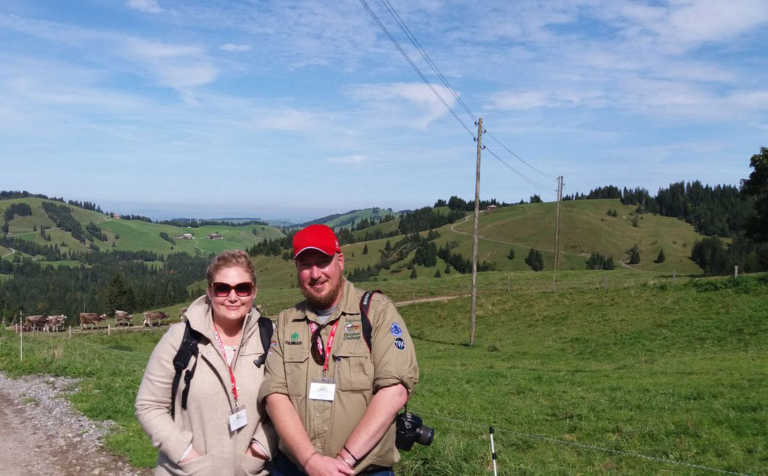 But then one comes across farmers like the Theiler family. The Theilers live high up in the Alps in the Entlebuch Biosphere in central Switzerland, and have farmed here for three generations.
When I visited them as part of a tour for agricultural journalists, the family was preparing for the annual Alpabfahrt, the descent from the Alps, when livestock and people move from the mountains to the valleys for winter.
The women in the family were singing folk songs while braiding flower wreaths for the cows, and Josef Theiler, who retired from managing the farm some years ago, was polishing the fancy bells that the cows wear on special occasions, and some of the younger boys were washing the cows.
But as Reto Theiler, who took over the farm from Josef, spoke about life on a Swiss alpine dairy farm, I learnt that all is not perfect in this piece of heaven.
Swiss farmers might not face the type of political, environmental and security challenges that make farming in South Africa a pursuit only for the brave, but our farmers will be able to relate to some of the economic difficulties that threaten the sustainability of Swiss family farms.
Due to the altitude and gradient of the land, the scope for mechanisation is limited, and much of the hard work has to be done by hand. The cost of farm labour is prohibitively expensive, and as a result, most of the work gets done by the family.
These challenges, and the cost and availability of land, mean that it is impossible to farm on a large scale.
Family dairy farms in Switzerland average just 24ha, and farmers keep about one cow per hectare. Economies of scale in this type of farming set-up mean that traditional alpine family dairy farming is simply not globally competitive or economically sustainable.
According to Markus Ritter, president of the Swiss Farmers' Union, other challenges facing the country's farmers include the loss of productive land to urbanisation, cheap food imports, and a generally low income compared with the rest of the population.
But what Swiss farmers have that South African farmers sorely lack is the overwhelming support of the public.
In a recent referendum, 78,7% of Swiss people voted in favour of a proposed Constitutional amendment to ensure food security throughout the country's agricultural value chain.
This includes protecting local food production and prioritising sustainable farming practices.
Perhaps the Swiss have grasped what the general public in many other countries fail to understand.
This, according to Peter Moser, the head of the Archives for Agricultural History in Switzerland, is that agricultural policy affects not only farmers, but each and every citizen.
Here are some tweets from the #SwissAgTour
3 more sleeps, including overnight @FlySWISS flight to #Zurich, & @agri_erasmus & I will be on this tour in #Switzerland. Super excited! pic.twitter.com/IYK8Y8jy1W

— Lloyd Phillips (@PhillipsLM) September 19, 2017
After a 10-&-a-half hour flight & 2 trains, yours truly has arrived in Switzerland. Our ag press tour starts this afternoon. Stay close. pic.twitter.com/M0WO0DIluc

— Lloyd Phillips (@PhillipsLM) September 22, 2017
A Swiss dairy farm producing artisinal cheese that's protected under the "Alp Cheese" geographic indicator. #SwissAgTour .@FarmersWeeklySA pic.twitter.com/TKjuv9XbMk

— Lloyd Phillips (@PhillipsLM) September 22, 2017
A farm that we visited today in the Swiss Alps. I ate more (delicious) cheese this afternoon than in my whole life previously. #SwissAgtour pic.twitter.com/DPbyDv8RyI

— Lloyd Phillips (@PhillipsLM) September 22, 2017
Rural #Switzerland in autumn is most definitely postcard perfect. I have been blown away by its natural & cultural beauty. #SwissAgtour pic.twitter.com/A0DU9r7zfd

— Lloyd Phillips (@PhillipsLM) September 22, 2017
Until today I had never tasted sheep milk or its products. This chocolate yoghurt was made from the milk of the #Lacaune breed. #SwissAgtour pic.twitter.com/aJx2CYoa3o

— Lloyd Phillips (@PhillipsLM) September 22, 2017
Preparations yesterday for marching the cows down to the valleys for the Swiss winter @FarmersWeeklySA @IFAJ #SwissAgTour pic.twitter.com/J7loZYU8rE

— Denene Erasmus (@agri_erasmus) September 23, 2017
Early morning visit to local Sbrinz cheesemaker in #Entlebuch #Swirzerland with #SwissAgTour @IFAJ @FarmersWeeklySA @AgriWritersSA pic.twitter.com/EW6DpPtKXp

— Denene Erasmus (@agri_erasmus) September 23, 2017
The Entlebucher Alpabfahrt in Schüpfheim was a fairytale experience & almost too much fun #SwissAgTour @IFAJ @AgriWritersSA @FarmersWeeklySA pic.twitter.com/KzN9YEc0wY

— Denene Erasmus (@agri_erasmus) September 24, 2017
Priviledged to have witnessed #Switzerland's 14th amazing 'alpabfahrt' (alpine descent). Here's a snippet. #SwissAgTour .@FarmersWeeklySA pic.twitter.com/W4U0gGY7wj

— Lloyd Phillips (@PhillipsLM) September 23, 2017