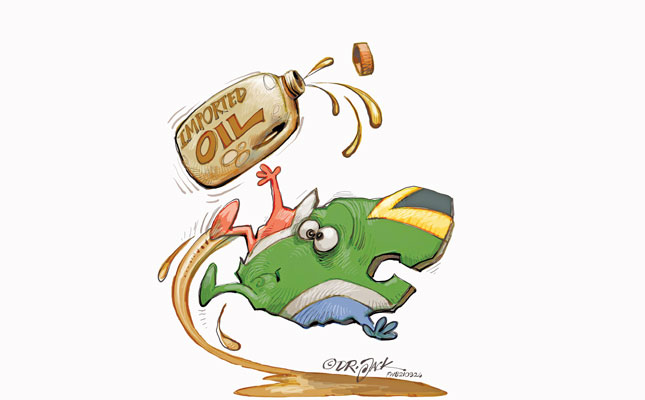 The latest round of high-level planning for the agriculture sector, the Agriculture and Agro-processing Master Plan, marks a refreshing departure from the norm as, for a change, agro-processing is included as a critical extension of the agricultural value chain to assist in driving development and growth.
The importance of the agriculture sector in facilitating economic development has long been acknowledged by growth theorists mainly because agriculture has strong inter-linkages with other sectors of the economy.
Largely based on a number of nations' development histories and resulting development theory, a country's economy should start with a dominant agriculture sector, after which an inevitable relative decline takes place as other sectors of the economy start to develop.
This process of structural transformation leads to resources, such as labour and capital, being pulled away from the farm and utilised in fast-growing secondary industries.
Whilst this process is under way, increased agricultural productivity ensures that the agriculture sector continues to grow in absolute terms, but its share of the overall economy will decline over time as other sectors grow faster.
The immediate question that arises from these realities is how South Africa has performed in developing secondary industries to support widespread growth in the economy. Further to that, how has South Africa performed relative to other nations?
Any proposed growth strategy should be built on developing sustainable and competitive businesses, taking global market dynamics and trade into account. Import replacement of processed agricultural products has often been mentioned as critical for local enterprise development, but there are important nuances to consider.
Industrialisation through agro-processing should be built on agricultural productivity, large-scale investments and a focus on African regional trade in manufactured goods.
Agro-processing in context
Starting with the overall breakdown of the South African economy according to the various main sector contributions, the agriculture, forestry and fisheries sector made up 3% of the national economy. The manufacturing sector's contribution is significantly higher at 13%.
Within the agriculture, forestry and fisheries sector, agriculture is the largest subsector (88%) relative to forestry and fisheries, with 8% and 4% of total output value respectively. Agro-processing makes up 30% of South Africa's R2,15 trillion output generated by the manufacturing sector.
The largest contributor to value added in the agro-processing sector was food, beverages and tobacco, with a combined share of 75% of the total.
One way of interpreting the performance of agro-processing sub-industries is to assess the value of output. In the early 2000s, the sector experienced significant annual growth of around 4,5%, the highest it has been in the past two decades.
However, agro-processing industries are largely dependent on the prevailing economic conditions on the local market.
Looking at the annual growth in total output for agro-processing, it is clear that the sector has been under pressure, consistently declining its average annual sales, with COVID-19 no doubt contributing to the decline observed for the 2015 to 2020 period in a number of industries.
What is also clear is that the performance of the agro-processing industry stands largely in contrast with the growth observed in the primary agriculture sector. On aggregate terms, South Africa has a growing and large positive trade balance for primary agricultural products, mainly driven by the strong growth in the exports of products from crops.
For agro-processing, the trade performance has been less consistent, with the trade balance going through various periods of growth and decline and, in some instances, turning negative. Whereas agriculture's positive and growing trade balance reached R63,8 billion in 2020, the agro-processing value was more than six times lower at R9,4 billion, but still positive.
South Africa's continued dependence on imports of vegetable oils, grain milling products and meat contributed to the relatively weak trade balance for agro-processing when compared with the [primary] farming sector.
Vegetable oils case study
When one is confronted with these realities, usually the first suggestion would be to develop a localised strategy toward replacing imports with ramped-up locally manufactured agro-processing output. However, it is critical to consider the underlying drivers of demand and supply and the overall competitiveness of an industry to assess the potential for import replacement.
Look at the example of vegetable oil. By far the largest imported product, palm oil imports have been growing consistently over time, from 248 000t in 2001 to 525 000t in 2020. Albeit at a much lower level, sunflower oil imports have also been increasing, especially over the past five years, reaching 262 000t in 2020.
Against this backdrop of increased imports for palm and sunflower oil, soya bean and canola oil imports have gone in the opposite direction, increasingly being able to replace imports by means of increased local production. In the case of soya bean oil, import volumes declined from their peak in 2011 of 278 000t to 150 000t in 2020.
Thus, within the same industry of vegetable oil manufacturing, we have these contrasting outcomes. Delving into these different trajectories, it becomes clear that, first of all, South Africa does not produce any palm oil and does not have the climatic conditions to do so in the future.
The world's largest palm oil-producing countries are Indonesia and Malaysia by some margin, producing 40 million tons and 19,5 million tons in 2018 respectively.
The question is then, can palm oil be replaced by other locally produced vegetable oils? The first part of the answer lies in the relative pricing of vegetable oils.
International palm oil is priced significantly lower than any of the other major vegetable oils, and over the outlook period this relationship is not expected to change, despite the current spike in vegetable oil prices. Palm oil is not only a low-cost alternative to many other vegetable oils, but produces up to 10 times more oil per unit area than other oilseed crops, and the fact that it is not genetically modified is attractive to the European market.
Due to the high level of imports, local vegetable oil prices are closely linked to international prices and therefore, from a pricing perspective, palm oil trades at a discount of approximately 25% compared with sunflower and soya bean oil.
Import replacement opportunities
Apart from the fact that it is competitively priced, the rapid growth in the use of palm oil was ignited when the South African Department of Health drew up legislation aimed at regulating the use of trans-fatty acids in foods in 2010.
The implication was that food manufacturers and many fast-food outlets required a fat alternative that did not convert to trans fats with heating, still providing the same solid texture and taste in food without the industrial addition of hydrogen.
Palm oil provided the solution to this problem and has since then taken over this market segment with little opportunity for substitution from any of the other oils.
A considerable amount of research has been undertaken in the development of high-oleic sunflower and soya beans, which will also comply with health regulations, but this oil cannot be produced cost competitively yet in the bulk market and is currently traded only in niche premium markets.
Clearly, the opportunities for import replacement in the bulk vegetable oil consumption market are limited, but imports of sunflower, soya bean and canola oil will be significantly reduced over time.
Local production of sunflower, canola and soya bean oil is projected to increase by 19%, 71% and 37% respectively by 2030, and consequently non-palm oil imports are expected to decline by almost 20%.
The largest share of imports by 2030 will comprise of sunflower oil, which implies there exists further opportunity for import replacement if the local production of sunflower can be expanded.