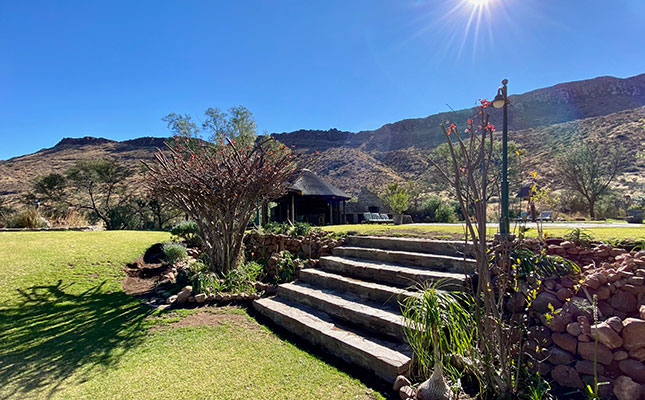 For many travellers driving between Cape Town and Johannesburg, the small Karoo town of Beaufort West is little more than a convenient pit stop. But the town and the farms that surround it are worthy destinations in their own right.
Lemoenfontein Game Lodge is a mere 10 minutes away from Beaufort West, yet it feels marvellously secluded. Looking down from the heights of the vast stoep made from sprung timber and once used for dancing, the newly arrived guest feels utterly removed from the noise and business on the highway that passes through the town.
Elegantly comfortable
"It was the view from that stoep that made me buy the farm," says owner Werner Koster.
While the full history of the farm and its name were lost in a fire that swept through the Beaufort West archives some years ago, Koster says he has reason to suspect that Lemoenfontein's name came from the sweet-tasting water found in the natural springs on the farm.
"What we do know is that it was built by an Englishman in 1850 as a lodge to accommodate his guests' annual hunting pilgrimage."
From the start, Lemoenfontein was designed to showcase the Karoo's now famous hospitality. It is grand in terms of scale, but far from stiff and formal.
On the contrary, the furnishings make you feel comfortable and invite relaxation. Long, deep sofas, leather-covered armchairs and feather-stuffed cushions beckon you to stretch out and doze, or curl up with a book; there are plenty about to choose from.
This is only, of course, if you need a change from the mountain views through the almost floor-to-ceiling windows.
There are working fireplaces in all the public areas, which, even in the deep of winter, makes the house cosy. And, while there are antiques aplenty (yellowwood furniture and special tables), the place feels lived in and enjoyed rather than rarefied or precious.
The owners are animal lovers, and there is a pet cemetery (not as creepy as it sounds) with the names of all their cherished animals. There are also plenty of living dogs and cats roaming the grounds, and guests are welcome to bring their pets, too.
Apart from breakfast, the lodge offers a light lunch or snack menu of mainly toasted sandwiches and three-course Karoo dinners. Those with even the heartiest of appetites will be well fed at dinner time; three mammoth lamb chops jostle for plate space in the beyond-generous serving.
Conservation and activities
"We have about 1 000 head of game, mostly plains game such as antelope, giraffe and Cape mountain zebra, that roam freely around the 10 000ha property," explains Koster.
The initial farm was around 2 000ha, but he has, over time, incorporated farms on the other side of the mountain.
"When we took over the farm, it was used mainly for raising sheep, but we turned it into a private game reserve that conserves some animals indigenous to this area."
Although hunting is not typically permitted on the farm, the size of herds have to be managed to ensure a sustainable carrying capacity, and culling is therefore allowed from time to time by prior arrangement and under the guidance of nature conservation authorities.
Koster took over the farm in the early 1990s, and he and his daughter, Ingrid, now manages it.
"Guests can self-drive on our 4×4 routes, do game viewing and birdwatching, and enjoy various cycling, walking, running and hiking routes," he says.
"It has been particularly dry here over the last 10 years. Last season, the lawns looked like sandpaper. Thankfully, we had good rains recently and everything looks green and lush again."
Lemoenfontein once served as a sanatorium for recovering tuberculosis patients; the clean, dry air was as much a tonic then as today. You almost feel as if you can breathe more deeply than usual.
The most luxurious accommodation (from R1 690 a night for two) is in the main lodge, where rooms with French doors open onto a grassed courtyard, but there are more affordable options, including self-catering units (from R1 490 a night for two) with their own braai facilities.
Perhaps the best way to describe Lemoenfontein is to say that it feels as if it might belong to a close family friend in whose sight you have grown up and whom you have visited many times over the years. In truth, it feels just like coming home.
Email Lemoenfontein Game Lodge at [email protected], or phone 023 415 2847.