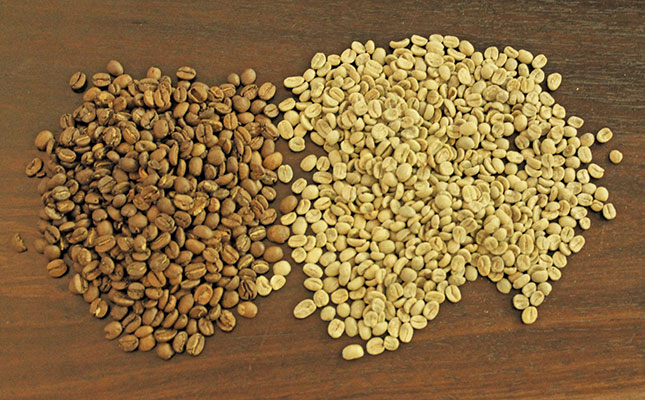 Oudebrug farm in Wellington in the Western Cape is a small, mixed-farming operation run by Carlo and Lucar Marra.
The Italian-South African father-and-son team are passionate about authentic Italian foods, and have built a small but thriving enterprise on this. In particular, they have focused on coffee and olive oil: they run a small, climate-controlled coffee roastery and produce olive oil from their own orchard.
READ: Olive oil success through innovation
In the beginning
Lucar Marra is the face and driving force behind the Villamar Coffee Roastery. About four years ago, the family started distributing roasted coffee beans under their brand name, Villamar.
This is a combination of the Italian word villa (country house or farm), and 'mar', a contraction of the family name. In February last year, Lucar and Carlo began roasting their own coffee beans on an imported Italian machine and offering a coffee-tasting service.
Roasting transforms green coffee beans into brown, roasted coffee beans, changing their chemical and physical properties in the process. There are various degrees of roasting, with each degree offering a unique flavour and taste. Lucar, a professional chef, attended an intensive four-day coffee roasting course at the London School of Coffee.
Roasting
The Villamar roastery roasts 4,5kg of green coffee beans at a time. This is a relatively small amount, but Lucar believes this is more beneficial to maintaining high quality and flavour. Each coffee bean type (often referred to by its origin) is roasted on its own and according to its roasting profile to enhance the flavour.
Villamar's coffee-tasting experience offers a tasting of seven different coffee types, during which Lucar explains the difference between the Robusta variety and the Arabica bean, the roasting process, and what to expect in various roasting degrees. Afterwards, tasters are invited to enjoy their favourite coffee, made by Lucar.
Villamar roastery sells their roasted coffee beans, distributing it to local hotels, guesthouses, businesses, restaurants and delis. They also offer repair and maintenance services for roasting machinery.
Nothing goes to waste: the coffee grounds and bean shafts are used as compost in the olive orchards, and imported coffee bags are transformed into grocery or beach bags.
Olives
Oudebrug has 6ha of olive groves, where a variety of cultivars are grown for the production of extra virgin olive oil and table olives, as well as dried olives.
The Marras press the olives themselves, and sell the resulting olive oil according to cultivar. Until recently, they supplied a few outlets and did private sales. Their olive oil, like their coffee, is branded under Villamar.
"We're developing a marketing strategy for our olive oil, but we don't want to go into retail. We want to be an exclusive brand," says Carlo.
Backed by a bigger business
Villamar is in fact only part of the Marras' main business: Fruition. This was originally a trading company that transformed into a business supplying the beverage and dairy industries with a range of specialised products such as flavours, concentrates and pulps.
"Thanks to Fruition, we're in a position to experiment with flavour. In addition to our extra virgin olive oil, we stock a wide range of olive oil with infused flavours such as basil, chilli, garlic, lemon and bacon," says Carlo.
They also import balsamic vinegar and infused balsamic vinegar from Modena in Italy, and sell the vinegar locally under the Villamar brand.
The balsamic vinegar is aged for nine years and is produced by Caradini, a family business similar to the Marras' enterprise.
Other enterprises on Oudebrug are 4ha under Evita fig production, a small herd of Angus cattle, 0,5ha planted to lemons, and a small portion of land dedicated to plums and Cabernet wine grapes.
Advice on running an agritourism operation
Carlo cautions that although agritourism can be a useful way in which a farm can generate additional income throughout the year, marketing and financing it can prove expensive.
READ Is agritourism the answer for your farming business' woes?
To become an agritourism destination, a farmer must find a unique selling position (USP) in the marketplace.
Finding a USP and capitalising on it is crucial to differentiate one from other businesses. Carlo suggests that the agritourism business owner should focus on his or her passion, and says that his family's success lies in this philosophy.
Future plans
Included in the business's future plans is the transformation of the farm into a one-stop tourist destination, with a restaurant where tourists can experience the family's special Italian-style dishes, made with fresh produce from Oudebrug and its surroundings.
"We want people to enjoy delicious food and experience where their food comes from and how it is made," says Carlo.
The Marra family hopes that their business activities will allow their customers, some who may be new to coffee and olive oil, the opportunity to explore the unique experience of understanding and appreciating the diverse tastes of coffee and olive oil.
For more information on Villamar, visit www.fruition.co.za.