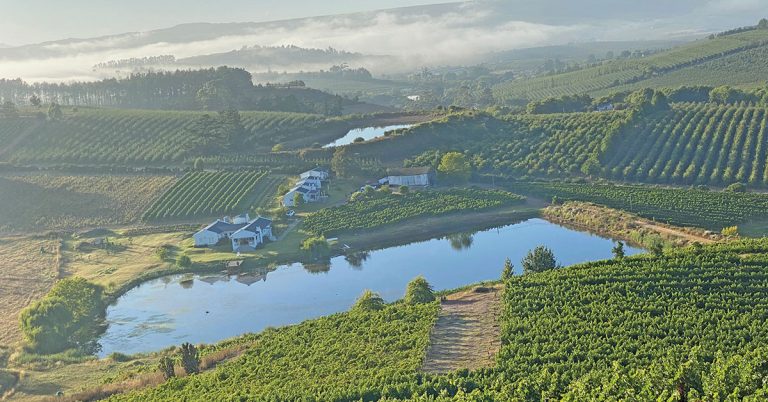 The Elgin Valley, situated close to Grabouw in the Western Cape's Overberg region, has long been associated with fruit production, and its apple orchards are renowned.
In the early 2000s, however, smaller apple growers in the valley found themselves struggling due to the low price of apples. Some growers replanted their apple orchards with wine grapes, while others sold their properties to larger farmers.
Nicky Wallace well remembers a comment made by her husband, Paul, as they drove through Elgin on their honeymoon trip to the Transkei in 1987. It was a comment that would plant the seed for their future life.
"He turned to me and said, 'This is the best place to plant wine grapes'. He was a viticulturist at Stellenbosch Farmers' Winery and I was working as a Woolworths wine and grocery buyer."
Sixteen years later, the couple had their eye on a small apple farm in the Highlands area of Elgin that was up for sale.
"We faxed through an offer to purchase, and before we knew it we'd bought the place," Wallace recalls.
At 25ha, it was too small for them to make a significant income from apple production, but the steep hill on the farm was ideal for wine grapes, so they pulled out the Granny Smith and Golden Delicious orchards and planted Sauvignon Blanc, Malbec and Pinot Noir.
"In 2016, we planted our first Chardonnay and Cabernet Franc vines. The Malbec vineyard is in the process of being extended, and this will take our planted area up to 12ha.
"What we'll plant on the remaining 4ha of arable land is still hotly debated at the dinner table! The cattle and chickens graze there in the meantime," she says.
According to Wallace, restaurants, particularly those in Johannesburg, were their main wine buyers. But due to the sporadic bans on alcohol sales introduced as part of the COVID-19 lockdown regulations, many restaurants were forced to close.
"It has been an extremely tough time for us and for the industry as a whole. We've managed to survive because we run a very lean operation, by which I mean we do almost everything ourselves," she says.
Elgin Valley highlights
To further diversify their income on the small farm, the Wallaces run an agritourism operation comprising three cottages: two two-bedroomed cottages (R1 600/cottage/night) and one one- bedroomed cottage (R900/cottage/night). Weekend rates increase to R2 000 and R1 200 respectively.
The self-catering cottages are well equipped with good-quality kitchen utensils and glassware. There is also a full range of the estate's wines in each cottage with a QR code to scan, should guests want to purchase any.
The three cottages are located near one other and are ideal for a block booking by a group, especially as they are fronted by lawns and a large shady tree.
Aside from running the winery and cottages with her husband, Wallace also chairs Elgin Grabouw Tourism, so is keen to talk about the many activities in the valley.
"You must try the zip line adventure," she says, and points out new eating places at Oak Valley Estate and Paul Cluver. "I had a delicious meal at the Hickory Shack the other day, and there's a fabulous new 'steampunk' clock at the Railway Market."
Equipped for comfort
The pets on the estate provide a relaxed, homely feel. Two large black Labradors, Angus and Becky, are the first to greet arriving guests, and a springer spaniel, Benji, is not far behind. There is also a rooster called Nelson and a brood of hens, including Potchefstroom Koekoek and Boschveld chickens.
The cottages offer thoughtful touches, such as a beautiful bouquet of fresh flowers and farm-fresh eggs and seasonal fruit as a complimentary gift. Tap water is supplied by the farm dams, but 5ℓ of drinking water is also provided in each cottage.
The two-bedroom cottages, Penrith and Tralee, have two bedrooms each, one with a queen-sized bed and the other with a king-sized bed, which can be split into two single beds.
There is a shared bathroom with shower, toilet and handbasin, a lounge with a closed-unit fireplace, and an open-plan kitchenette with seating.
The kitchenette is equipped with a four-plate hob, a microwave oven, and a fridge with a small freezer compartment.
A built-in braai outside is deep enough to enable you to bake bread or pizza as well. Wood, charcoal and firelighters are all supplied, along with self-catering essentials such as salt, pepper, tea, coffee and milk.
Guests are provided with free (and efficient) Wi-Fi connectivity, but mobile phone reception is not the best, despite on-farm signal boosters.
Buzzards and Blue Cranes
The hill on which the farm is situated is short but steep, so provides a good cardiovascular workout, and to walk around the hill-top dam early in the morning while the valley is still shrouded in mist is a special treat. A big tree on an island in the dam attracts large numbers of birds, including buzzards.
"When the grapes are nearly ripe, we hang aluminium streamers in the vineyards, hoping that the reflecting light will keep the birds from eating too many grapes," says Wallace.
"Also, come sunset, look out for a pair of blue cranes that nest on the island in the dam at night. We call them Victoria and Albert."
She adds that grain is planted between the vineyards, and this also attracts birds to the area.
Even if you are not an avid wine drinker, to be in the company of the grower, winemaker and marketer is a special treat, especially considering the personable nature of the hosts.
"These are challenging times," says Wallace. "But, thank heavens, we're in one of the prettiest areas, and it's just an hour from Cape Town.
"We have a quality product in our wines and accommodation, and we're proud of them both. Competition is fierce but, like the Elgin Valley as a whole, it's good to have something we believe in."
Visit PaulWallaceWines.co.za.