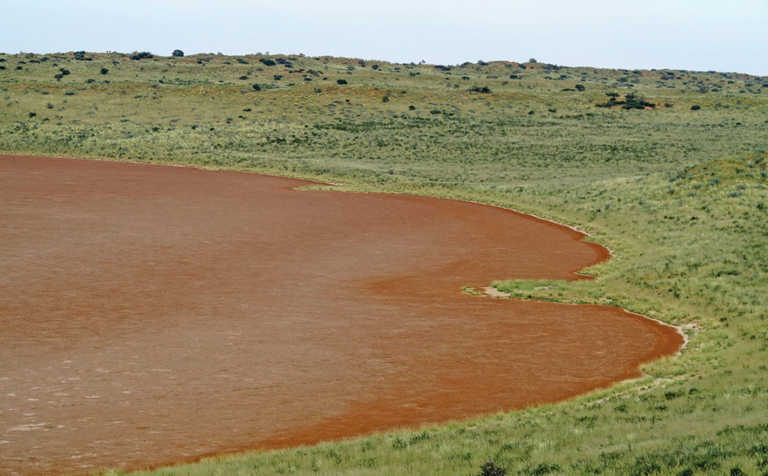 There is just one place in South Africa where you can experience the Khomani San culture directly: stay in their guest lodge and hunt with them on foot.
The hunting is not only according to traditional ways, but is practised ethically and sustainably, and accompanied by Bushmen trackers.
READ National parks for all seasons!
Together, the Khomani San and Mier Bushman communities own 50 000ha of land in and around the Kgalagadi Transfrontier Park in the Northern Cape. The land is evenly divided between the two communities and much of it lies inside Kgalagadi Transfrontier Park, where it is named the !Ae!Hai Kalahari Heritage Park. They also own a remote bush lodge in the park called !Xaus.
A visionary model
The land owned by the two communities (25 000ha each) is in the south-western section of the iconic Kgalagadi Transfrontier Park and managed contractually for the two communities by SANParks.
It's a visionary community conservation model, and so was the proclamation of Kgalagadi Transfrontier Park in 1999, brokered by Peace Parks Foundation. It's the first transfrontier park in Africa, three million hectares that join together the Kalahari Gemsbok National Park in South Africa and Botswana's Gemsbok National Park into a vast, single conservation area.
Astounding success
Dirk Pienaar, tourism officer for the Khomani San, says something meaningful has been started from nothing by Peace Parks Foundation, which manages the 'Khomani San living in Peace' project, sponsored by Rotary International and the German government, as well as the South African National Lotteries Commission.
There has been capacity-building and job creation, especially around Erin Game Ranch, which is the flagship project of the Khomani San.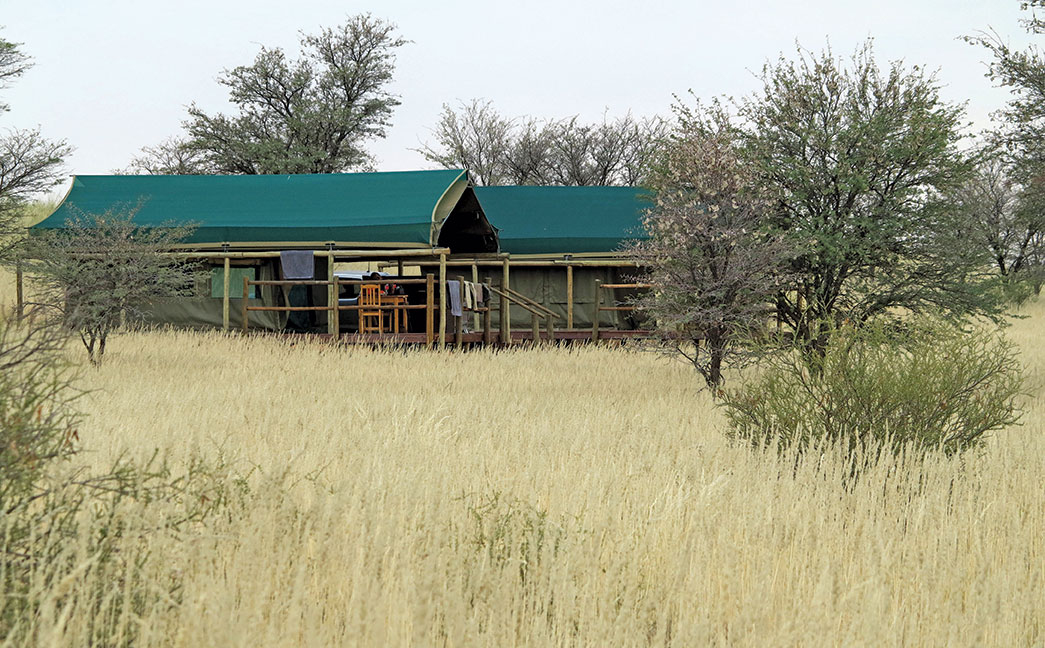 Camp staff, hunting guides, trackers and skinners have all been employed in this highly successful hunting farm venture.
Katrina Koper is one of the Erin wildlife rangers and says she has "had lots of other jobs, but this one is by far the best. I have learnt so much here and I keep learning every day."
Manager Charl Page says the game farm of 6 000ha, which lies outside Kgalagadi, is "the success story of the Khomani San". One of eight farms, it totals about 46 000ha, handed over to the Khomani San when they won their historic land claim in 1999, in compensation for being relocated out of the Kalahari Gemsbok National Park when it was proclaimed. The other seven farms are still to be developed.
"Sure, there were challenges rehabilitating Erin from a stock farm into a game farm," says Page, "but now it is all going well and the farm is a money-producing project for the Khomani San. It is also sustainable game farming that I think will just keep growing, because we work on a formula to know how many animals to take off each year."
Visitors who return to Erin camp after a hunt laud the camp staff, trackers, skinners and butchers, which include over 50 temporary and permanent staff in total, and say all the staff are brilliantly trained and qualified.
READ How to profit from a small hunting operation
Page explains that Erin is a special experience for hunters. "All hunting is on foot, accompanied by traditional Bushmen trackers, so wildlife is respected and has a fair chance. There is such a demand from hunters that some of the other farms will soon also be developed, and create more employment in the process."
They are considering developing a trophy-hunting farm and a game-breeding farm for which SANParks is willing to donate game. "Wildlife here is a different gene pool, which is highly saleable."
Down the road in the Kgalagadi, manager of the park, Steven Smith, says Peace Parks Foundation has made it easy for them to assist.
The park has been assisting with ranger training and community projects. Capacity- building is important so that the community can run projects themselves. Outside of the winter hunting season, Erin will be used for game-viewing and tourism.
The Khomani San World Heritage Landscape, the ninth in South Africa, was included by the UN Educational, Scientific and Cultural Organization (Unesco) in July 2017. It covers the whole of the South African side of Kgalagadi Transfrontier Park.
"If it weren't for our sponsors and supporters, little would have happened," says Page.
"They picked up the community. Without them it wouldn't have been such a good story. But with their help, we aim to make Erin the best game farm in South Africa and in so doing help the Khomani San to live sustainably."
The Rotary Foundation has made additional funding available for capacity-building and skills development for the next three years.
Teaching tradition
Due to improved rainfall during the past season, the grass is green, tall and thick, which makes tracking and hunting difficult. Tannie (aunt) Lys Kruiper, a respected elder and teacher who works at the Imbewu veld school, which teaches Bushmen children about their heritage and traditions, agrees that the long grass makes it difficult to find tracks in the sand to show the children, and to teach them tracking.
"The grass is just so tall, but we will try again tomorrow. Today I will teach them about bush food and dancing instead."
The veld school is open during school holidays.
Tracking, hunting, storytelling, dancing and traditional bush medicine knowledge is handed down to the children in the oral tradition.
"There's another veld school for elders," explains Oupa (grandfather) Jan Pieterse,
a member of the community. "They get together monthly and head into the veld to refresh their knowledge."
Dreadlocked Pieterse, who is known by the community as Oupa Jan and whose name was bestowed and is no indication of his age, says his great wish is "for the veld school to grow and transfer our Bushmen knowledge to all South Africans, so they can learn from us how to survive and live in nature".
A traditional healer, he has another dream: to make the medicinal garden at Witdraai, where Devil's Claw and Sutherlandia are planted, sustainable, so it can support the veld school and other projects in the area.
"Then, the next thing is to have a shop for our people to display and sell their crafts, so they can make an income," Pieterse says.
Remote escape
To enjoy the Kalahari night skies and perfect desert stillness, visitors can head to !Xaus lodge. Getting there, however, requires traversing 90 sand dunes in a 4×4, but !Xaus guide Koos Visser knows every dune by nature.
He collects guests at the pick-up point and transfers them via 4×4 along the slow roller-coaster ride, dune after dune, to the lodge.
"Do you see the heart shape?" asks Visser as he stands at !Xaus Lodge overlooking the dry red pan below.
"Look at the indentation on the right side of the pan and you'll see it clearly."
!Xaus means 'heart' in Nama, and the pan marks the very place where the vast tracts of land owned by the Khomani San and Mier communities meet. The lodge is jointly theirs too.
Red dune driving
"Everything you need is right here," Visser remarks while driving amongst the Kalahari red dunes. "The Kalahari is an outdoor supermarket if you know where to look. There's a broom bush for sweeping lying over there, you can brush your hair with that spiky Gemsbok melon just next to it in the sand, and when you are finished grooming, you can eat it. Inside is a full meal of food and water."
He points a little further across the dune to a Shepherd Bush.
"The gnarled roots of that make good coffee, but you do need some imagination."
During a slow drive back to !Xaus Lodge, Visser speaks lyrically about life in the desert, his home space.
"Out here, it's open. There are lots of stars and it's quiet, with just the sound of birds and animals calling at night. There's no signal for cell phones or DSTV; nature is your entertainment."
That's exactly what people love most about coming here. It's for true lovers of wilderness and remote places.
Unique offerings
A unique selling point of this Kgalagadi area is that visitors can truly participate in an experience with the community.
It's authentic and there are unusual offerings for non-hunters, like a home stay in a traditional dwelling, seeing and hearing the stories of heritage trees and the old cave jail, and tasting local food.
Conservation firsts
"It's really important to integrate all these elements into the current tourism and hunting operations," says Dr Moscow Marumo, Peace Parks Foundation head of the community development programme.
"This is the only place in South Africa where you can directly experience the Bushmen culture, so it's a truly unique project."
The Khomani San project is also one of numerous firsts in the area, since Kgalagadi Tranfrontier Park was the first transfrontier park to be declared in Africa.
And with the Bushmen being the first inhabitants of South Africa, hunting with them is an unmatched authentic experience.
Visit peaceparks.org. To book a hunting trip at Erin, email [email protected].