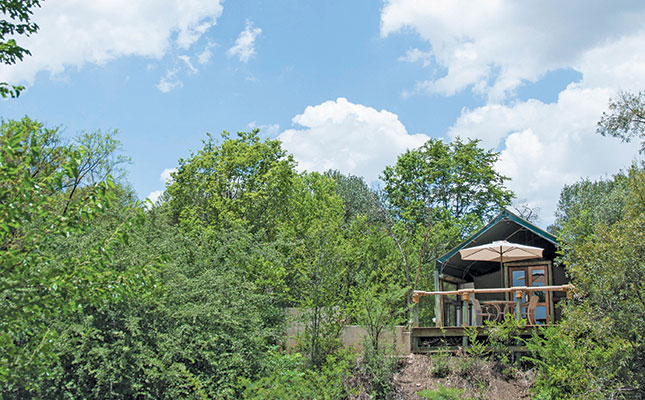 The name B'sorah means 'The Good News', and in this case the good news is that this weekend getaway destination, which is also a working farm, is within easy reach for residents of Gauteng.
"We're the fifth generation of our family on this [1 600ha] cattle farm. The house we live in was built more than 100 years ago after my ancestors bought the farm towards the end of the 19thcentury," says Natalie Durr.
Ruins of an old house burnt down during the Second Boer War bear testimony to the battles once fought on these hills.
Today, Natalie, her husband Alex and son Nicholas run the various activities on the farm.
Alex takes care of the farming, while Natalie and Nicholas are in charge of hospitality and tourism.
Accommodation
B'sorah offers several types of accommodation, as well as a function venue for larger groups. The focus at the farm is on luxury camping, or 'glamping' as it is often called, but there are also more homely options.
"We offer a luxury honeymoon tent [from R1 600/unit/night], four luxury tents [from R1 400/unit/night], and three rustic bush campsites [from R250/unit/night for two; additional vistors extra]," says Nicholas.
Each of the four privately situated luxury tents sleeps two people in a queen-sized bed.
There is limited solar power here, but enough to run the lights and a small fridge. Cell
phones can be charged, but no hairdryers or other high-current electrical devices are allowed.
A two-plate gas stove, cutlery and crockery complete the kitchen, and all units have an en-suite bathroom with a large shower.
A firepit and braai grid can be found outside; this makes for the ideal spot to have an early
morning coffee and appreciate the birdsong. Hot water comes from donkey boilers managed by the night watch, and guests are asked not to "feed the donkeys".
Unfortunately, no pets are allowed at the luxury tents. Swempie, the honeymoon tent,
also sleeps two people, and is situated away from the four luxury tents on its 'own' hill. Its
facilities are similar to those of the luxury tents, except that it has electricity throughout, a bath, and a Weber braai. It also boasts the best view of the farm below.
Guests may bring their dog with them, provided it is on a leash. The three private bush camps, perfect for 4×4 enthusiasts, are at least 500m apart, and can accommodate up to eight people each.
They are each equipped with a firepit and a pit toilet, and one of the sites has a shower
heated by a donkey. Campers making use of these facilities need to be self-sufficient, as there is no electricity or running water.
A donkey can be filled at extra cost, however. You may also bring your four-legged friend along. The function venue consists of a hall for meetings and a large shaded area where
attendees can put up tents.
Hiking and biking
The main attractions for visitors, aside from the accommodation, are the hiking and mountain biking trails. Hiking trails are marked and range from 4km to 15km.
One runs along the Skeerpoort River, giving hikers access to a rock pool where they can cool down. No fishing is allowed.
The mountain biking trails are separate from the hiking trails, and range from 7km to 30km. From Sunday to Friday, day visitors (R50/adult and R30 for children under 12; no charge for dogs) can enjoy the trails.
There are also two picnic areas with braai facilities. Overnight visitors may explore the trails free of charge.
Fauna and flora
Two invasive plant species, Syringa and firethorn, are present on the farm, and when
removed are used as firewood for the donkey boilers. The black monkey orange tree, quite rare in this part of the country, can be found in a small section of the farm.
Birds of prey are often sighted here, but no official bird list has been made. Animals that
have been spotted include brown hyena (rarely seen), jackal, impala, kudu, waterbuck,
eland, nyala, reedbuck, blesbok, steenbok, genet, serval, caracal and warthog.
Some of the antelope species mentioned are often seen in and around the luxury
tents and 4×4 campsites.
Farming activities
"We have a Brahman and Beefmaster stud on the farm," says Alex. The studs are used
exclusively for breeding purposes.
The farm also has 12ha planted to Rhodes grass, which is irrigated and used to supplement the natural grazing of the livestock.
Farm tours are not offered, but visitors may encounter cattle while hiking and biking. These inquisitive animals often approach hikers, but there is no need for concern, says Alex, as the cattle have good temperaments.
However, guests are warned not to approach cows with calves. The farming and hospitality activities each bring in approximately 50% of the farm's annual income. According to the
Durrs, the national COVID-19 lockdown "confirmed that we cannot have all our eggs in one basket and need to diversify [our business]".
Email [email protected], or phone 063 572 1062. Visit bsorah.com.