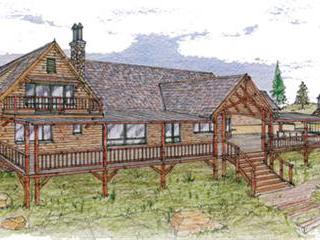 Dear Jonno,
I would like you to design a 300m² wooden ranch house for a farm family to be built on top of a river bank. Please include the following:
A 5m-wide deck running the full length of the house.
Master bedroom upstairs with river-facing deck and full bathroom.
Three bedrooms with en suite shower, toilet and hand basin.
Lounge/family room leading to deck facing the river.
Kitchen close to deck for entertaining.
Office at the back of the house.
Double garage.
Entrance hall for dirty boots, raincoats and umbrellas.
Thank you.
Tony

Hi Tony,
Thanks for the request for something different by way of home construction. Wooden homes in South Africa are usually those constructed in kit-form and of quarter-round moulded planks. When it comes to the typical wood-constructed homes in the northern hemisphere, South Africa lags far behind in the technology and required expertise.
There are basically four distinctive wooden home types: whole-log used horizontally; whole-log used vertically, (Canadian log construction); post and beam, where the logs are squared-off; and 'ship-lapped', un-edged planking, fixed horizontally to a wooden walling framework. This last method is currently the most popular and has many advantages over the others mentioned.
However, the first three methods have possibly the best 'aesthetics'. The big problem is in the log procurement, preservation and construction technology. So in the sketch I've shown the 'ship-lap' method. This has the advantage that, should the planking deteriorate over time, the outer cladding can easily be removed and fresh planks re-applied.
The layout of the house is in accordance with our modern lifestyle living and views over the river below. The roofing can be tiles, slate, metal or wood shingles in keeping with tradition. Let me know your construction type preference, as I am familiar with each of them, and can compile your working drawings accordingly.
Regards Jonno