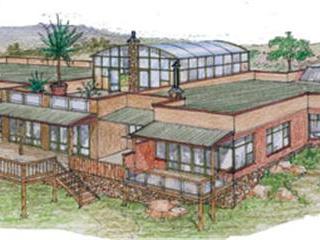 Greetings Alan

Thanks for the pictures of the preferred styling that your wife has suggested, and your short list of accommodation requirements. That styling is not strictly for farm houses, so I've created a compromise between contemporary and rural. Also the pictures sent were of a double storey building, while yours is a single storey.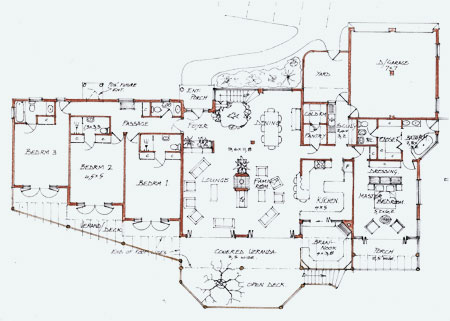 The flatter roof made the house look very long and flat, so I've created a conservancy over the rear half of the central living area. You may wish to leave it off for now. The chimney is placed centrally to help support the concrete slab over a wide span. Later on, the extra area can be used as a hothouse, conservancy or extra entertainment area for guests. For this to happen, I suggest that the areas over the central living area and the garages be concrete slabs for future extensions and solar panels.
I've also modified the layout to accommodate a low-pitched inverted box rib profile roof, for the collection of rainwater. You'll need to send me pictures of your chosen site, so that I can fashion the foundations correctly.
Hoping to hear from you soon.
Regards
Jonno