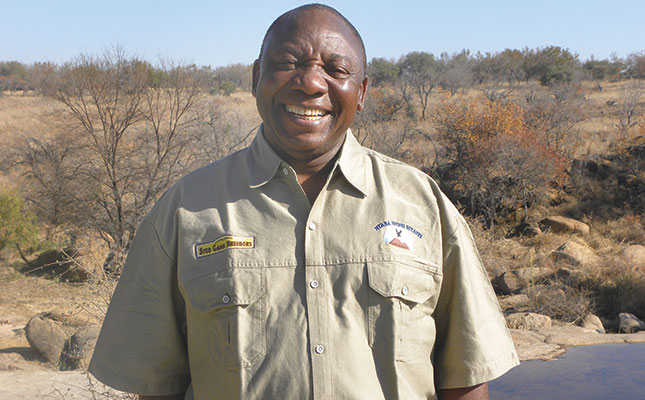 On Friday the 13th of April, businessman Cyril Ramaphosa, who needs no introduction, and Jaco Troskie, son of film magnate Boet Troskie, had a thousand people on their feet at game breeder Piet du Toit's farm near Swartruggens, as they fought for the final bid of the night, a buffalo cow called Tanzania.
READ: Buffalo bull sold for R168 million
The auction up to that point had not exactly been dull, with several lots going for over R5 million, but this was different – the billionaires screamed past R10 million, R15 million.
When Troskie bid R19 million, the marquee fell silent and the auctioneer looked ready to bring the hammer down, but to the delight of everyone (except perhaps his worried-looking wife) Ramaphosa's hand went up for R19,5 million.
Seconds later, Troskie made the number a round R20 million, and Ramaphosa, laughing good-humouredly, bowed out. The record-breaking price drew public attention to a little talked about, but hugely profitable, industry. Cyril Ramaphosa discusses how he became involved in game breeding, an enterprise with a bright future.
How did you get into buffalo breeding?
I have been a cattle farmer for quite a while. I farm with what other people call 'exotic' cattle: Boran from Kenya, Ankole from Uganda and Bonsmara. My Bonsmara and my Boran are stud, and the Ankole are a breed under consideration by the department of agriculture. I've always had a deep love for farming, and that's how I got into game breeding.
I have some common species of game on my farm, and when I realised that the game industry was beginning to boom, I decided to enter into the more 'exotic' side of things. First and foremost because it is an investment, secondly because it is farming, and thirdly because it is a wonderful contribution to conservation.
We game breeders are trying to preserve some of the rarer species now, and to breed back into life some of those outstanding animals that we had on our continent before it was plundered by colonial hunters. We used to have buffalo with 60" horn spreads but these are all gone now.
Do you own any of the so-called 'exotic' animals?
Yes, black impala, white impala, and golden wildebeest.
The prices at Piet du Toit's auction broke all records…with other prices such as R7,25 million for a young buffalo bull and R5,1 million for a king wildebeest with cows. Are they sustainable?
Well, what we have seen is that there has been a continuous and sustained growth in the industry. A buffalo cow such as Tanzania that fetched R20 million comes once in a lifetime, or as the auctioneer said, "once in a millennium". I don't think you will see cows like that popping up all over the show.
But what we will see is the other prices being sustained. People are now aware of the difference good genetics make and there's a market and I think it's sustainable. The game industry is wonderful because there's a place for everyone to play.
What amazes me is that Piet du Toit bought Tanzania, the record-breaking cow, for R2,6 million at an auction last year.
That's true. Not everyone is going to get R17,4 million as a profit on an animal.
I've heard talk about the progeny of these super-genetics going for R50 million in the not too distant future.
Who knows? I was talking to someone who sold a buffalo cow for R8 500 in 1981, and people said to him then: "Dis goeie geluk vir jou, want jy sal nooit die prys weer sien nie." And they were right, the price has never been seen again, they've all gone up.
So you could say this price will never be seen again, but who knows where it will all go. As long as there's demand in the market you could see it happening. We've seen year-on-year growth of almost 39% to 40% in the game industry, which is phenomenal.
Bela Bela, where your ranch is located, is quite an Afrikaans-speaking part of the country. How have you found it, living and working with die boere?
I've made many Afrikaans friends. I'm finding that there's a lot of commitment to change and to securing a common future for the industry, where all those who have been excluded historically will be included. That to me is quite comforting.