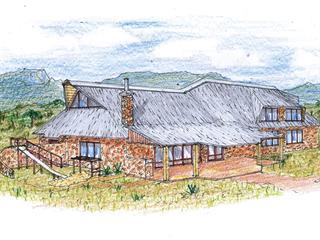 After meeting with Andrew, I designed the layout pictured here. Our interaction and the accuracy of the plan proved once again the value of face-to-face meetings.
While I haven't strayed from Andrew's requirements, I have made a few adjustments for the sake of functionality. I extended the length of the building by 2m to create more space in the pub and dining room/lounge areas for tables and chairs. The added length also allows for a fifth bedroom, above the pub.
The thatch roof has great aesthetic appeal, while the attic bedroom area's outer walls were raised 1,2m above the normal floor to wall-plate height, allowing for enough head-height in the bedrooms and bathrooms.
The height of the wall between the veranda and lounge was also raised, allowing for the thatch to be stretched out over the veranda at a lesser gradient, but still adequate for rainwater run-off.
Visitors to the lodge will include families, so I included a kids' play area and the inner and outer living, lounging and chatting areas.
I also added a fish 'pre-prep' (bin yard) area and the cold room. Depicted here are the proposed furnishings to scale; these allow for comfort as well as free movement. The lodge is thus compact, cosy and functional.
Kind regards
Jonno