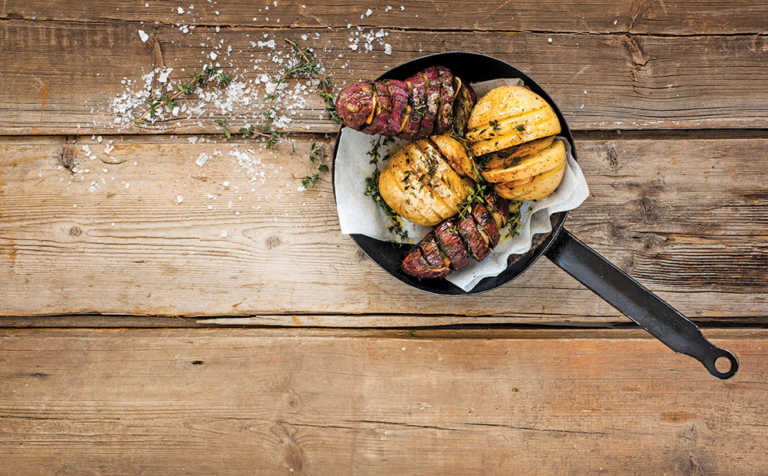 To make armadillo roast potatoes for four, you will need:
8 medium-sized potatoes
4 medium-sized sweet potatoes, either red or yellow
6 to 8 cloves of garlic
Extra virgin olive oil
Freshly picked thyme
Coarse salt
Freshly-ground black pepper
For weight-conscious diners, the roast potato is right up there with ice cream and chocolate as a food item likely to be condemned. But, as all dieters come to realise, there are as many diets and get-thin-quick schemes as there are fatties who seek them.
The diet that sporadically and unevenly works for me is a variation on an old theme: moderation in all things, to which one can add roast potatoes.
Psychologically and emotionally, outright denial is a bad thing, prone to trigger the darkest feelings, especially at dinner-time. With the moderation-in-all things-including-roast-potatoes approach, the proactive slimmer can maintain control of his or her waistline by taking the long view.
This involves careful eating and a compliance rate of 80% with the various structures of one's diet, all ameliorated by an occasional, reasonably portioned reward.
And for a reward, let me present the armadillo roast potato. Making this delightful treat is a cinch, and it attracts the eye almost as much as the palate. Begin by selecting the best-looking potatoes, free of visual flaws.
Appearance matters, especially when designing a dish as a reward for yourself. Peel the potatoes and sweet potatoes. To avoid repetition in this article, I'll use 'potatoes' for both types from now on.
Using a thin-bladed filleting knife, cut each potato into partial slices a few millimetres thick. Take care not to cut the slices right through, retaining a base that keeps the potato in one piece.
Refer to the photograph to get the idea. Peel the garlic cloves and cut them into thin slices. Insert a slice or two of garlic in each potato. Collect a generous handful of fresh thyme from the herb garden, or alternatively, a couple of teaspoons of the industrial version.
Remove the fresh thyme leaves from the stems and scatter them randomly into the slitted potatoes. If using dried thyme, follow the same routine. Arrange the prepared potatoes in a roasting pan.
Drizzle or brush extra virgin olive oil over the top of the potatoes, drenching the surfaces in each case. Once this is done, season with lightly crushed, coarse salt and coarsely ground black pepper. The coarse salt gives a satisfying crunch when eating the potatoes.
Place the roasting pan with the potatoes in the oven, preheated to 220°C. Let them roast for half an hour, inspecting them once or twice during cooking. Remove, and let them cool slightly before serving.
Note that armadillo potatoes are crying out for alternative methods of seasoning. Experiment with other herbs that usually accompany roast meat or poultry, as well as grated hard cheeses.
Italian cheeses such as pecorino and parmesan add their Latin potency to the spectrum of flavour, as do tiny fragments of bacon.
Enjoy these slightly illicit, special treats.